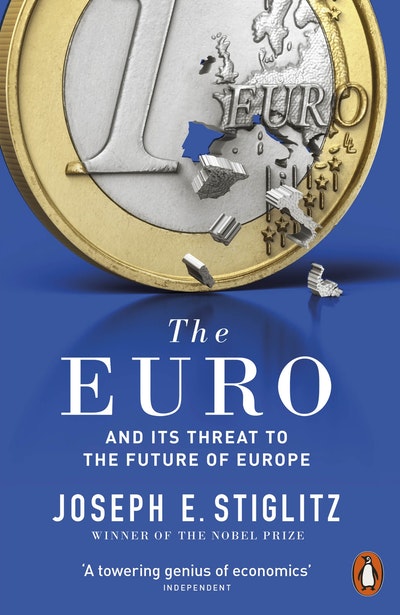 Published:

8 January 2018

ISBN:

9780141983240

Imprint:

Penguin Press

Format:

Paperback

Pages:

512

RRP:

$22.99
The Euro
How A Common Currency Threatens The Future Of Europe
---
---
---
The Nobel Prize-winning economist and bestselling author of Globalization and Its Discontents explains why saving Europe may mean abandoning the Euro.
Can the Euro be saved? Should it be? Nobel prize-winning economist Joseph E. Stiglitz dismantles the prevailing consensus around what ails Europe - arguing that economic stagnation is a direct result of the Euro's flawed birth, demolishing the champions of austerity and offering solutions that can rescue the continent from further devastation.
Designed to bring Europe closer together, the euro has actually done the opposite: after nearly a decade without growth, unity has been replaced with dissent and enlargements with prospective exits. Joseph Stiglitz argues that Europe's stagnation and bleak outlook are a direct result of the fundamental flaws inherent in the euro project - economic integration outpacing political integration with a structure that actively promotes divergence rather than convergence. Money relentlessly leaves the weaker member states and goes to the strong, with debt accumulating in a few ill-favoured countries. The question now is: can the euro be saved?
Laying bare the European Central Bank's misguided inflation-only mandate and explaining why austerity has condemned Europe to unending stagnation, Stiglitz outlines three possible ways forward: fundamental reforms in the structure of the Eurozone and the policies imposed on the member countries suffering the most; a well-managed end to the euro; or a bold, new system he dubs the 'flexible euro;. This important book, by one of the world's leading economists, addresses the euro-crisis on a bigger intellectual scale than any predecessor.
Published:

8 January 2018

ISBN:

9780141983240

Imprint:

Penguin Press

Format:

Paperback

Pages:

512

RRP:

$22.99
Stiglitz could hardly have timed The Euro better . . . one of those economists with a rare ability to help readers understand complex ideas

Philip Aldrick, The Times
Original, hard-hitting . . . Much more than a demolition job. These chapters are full of constructive proposals

Martin Sandbu, Financial Times
Terrific and clarifying

Peter Goodman, The New York Times
Coolly analytical . . . he is surely right: without a radical overhaul of its workings, the Euro seems all but certain to fail

Economist