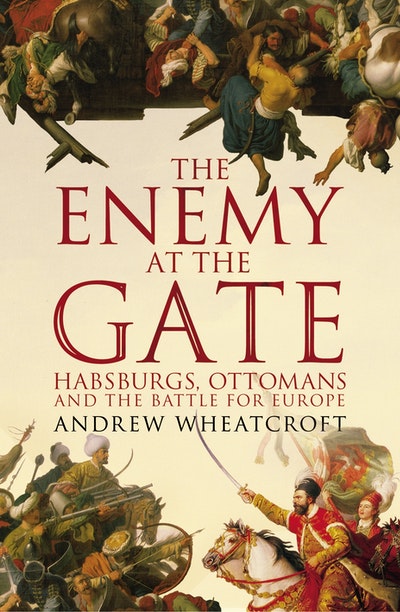 Published:

1 October 2009

ISBN:

9781844137411

Imprint:

Pimlico

Format:

Trade Paperback

Pages:

384

RRP:

$42.99
The Enemy at the Gate
Habsburgs, Ottomans and the Battle for Europe
---
---
---
Major historian Andrew Wheatcroft reveals the full story of four centuries of Ottoman incursions into the heartlands of Europe, culminating in the momentous 1683 Siege of Vienna.
* In 1683, two empires – the Ottoman, based in Constantinople, and the Habsburg dynasty in Vienna – came face to face in the culmination of a 250-year power struggle: the Great Siege of Vienna.
* Within the city walls the choice of resistance over surrender to the largest army ever assembled by the Turks created an all-or-nothing scenario: every last survivor would be enslaved or ruthlessly slaughtered.
* Both sides remained resolute, sustained by hatred of their age-old enemy, certain that their victory would be won by the grace of God.
* Eastern invaders had always threatened the West, but the memory of the Turks, to whom the West's ancient and deep fear of the East is viscerally attached, remains vivid and powerful.
* Long before their 1453 conquest of Constantinople, the Turks had raised the art of war to heights not seen since the Roman Empire.
* Although their best recorded and most infamous attack, the 1683 siege was the historical culmination, not the extent, of the Turks' sustained attempt to march westwards and finally obtain the city they had long called 'The Golden Apple'. Their defeat was to mark the beginning of the decline of the Ottoman Empire.
* With Turkey now seeking to re-orient itself towards the west and a new generation of politicians exploiting the residual fear and tensions between East and West, The Enemy at the Gate provides a timely and masterful account of this most complex and epic of conflicts.
Published:

1 October 2009

ISBN:

9781844137411

Imprint:

Pimlico

Format:

Trade Paperback

Pages:

384

RRP:

$42.99
Praise for The Enemy at the Gate
Impressively researched...he has a forensic grasp of the terrain and the tactics, produces excellent miniatures of the frontline generals and deploys extraordinary eyewitness accounts with great skill...Wheatcroft has done us all a service by bringing another part of the story of Ottoman-European interaction to the attention of English-speaking readers

Literary Review
It is tremendous stuff, a masterpiece of historical writing

Daily Telegraph
Wheatcroft captures the sweep of great events in this riveting book. He also nails historical myths that still resonate to this day

Simon Shaw, Daily Mail
Well-balanced, readable and timely account of the 1683 siege

Jay Dixon, Historical Novels Review