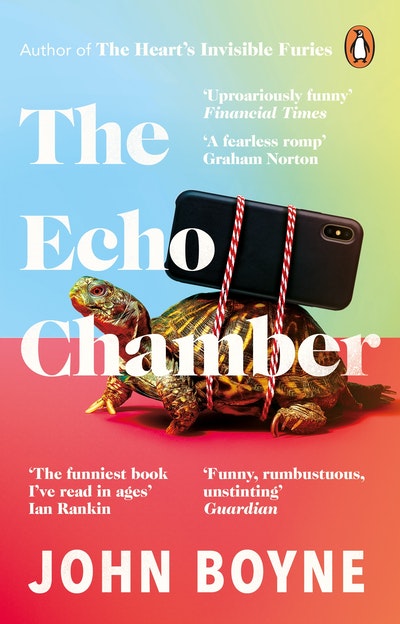 Published:

17 May 2022

ISBN:

9781529176742

Imprint:

Bantam

Format:

Paperback

Pages:

432

RRP:

$22.99
The Echo Chamber
---
---
---
From the author of The Heart's Invisible Furies and in the wake of a hugely successful hardback publication, The Echo Chamber is 'uproariously funny. The world has never needed satire more urgently and Boyne delivers in spades.' (The Sunday Times)
To err is maybe to be human but to really foul things up you only need a phone.
What a thing of wonder a mobile phone is. Six ounces of metal, glass and plastic, fashioned into a sleek, shiny, precious object. At once, a gateway to other worlds - and a treacherous weapon in the hands of the unwary, the unwitting, the inept.
The Cleverley family seem to have it all. But one social media app, some questionable opinions and a tortoise will soon bring their world tumbling down.They live a gilded life, little realising how precarious their privilege is, just one tweet away from disaster.
Together they will go on a journey of discovery through the Hogarthian jungle of modern living where past presumptions count for nothing and carefully curated reputations can be destroyed in an instant. Along the way they will learn how volatile, how outraged, how unforgiving the world can be when you step from the proscribed path.
Published:

17 May 2022

ISBN:

9781529176742

Imprint:

Bantam

Format:

Paperback

Pages:

432

RRP:

$22.99
Praise for The Echo Chamber
The funniest book I've read in ages. Savage but compelling

Ian Rankin
A fearless romp with big laughs along the way

Graham Norton
A comedy of manners and lack of manners ... good fun and cheeky as hell

Ryan Tubridy
A blisteringly funny and razor sharp satire about social media, celebrity and political correctness. I laughed SO much

Hannah Beckerman
Sharp, funny, and beautifully written, but it's also a brilliant reflection on the landscape we now live in

Sunday Times bestselling author, Joanna Cannon
Great rollicking story-telling ... a terrific novel for our times.

Reader's Digest
Funny, rumbustious, unstinting and wonderfully Hogarthian

The Observer
His relish is infectious

The Times
An uproariously funny novel... John Boyne skilfully skewers the cruelties of social media and the absurdities of wokeness ... a brave and timely foray into the contemporary culture wars.

Financial Times
'Hugely enjoyable'

Good Housekeeping
John Boyne is at his wicked best... Excruciatingly funny

Saga
A funny, biting satire on the excesses and hypocrisy of social media

Sunday Independent
Relentlessly funny

Irish Independent
Plenty of laugh out loud moments . . . This is a sharp and extremely funny page-turner

Business Post Magazine
Uproariously funny. The world has never needed satire more urgently and Boyne delivers in spades.

The Sunday Times
Fun, fierce and furious, The Echo Chamber is a riotous read that is not to be missed.

Sunday Express
[Boyne] is an incredibly versatile author...[this] is a brilliant read...a sharply satirical novel...so current, so relevant, absolutely hilarious

New Books
Biting and very funny

The Times