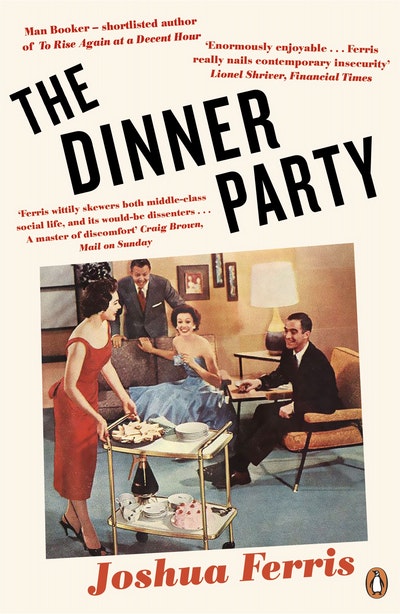 Published:

16 April 2018

ISBN:

9780241979983

Imprint:

Penguin General UK

Format:

Paperback

Pages:

256

RRP:

$22.99
The Dinner Party
---
---
---
A brilliantly observed collection of short stories on the absurdity of modern life by one of America's best satirists
'He reflected in future retrospect on the evening and foretold every gesture, every word. "I can't do it," he said. "I can predict everything that will happen from the moment they arrive to the little kiss on the cheek goodbye and I just can't goddamn do it."'

The Dinner Party immerses us in the comic and strange realities of modern life, as we journey through the lives of the unlovable, the unloved, and those who love too much: Jack, who nervously tries to befriend the surly removal man by buying him a latte and a croissant; Sarah, who endlessly imagines how her evening would have been better had she only chosen a different restaurant; Joe, who spends a night alone at the office and surreptitiously starts to rearrange his colleagues' belongings.
These are stories about the infinite possibilities of a person's life, from an agonizingly funny and original writer.
Published:

16 April 2018

ISBN:

9780241979983

Imprint:

Penguin General UK

Format:

Paperback

Pages:

256

RRP:

$22.99
Praise for The Dinner Party
[These stories] explore the fraying psychologies of their protagonists by way of dark humor and understated tragedy. In the excellent, surreal title story, the fissures in a childless couple's marriage become unbridgeable divides after their close friends fail to attend a dinner party... [they] contain moments of sharp levity and intense insight, reminders of the heights the author can achieve when he is able to sustain his immense talent

Publisher's Weekly
[With] flashes of transcendence ... Ferris's specialist area is modern American crassness

Sunday Times
Enormously enjoyable . . . Ferris really nails contemporary insecurity

Lionel Shriver, Financial Times
The stories are constructed with great care, combining beady-eyed observation with farce, black comedy and occasional moments of lyricism

Marcel Theroux, Guardian
A collection that show[s] humanity at its most awkward and insightful.

New York Observer, 10 Most Anticipated Books of Spring
A magnificent black carnival of discord and delusion ... For some accomplished novelists-and Ferris is one of the best of our day-short stories are mere doodles, warm ups or warm downs, slight variations on themes better addressed at length. Not so for Ferris. Dynamic with speed, yet rich with novelistic density, his stories make "The Dinner Party" a full-fledged feast, especially for readers with a particular taste for the many flavors of American crazy.

New York Times
Anxiety, self-consciousness and humiliation are the default inner states of the characters in these 11 stories

New York Times Books of the Year
At turns arresting and hilarious. Ferris excavates relationships, interactions, missteps, and misunderstandings to form a collection of work you'll want to return to again and again

Southern Living
Each of these stories is a well-crafted, tightly wound piece of short fiction that often springs with a delightful, sometimes moving precision

Times Literary Supplement
Ferris' characters may be flawed, but his writing is flawless

Tatler
Ferris finesses the line between tragedy and comedy, and his sly wit often surfaces in sarcastic, offbeat ways . . . The Dinner Party provides a fine showcase for his work

NPR
Ferris has a sure hand when it comes to the nuances of interpersonal relationships. He knows the thin line between awkward and easy, and when silence between two people can be a sign of strain or comfort. Ferris walks this territory so well that we often see our own complicated selves reflected in his writing... Though Ferris' assured collection may seem laced with hints of despair, the stories are full and rounded, sad but often also tinged with humor and rich in empathy.

Booklist
Ferris has mastered a kind of fictional sucker punch, and he'll get you every time.

Kirkus
Ferris is an incisive observer, and his descriptions of even the most quotidian situations are elegant and fresh

USA Today
Ferris wittily skewers both middle-class social life, and its would-be dissenters. He has a brilliantly sharp eye for the manners and mores of 21st-century metropolitan society, and is a master of discomfort. . . Like F Scott Fitzgerald before him, Joshua Ferris shines an unforgiving light on the jittery pursuit of happiness, and 'the growing anxiety of never arriving at what was always just out of reach'

Craig Brown, Mail on Sunday
Ferris's three novels have earned him a reputation as a high-concept high-wire artist, always working the line between comedy and tragedy, the domestic and the outlandish. His stories, by comparison, are compact gems of timing and everyday absurdity, and finally, here they are in one place. Hollywood satire, marriage-ending secrets, cracked minds, broken families: Ferris renders contemporary life as a parade of sad clowns.

New York Magazine, Top 10 Spring Books preview
In this egregiously entertaining collection of short stories, Ferris tackles the most enervating range of emotions - despair, doubt, anxiety, humiliation - as his doleful characters trawl New York

Mail on Sunday
Most of the characters are comparatively sane, but no less deliciously ghastly

Lionel Shriver, Observer Books of the Year
One of the most anticipated books of 2017... the Dinner Party explores an array of emotions from a deeply human perspective.

The Week
This season's standout short-story collections are masterful exercises in brevity, proving that sometimes less really is more.... Novelist Joshua Ferris returns with his first, highly anticipated story collection. Each entry showcases his customary wit and understanding

WSJ Magazine