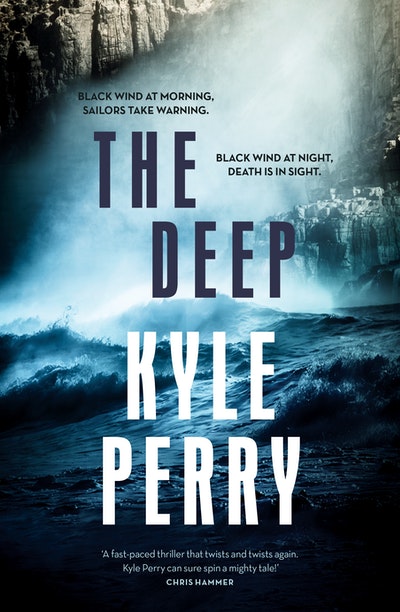 Published:

20 July 2021

ISBN:

9781760895716

Imprint:

Michael Joseph

Format:

Trade Paperback

Pages:

464

RRP:

$32.99
The Deep
---
---
---
From the bestselling author of The Bluffs comes a heart-stopping new thriller set on the rugged coast of Tasmania.
SHORTLISTED FOR THE 2022 NED KELLY AWARDS - BEST CRIME

'A fast-paced thriller that twists and twists again. Kyle Perry can sure spin a mighty tale.' – Chris Hammer
On the Tasman Peninsula, nestled amidst the largest sea-cliffs in the southern hemisphere, is Shacktown. Here the Dempsey family have run a drug ring for generations, using the fishing industry and the deadly Black Wind as cover. But when thirteen-year-old Forest Dempsey walks out of the ocean, bruised and branded, everything is at risk – because Forest has been presumed dead for the last seven years.
Mackerel Dempsey, out of jail on strict bail conditions, is trying to change his fate, doing his best to keep out of trouble before his next court date. His cousin Ahab has renounced the family altogether, in favour of working to keep the town and its fragile tourism economy safe. But in their search for answers about Forest, both Mackerel and Ahab can't help but be drawn back into the underworld. What happened to the boy all those years ago? And does it have anything to do with the infamous drug kingpin Blackbeard, who is rumoured to be moving in on Shacktown?
When secrets long thought buried at sea wash up on shore, generations of the Dempsey family must stand up for what they believe in, even if it means sacrificing everything. But in the gritty fight between right and wrong, blood isn't always thicker than water, and everyone is at risk of being pulled under...
From the bestselling breakout author of The Bluffs comes a heart-stopping new thriller set on the rugged coast of Tasmania about family bonds and betrayals, and the hidden dangers that lurk in the deep…
Praise for Kyle Perry:
'The Bluffs establishes Perry as a fierce new talent.' Apple Books
'The narrative races along, pulling the reader from page to page with a freight-train momentum that starts with the first word and ends with the final full stop.' The Examiner
'A spine-tingling and absorbing crime thriller about small-town secrets and mythic bush tales. This atmospheric read will keep you turning the pages until the very end.' Who Weekly
'A riveting story that will give even a seasoned thriller reader goosebumps.' Better Reading
Published:

20 July 2021

ISBN:

9781760895716

Imprint:

Michael Joseph

Format:

Trade Paperback

Pages:

464

RRP:

$32.99
The Deep is an excellent novel…Perry is well on his way to being mentioned in the same breath as Jane Harper, Peter Temple and other brilliant Australian crime writers. Tense, complex and atmospheric characters and settings are clearly his forte, and if this second novel is any indication, he is only going to get better and better.

The Booktopian
Believe the hype. The Deep is a heart-stopping, riveting thriller.

Better Reading
Last year Kyle Perry's debut novel The Bluffs kicked every imaginable goal and turned him into an overnight literary rockstar. So naturally all eyes are on his follow-up The Deep, waiting to see if he can repeat the trick. Well, this is where I tell you that he hasn't repeated anything. He's bettered it… From the first page we're dropped into an irresistible mystery that soon becomes something far richer – a sprawling Tasmanian saga about multiple generations of a criminal dynasty forced to contend with the sins of their past and the possibilities of their future. … The Deep is one of those books that will have you ignoring the stuff you actually have to do because none of it seems quite as important as finding out how this is going to end. It's a rich, involving page-turner that already has me impatiently awaiting the next one.

Gabriel Bergmoser
Perry's fiction possesses the evocative descriptions of the landscape we expect from Harper, but his narratives move at the pace of a Reilly blockbuster... The Deep is a mash-up of Jane Harper and Matthew Reilly's narrative sensibilities. Its location and landscape are fundamental to its being. But whereas Harper prefers the twisty slow burner, Perry chooses to flick on the afterburners, his sights set on crafting a rollicking thriller bursting with pages that grip and propel; those underwater scenes in particular. If Reilly wrote a small town mystery, it would be paced like this. The result is slightly undisciplined, but incredibly entertaining; like a whole season of television drama crammed breathlessly into 500 pages.

Simon McDonald, writtenbysime
Kyle Perry shines—no sign of the dreaded second book syndrome here. With The Deep, Perry has delivered yet another incredible page-turner, cementing his place as a brilliant new voice in Australian crime fiction.

Better Reading
The Deep by Kyle Perry is the perfect gift if your dad can't get enough of shows like Breaking Bad, Narcos, The Wire and any other crime dramas... It's an absorbing and fast-paced read: the story takes so many twists and turns, it's perfect for the guy who doesn't read that much, but of the two books they'll read this decade, this needs to be one of them.

Mamamia
Perry is on his way to being recognised as one of Australia's best crime writers; he will keep you on the edge of your seat with twists and turns.

Australian Geographic
If Kyle Perry experienced any second-book syndrome after his successful debut, The Bluffs, there's no sign of it here. His latest bestseller, The Deep, is another heart-stopping thriller set on the rugged coast of Tasmania….Perry has delivered a complex and riveting family dynamic, where he explores toxic masculinity and loyalty.

The Australian Weekly Review
Another smashing thriller from the author of the bestselling novel The Bluffs. …The Deep is full of excitement, suspense and intrigue from page one, and keeps a formidably fast pace until its gripping conclusion. The suite of secretive characters and eerie Tasmanian backdrop make for an exhilarating reading experience. It's dark, thrilling, and full of twists and turns … you won't be able to put it down!

Fullers Weekly (bookseller)
The Deep is a true-grit masterful crime novel with a chilling and realistic story that will keep you gasping for breath.

Herald Sun