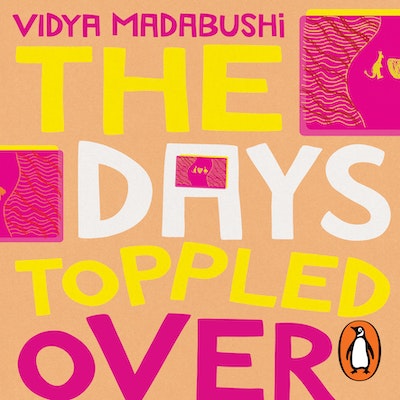 Published:

20 June 2023

ISBN:

9781761341526

Imprint:

Penguin Random House Australia Audio

Format:

Audio Download

Length:

9 hr 38 min

Narrators:

Zenia Starr, Nickin Alexander

RRP:

$32.99
The Days Toppled Over
---
---
---
'Tender, arresting and uplifting.'
SHANKARI CHANDRAN
It's intelligent and warm, and punchy where it needs to be.
THE GUARDIAN
The most unexpected friendships really can transform your life.
Malli has an anxiety disorder that renders her unable to speak outside her own home. The highlight of her life is a long-standing weekly phone call with her younger brother, Surya, who is studying in Australia, and whose updates bring colour to her days. When Surya misses their weekly call for the first time, Malli's quiet life is thrown into disarray.
Seeking answers online, Malli is grateful when a user on a missing persons forum, Nayan, offers to help. As days pass without word from Surya, Malli decides she must travel to Australia to find out what has happened to him, and the unconventional and outspoken Nayan offers to accompany her.
In Sydney, student life is less glamorous and more precarious than Surya had imagined. At the restaurant where he lives and works, Surya feels he can endure the squalid living conditions and the abysmal pay if it will secure him the elusive work visa which will allow him to stay in the country. But when a racist customer up-ends the knife-edge hierarchy at the restaurant, it sets off a chain of events that will see Surya committing a reckless act of love, risking everything for which he has worked so hard.
Set between Bengaluru and Sydney, The Days Toppled Over is a powerful exploration of mental health, family, connecting and how international students live in Australia. With a rich sense of place, a memorable cast of characters, and a good dose of humour, it illuminates how we all need friends and contact with other humans – and how these simple things can result in transformation.
Published:

20 June 2023

ISBN:

9781761341526

Imprint:

Penguin Random House Australia Audio

Format:

Audio Download

Length:

9 hr 38 min

Narrators:

Zenia Starr, Nickin Alexander

RRP:

$32.99
Praise for The Days Toppled Over
A powerful Australian debut.

Melanie Kembrey, The Booklist
I so enjoyed this book. It's packed full of heart and beautiful writing and characters i'll never forget.

Hayley Scrivenor
An engaging and thought-provoking novel with a strong sense of place, memorable characters and poignant examination of connection. Madabushi's prose is sprinkled with humour, providing moments of light-heartedness amid profound themes. The dialogue between characters feels genuine, capturing their voices and relationships authentically. The narrative unfolds at a pace that keeps readers engrossed until the end.

Manuela Barry, Arts Hub
Vidya Madabushi's lively debut flits between Surya and Malli's narration as we follow her journey to Sydney to find him – and learn from him what has happened. With vivid characters and big heart, it speaks to the precarious existence of international students: a skyrocketing demographic seen as cash cows by a country which is leaving them hungry, homeless and at risk.

Steph Harmon, The Guardian, Best Australian Books in June
Its explorations of what constitutes success – and the price we pay for it – are likely to remain with you long after you've read the last page. It's intelligent and warm, and punchy where it needs to be, reminding us all that we're shackled to some sort of system, and that life is just a "competition of who can roam the most inside the cage".

Sarah Ayoub, The Guardian
Madabushi shines a light on the hidden world of migrant exploitation on the streets of modern Sydney, painting characters that are at once both memorable and tragic. This is a book that grows on you with every page.

Saman Shad
A tender exploration of anxiety, alienation and our yearning for connection. Madabushi takes us from Bangalore to Sydney to the place called home. The novel is arresting and bold in its interrogation of the way migrant workers are treated in this country; and heartbreaking in its depiction of their vulnerability and desperation. Madabushi's characters are utterly beguiling. Malli won my heart from the first chapter and in the final one, I cried and cheered out loud for this unforgettable heroine. Ultimately, this uplifting novel felt like the warm embrace of the family created within its wise and beautiful pages. Tender, arresting and uplifting.

Shankari Chandran
This remarkable novel both captures the present moment and speaks to the trials that migrants have faced for decades. Madabushi writes with great precision and warmth about the lives of precarious workers.

Andrew Pippos
It's an eye-opening read that encourages reflection on the lives of international students and the chasm that develops between them and the family they leave behind.

Vyshnavee Wijekumar, The Saturday Paper
This is an Australian novel that has been missing for a long time. For Sydneysiders, the sense of place is likely to resonate. But most significantly, the novel provides a deeper understanding of those who work in the smaller restaurants of our hospitality sector. But in the end, it is also about connection and love and the importance of a safe place.

Sanchana Venkatesh, Newtown Review of Books
Article