An exploration of mental health and family to read with your book club.
The Days Toppled Over is Vidya Madabushi's debut novel which follows two siblings on two different continents. Malli is unable to speak outside of her own home, the highlight of her week being her weekly phone call with her brother Surya who is studying in Australia. When Surya misses their call for the first time, Malli goes on a quest to find out what has happened to her brother.
Touching on important topics like anxiety, racism and the exploitation of student labour in Australia, this book will inspire great discussions in your book club.  
Discussion points and questions
Shankari Chandran said'Malli won my heart from the first chapter and in the final one, I cried and cheered out loud for this unforgettable heroine.' What was your response to Malli and the journey she traversed?
Neither Malli nor Surya is entirely content when we meet them in the novel. Nayan acts as if he is, but . . . are they all searching for something? What do you think that is?
The Days Toppled Overfeatures international students, gig workers, people sleeping rough, hostels, late-night beers and Indian food – all aspects of life in Australian cities, but perhaps not illustrated in popular culture, until now. Why is that?
Have you ever moved countries/cities/towns, to a place where you know no one? Did you find it liberating, an opportunity to remake yourself? Or discombobulating and dissociative? Perhaps both?
What role(s) do you see international students contributing to Australian life? How often do you think they encounter racism?
What were your first impressions of Malli's life at '66', where she lives with elderly residents? Had your impression changed by the end of the novel?
Nayan is an original character. What role does he fulfil in the novel? Do you think he really believes in reincarnation? What are your feelings on this subject?
What do you think of Surya giving Bobby his phone and quitting his job at The Little Everest? Is he being foolish? Or principled? 
The author has called her novel 'an unconventional love story'. Is this description apt?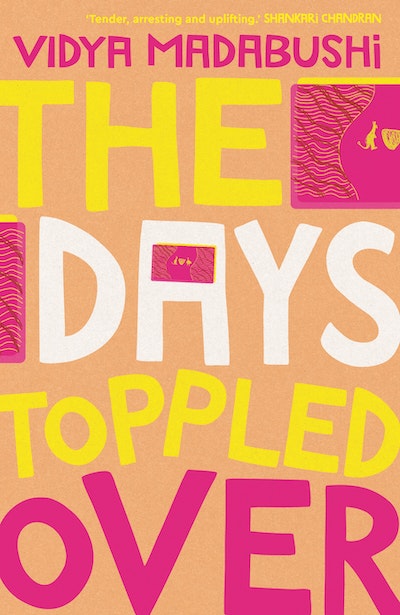 The Days Toppled Over
'Tender, arresting and uplifting.' SHANKARI CHANDRAN It's intelligent and warm, and punchy where it needs to be. THE GUARDIAN The most unexpected friendships really can transform your life.
Read more