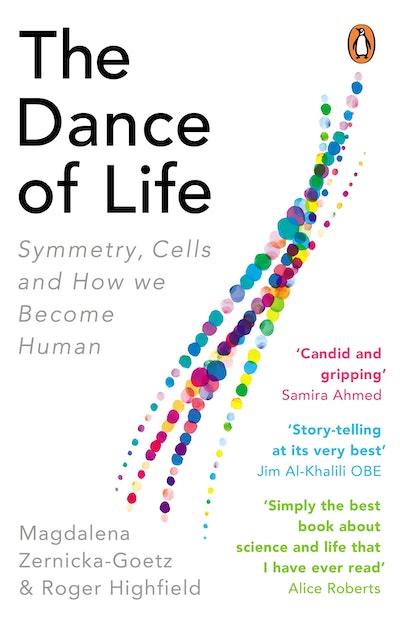 Published:

27 February 2020

ISBN:

9780753552940

Imprint:

Virgin Digital

Format:

EBook

Pages:

304
The Dance of Life
Symmetry, Cells and How We Become Human
---
---
---
A journey into the new frontier of how a single fertilised egg becomes a complex human being

'Quite simply the best book about science and life that I have ever read' - Alice Roberts

How does life begin? What drives a newly fertilized egg to keep dividing and growing until it becomes 40 trillion cells, a greater number than stars in the galaxy? How do these cells know how to make a human, from lips to heart to toes? How does your body build itself?
Magdalena Zernicka-Goetz was pregnant at 42 when a routine genetic test came back with that dreaded word: abnormal. A quarter of sampled cells contained abnormalities and she was warned her baby had an increased risk of being miscarried or born with birth defects. Six months later she gave birth to a healthy baby boy and her research on mice embryos went on to prove that – as she had suspected – the embryo has an amazing and previously unknown ability to correct abnormal cells at an early stage of its development.
The Dance of Life will take you inside the incredible world of life just as it begins and reveal the wonder of the earliest and most profound moments in how we become human. Through Magda's trailblazing research as a professor at Cambridge – where she has doubled the survival time of human embryos in the laboratory, and made the first artificial embryo-like structures from stem cells – you'll discover how early life is programmed to repair and organise itself, what this means for the future of pregnancy, and how we might one day solve IVF disorders, prevent miscarriages and learn more about the dance of life as it starts to take shape.
The Dance of Life is a moving celebration of the balletic beauty of life's beginnings.
Published:

27 February 2020

ISBN:

9780753552940

Imprint:

Virgin Digital

Format:

EBook

Pages:

304
Praise for The Dance of Life
A touching, detailed portrait of a life in science. Beautifully written, it's a reminder that scientists are human and their humanity affects every part of their work

Angela Saini, bestselling author of INFERIOR and SUPERIOR
Quite simply the best book about science and life that I have ever read

Alice Roberts
Few books succeed as well as this in taking a complex area of rapidly advancing science, and turning it into a compelling human story. Rarely will you read such an intimate and personal account of scientific discovery

Evan Davis
Part memoir, part mission to touch creation itself, The Dance of Life is a candid & gripping odyssey into one of the greatest microscopic scientific mysteries of all - the cellular divisions that spawn human life

Samira Ahmed
How an entire human can emerge from a single cell is one of the great mysteries of life. This book is a wonderful exposition of that amazingly complicated process, and combines Zernicka-Goetz's research and expert perspective with the clear and engaging narrative that is a hallmark of Highfield's science writing

Venki Ramakrishnan, President of the Royal Society and Nobel-prize winning scientist
An in-depth journey through the world of the research embryologist…The story has a memoir-like atmosphere, especially when Zernicka-Goetz turns to episodes of her life. But she is never far from the science…Meaty and entertaining

Kirkus Reviews
Illuminating… Zernicka-Goetz and Highfield's informative professional memoir has much to engage readers

Publishers Weekly
Of all the biological sciences, developmental biology may be the most complicated, but Magdalena Zernicka-Goetz makes it easier in The Dance of Life. An accomplished researcher whose discoveries in this field truly rewrote textbooks, she offers a rich, detailed look at how humans arise from the union of two cells. In tracing her path as a woman in the male-dominated areas of embryology and developmental biology, Zernicka-Goetz takes the reader with ease through the incredibly complex dance of life that cells undertake in building a human embryo

Emily Willingham
How does a single fertilised egg know how to develop into the trillions of different cells that making up a human? This book provides you with much more than the answer – it is story-telling at its very best. Together with Highfield, Zernicka-Goetz leads us through her life scientific, intertwining the exciting field of 21st biology with a joyous personal journey of discovery at the cutting edge of research

Jim Al-Khalili
The question of how a gorgeous baby develops from an inanimate, post-coital speck has fascinated humans from the year dot. Highfield and Zernicka-Goetz illuminate this apparent miracle in an entertaining narrative full of scientific insights, human interest and thoughtful reflection

Graham Farmelo, winner of the Costa Biography Prize for THE STRANGEST MAN and official biographer of Stephen Hawking
Magda has written a memoir from the heart. It is a lovely evocation of the triumphs and crushing disappointments on the rollercoaster ride in the pursuit of scientific truth. It is an engaging personal story full of the challenges of negotiating the interface between personal and scientific aspirations from a gifted and successful woman scientist who has managed it well

Virginia Papaioannou, Professor of Genetics and Development at Columbia University
A vivid first-hand account of epic technological changes and revelations [and] also a personal tale of an ongoing scientific odyssey, replete with failure, exhaustion and tenacity as much as thrilling new vistas... this honest and passionate depiction of the complexity of science as a vocation will have wide appeal

Nature
One of the World's Top 10 Thinkers of 2020

Prospect