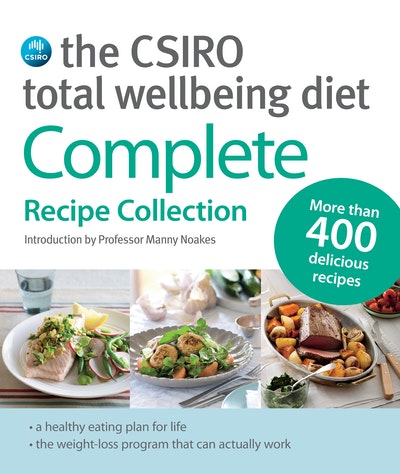 Published:

16 September 2015

ISBN:

9780670078530

Imprint:

Penguin

Format:

Paperback

Pages:

624

RRP:

$39.99
The Csiro Total Wellbeing Diet
Complete Recipe Collection to lose weight, feel full longer and develop long-term healthy eating patterns
---
---
THE MILLION COPY BESTSELLING DIET SERIES
The CSIRO Total Wellbeing Diet has inspired over 500,000 Australians to lose weight and improve their overall health. This recipe book features a nutritional plan based on high-protein, high-vegetable, low-GI recipes for long-term weight management.

How many diets have you tried that haven't worked for you? The Total Wellbeing Diet, developed by Australia's CSIRO, is not just another diet, it's a long-term healthy eating plan that can make you feel great.


With over 400 mouth-watering recipes in one volume, this book ensures you'll always have something healthy to cook, for any time of the day and contains everything you need to know about the CSIRO Total Wellbeing Diet – how to start, what to cook and how to keep the weight off forever.

The CSIRO Total Wellbeing Diet offers:

* an easy-to-follow structured eating pattern
* scientifically tested and nutritionally balanced meals
* includes mainstream and accessible foods
* a way to eat less without feeling hungry
* the necessary vitamins, nutrients and dietary fibre
* plenty of great ideas for entertaining while maintaining your diet

Boost your health and vitality while losing weight – START TODAY!
Published:

16 September 2015

ISBN:

9780670078530

Imprint:

Penguin

Format:

Paperback

Pages:

624

RRP:

$39.99
Article
Article
Article
Chicken tagine
A tagine is the name for a Moroccan stew and the conical-shaped terracotta dish it is traditionally cooked in. Don't worry if you don't have a tagine – the recipe works just as well in a heavy-based saucepan.