Try this Jamaican delight from Stephanie Alexander's The Cook's Table.
This recipe is moderately hot. If you are unsure of the heat tolerance of your guests, perhaps keep the marinade moderate and have a purchased hot pepper sauce available for those who like it extra hot. All chillies need to be handled with care, so it is best to use disposable kitchen gloves when slicing or seeding them. Scrub your chopping board and knives and your hands really well and use a nailbrush to brush underneath your fingernails after handling them. I find a blender does a better job of reducing the ingredients to a paste than a food processor. While I prefer to barbecue this on a grill plate, in Jamaica it would be grilled on a flat sheet of iron, so please yourself.
BARBECUED JERK CHICKEN
Serves 8
Ingredients
2 kg free-range chicken pieces (drumsticks, thighs on the bone, with skin on)
1½ tablespoons extra virgin olive oil
Jerk Marinade
1½ tablespoons whole allspice
1½ tablespoons black peppercorns
1 teaspoon ground cinnamon
1 teaspoon ground nutmeg
1 tablespoon picked thyme leaves
6 spring onions, chopped (use the white part and most of the green)
3 small fresh red chillies or Scotch bonnet chillies (extra hot chillies for the serious chilli lover), finely chopped
1½ tablespoons dark brown sugar
3 teaspoons fine salt
¼ cup (60 ml) dark soy sauce
juice of 2 limes
1½ tablespoons extra virgin olive oil
Method
For the marinade, wrap the allspice and peppercorns in a clean dry tea towel and pound with a mallet or a heavy rolling pin to crush them both. Tip into a blender and add the cinnamon, nutmeg, thyme, spring onion, chilli, sugar, salt, soy sauce, lime juice and olive oil. Blend to form a coarse paste.
Scrape the marinade into a large glass bowl, add the chicken and, wearing disposable kitchen gloves, massage the marinade into the meat, making sure you also rub it underneath the skin. Cover and marinate in the refrigerator for at least 6 hours, or overnight. (I slip the marinated chicken pieces into a large oven bag and fold it closed, so that the aromas do not transfer to other things in the refrigerator.)
Preheat the oven to 180°C. Select a baking dish large enough to hold the chicken pieces in a single layer and add the olive oil.
Tip the chicken into the oiled baking dish, reserving any marinade still in the oven bag or bowl to brush on the chicken later.
Bake for 45 minutes or until a skewer easily penetrates the thickest part of one of the thigh pieces. (It can be prepared to this stage
1 hour before barbecuing. Keep in a cool place, covered tightly to prevent insect attack. If longer, then refrigerate, allowing extra time on the barbecue for the pieces to become really hot in the centre.)
Just before serving, heat a barbecue to high heat, brush the chicken with any leftover marinade, then sear, turning for 15 minutes, until slightly charred and crisp on all sides and thoroughly hot right to the centre of each piece and the marinade is heated through. Serve at once.
 
From Jamaican Jerk Party, The Cook's Table by Stephanie Alexander
---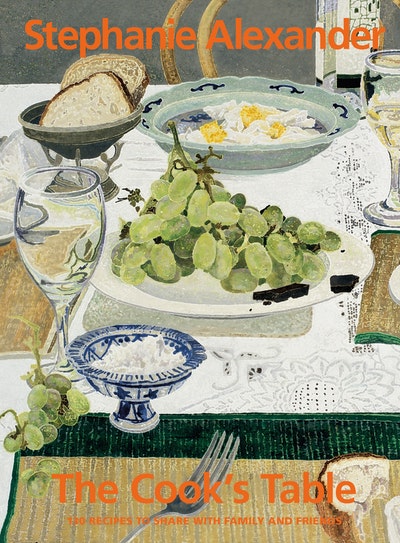 In The Cook's Table, Stephanie shares 25 of her favourite menus for entertaining family and friends, from special occasions such as Christmas Eve, Christmas Day, Mother's Day and Father's Day, to menus inspired by her travels in France, Italy, Turkey and Peru. This must-have guide to entertaining includes 130 new tried and tested recipes.
Buy now
Buy now
---