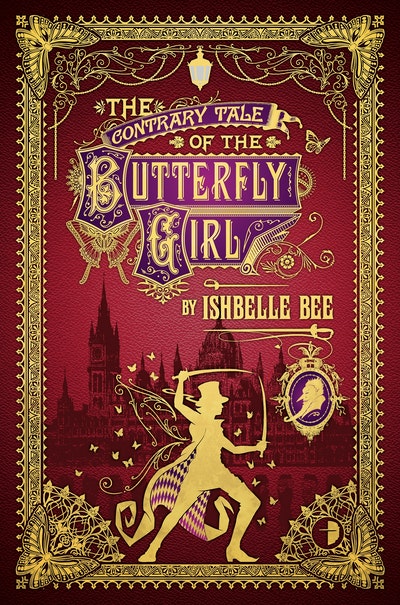 Published:

21 November 2018

ISBN:

9780857664457

Imprint:

Watkins

Format:

Paperback

Pages:

336

RRP:

$16.99
The Contrary Tale Of The Butterfly Girl
---
---
A dark and twisted Victorian melodrama, like Alice in Wonderland goes to Hell, from the author of The Singular & Extraordinary Tale of Mirror & Goliath.

Two orphans, Pedrock and Boo Boo, are sent to live in the sinister village of Darkwound. There they meet and befriend the magical and dangerous Mr Loveheart and his neighbour, Professor Hummingbird, a recluse who collects rare butterflies. Little do they know that Professor Hummingbird has attracted the wrath of a demon named Mr Angelcakes.
One night, Mr Angelcakes visits Boo Boo and carves a butterfly onto her back. Boo Boo starts to metamorphose into a butterfly/human hybrid, and is kidnapped by Professor Hummingbird. When Mr Loveheart attempts to rescue her with the aid of Detective White and Constable Walnut, they too are turned into butterflies.
Caught between Professor Hummingbird and the demon Angelcakes, Loveheart finds himself entangled in a web much wider and darker than he could have imagined, and a plot that leads him right to the Prime Minister and even Queen Victoria herself …
File Under: Fantasy [ Closing the Net / Heads in the Trees / The Angel-Eater / Prime Minister's Questions ]
Published:

21 November 2018

ISBN:

9780857664457

Imprint:

Watkins

Format:

Paperback

Pages:

336

RRP:

$16.99
Praise for The Contrary Tale Of The Butterfly Girl
"This book is such a cacophony of prose, eccentricity and delight." – Black Tea & Milk "The characters and instances are brilliant and the scenes rendered in flawless fashion." – Koeur's Book Reviews "Well, Ishbelle Bee has done it again. After my wonderful experience reading The Singular and Extraordinary Tale of Mirror and Goliath (I can truly only describe reading it as an experience), I was anxious to see where Bee was going to take both her characters and us, the reader, and I am tickled by the result." – From My Bookshelf "The writing continues to have a lovely lyrical quality to it, even when she's writing descriptions of a massacre." – Bellsiebooks "If you haven't come across this series yet, you'll be doing yourself a favour to seek it out – I can guarantee you won't have read anything quite like it!" – The Bookshelf Gargoyle "The Contrary Tale of the Butterfly Girl is an action packed, hilariously horrific, engrossing story that I could not put down – I loved it!" – Views & Reviews "The closest I think I can come to describe it is to think of Roald Dahl at his darkest, Alice in Wonderland, Hilaire Belloc and a bit of The League of Gentlemen all mixed together with cakes and body parts in a kaleidoscope. It's the most colourful, inventive and fun novel I've read for a long time." – Hair Past a Freckle "The second in the Peculiar Adventures of John Loveheart, Esq. series. If you recall, I could not rave enough about the first novel this summer. The second in the series did not disappoint. These novels are seriously fantastic in their disturbing glory." – Bookworm in the Stars