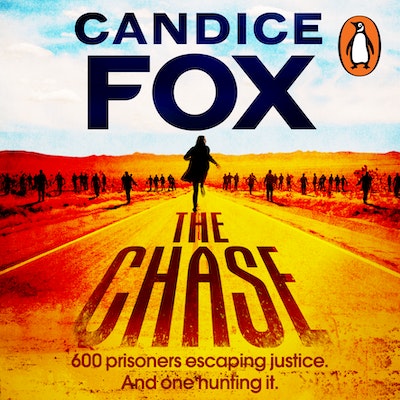 Published:

30 March 2021

ISBN:

9781761043048

Imprint:

Penguin Random House Australia Audio

Format:

Audio Download

Length:

12 hr 39 min

Narrators:

David de Vries, Lisa Negrón

RRP:

$32.99
The Chase
---
---
---
The new novel by No. 1 New York Times bestselling author Candice Fox is an electrifying chase thriller set in the Nevada Desert.
Candice Fox has been described by the Sydney Morning Herald as 'one of Australia's finest new gen crime writers' and her latest novel is another thrilling ride, as a mass prison breakout lets loose 650 of the country's most dangerous prisoners.
'Are you listening, Warden?'
'What do you want?'
'I want you to let them out.'
'Which inmates are we talking about?'
'All of them.'
When 650 of the world's most violent human beings pour out from Pronghorn Correctional Facility into the Nevada Desert, the biggest manhunt in US history begins.
But for John Kradle this is his one chance to prove his innocence, twenty-six years after the murder of his wife and child.
He just needs to stay one step ahead of the teams of law enforcement officers he knows will be chasing the escapees down.
Death Row Supervisor turned fugitive-hunter Celine Osbourne is single-minded in her mission to catch Kradle. She has very personal reasons for hating him - and she knows exactly where he's heading . . .
Published:

30 March 2021

ISBN:

9781761043048

Imprint:

Penguin Random House Australia Audio

Format:

Audio Download

Length:

12 hr 39 min

Narrators:

David de Vries, Lisa Negrón

RRP:

$32.99
These are some of the most carefully-crafted, well-groomed pages Candice Fox has produced. Breathless and compelling to the end, The Chase is a strong contender for thriller of the year.

Simon McDonald, bookseller
With a plot that barrels forward at warp speed, taking hair pin turns and keeping readers in a constant state of urgent suspense, The Chase is the kind of book that is so propulsive that you almost can't help yourself from speed-reading it in a single sitting. This is the kind of action-packed crime caper that is impossible to put down because there is never a dull moment.

Sarah McDuling, Booktopia
Australian author Candice Fox has mastered the art of the fast-paced crime thriller, and brings uncommon empathy to the genre's pulse-spiking rhythms.

Apple Books