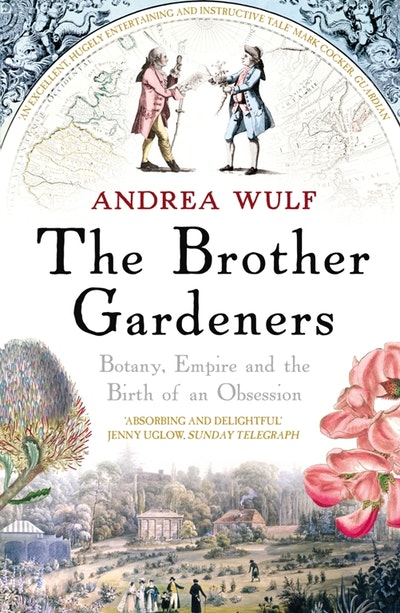 Published:

11 January 2011

ISBN:

9781446439562

Imprint:

Cornerstone Digital

Format:

EBook

Pages:

384
The Brother Gardeners
Botany, Empire and the Birth of an Obsession
---
---
---
A wonderfully readable investigation of the origins of the modern garden in 18th-century England. Popular history at its finest.
One January morning in 1734, cloth merchant Peter Collinson hurried down to the docks at London's Custom House to collect cargo just arrived from John Bartram in the American colonies. But it was not bales of cotton that awaited him, but plants and seeds...
Over the next forty years, Bartram would send hundreds of American species to England, where Collinson was one of a handful of men who would foster a national obsession and change the gardens of Britain forever: Philip Miller, author of the bestselling Gardeners Dictionary; theSwede Carl Linnaeus, whose standardised botanical nomenclature popularised botany; the botanist-adventurer Joseph Banks and his colleague Daniel Solander who both explored the strange flora of Tahiti and Australia on Captain Cook's Endeavour.
Thisis the story of these men - friends, rivals, enemies, united by a passion for plants. Set against the backdrop of the emerging empire and the uncharted world beyond, The Brother Gardeners tells the story how Britain became a nation of gardeners.
Published:

11 January 2011

ISBN:

9781446439562

Imprint:

Cornerstone Digital

Format:

EBook

Pages:

384
Praise for The Brother Gardeners
[An] engrossing history of botanical obsession in England in the 18th century ... The author has a good eye for interesting detail and a fine sense of literary economy

Tim Richardson, Country Life
The Brother Gardeners is a delightful book. It brings the story of 18th-century gardening to life in a remarkably vivid way, and sheds new light on the personality clashes and prejudices which lay at the root of the Georgians' passion for plants

Adrian Tinniswood
A 'biography' of the quintessential English garden, taking in Captain Cook, Carl Linnaeus, and the simultaneous rise of the British Empire and flower arranging - a delightful look at horticultural history

Scotland on Sunday
A delightful book ... Remarkably vivid

Adrian Tinniswood
A totally engrossing read

Rosie Atkins, Curator, Chelsea Physic Garden
A wondrous telling of the history of the very English love affair with gardens and growing things

Jon Snow, Channel Four News
Andrea Wulf has written a wonderful book, using a clutch of fascinating men to remind us the British Empire was once as much about white pine and Camellia japonica as it was about guns and steel ... enthralling story ... brilliantly readable book

Kathryn Hughes, Mail on Sunday
As Wulf triumphantly shows, plants and gardens reveal a wider view of the forces that shape society ... An antidote to dry garden history; rarely has the story of English plants been told with such vigour, and such fun

Jennifer Potter, TLS
Engrossing ... A gripping story, told here with grace and aplomb

Tim Richardson, Country Life
Fabulous ... What an incredible account of an amazing century

Kim Wilde
Immaculately written and researched, this book brings to life the dramas and dangers of eighteenth-century plant collecting

Catherine Horwood
Rounded, generous and exhaustively researched ... She is very adept at telling a good story, and in the history and origins of gardening she has found the perfect vehicle ... An excellent, hugely entertaining and instructive tale, and Wulf tells it very well

Mark Cocker, The Guardian
The best book this year is The Brother Gardeners: Botany, Empire and the Birth of an Obsession

Leo Hollis, Independent on Sunday
The Brother Gardeners were a group of men involved in the 18th-century quest for new plants, at a fascinating period in garden history. Andrea Wulf brings their personalities vividly to life in her thoroughly researched and lively account.

Jane Fearnley-Whittingstall
This absorbing and delightful book about 18th-century botanists stands out among histories of plant hunting ... Works superbly

Jenny Uglow, Sunday Telegraph
Wonderful ... A fascinating read

Steven Poole
Wondrous ... I have learned so much from her book

Jon Snow, Channel Four News