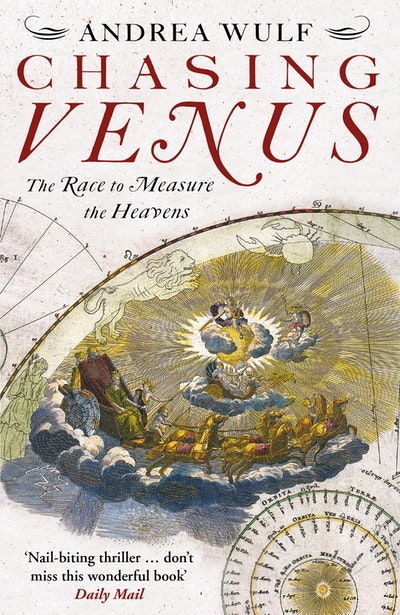 Published:

15 March 2013

ISBN:

9780099538325

Imprint:

Windmill Books

Format:

Paperback

Pages:

352

RRP:

$22.99
Chasing Venus
The Race to Measure the Heavens
---
---
The fascinating story of the world's first international scientific collaboration.
On two days in 1761 and 1769 hundreds of astronomers pointed their telescopes towards the skies to observe a rare astronomical event: the transit of Venus across the face of the sun.
United by this momentous occasion, scientists from around the globe came together to answer the essential question: how can the universe be measured? In Chasing Venus Andrea Wulf paints a vivid portrait of the rivalries, triumphs and misfortunes that befell these men, along with their passion and determination to succeed. This extraordinary book tells their story and how one single event prompted the first international scientific collaboration.
Published:

15 March 2013

ISBN:

9780099538325

Imprint:

Windmill Books

Format:

Paperback

Pages:

352

RRP:

$22.99
Andrea Wulf's story of the chase is an enthralling, nail-biting thriller and will undoubtedly prove one of the non-fiction books of the year. Even if you fail to see the Transit, don't miss this wonderful book

John Harding, Daily Mail
Historian Andrea Wulf's Chasing Venus is beautifully paced, alternating between expe­ditions, with lush descriptions of the often arduous journeys involved.

Nature
It charts the story of a truly international effort; to not only observe the transit ... but to present the real quest that was to finally determine the distance between the Earth and the Sun ... [an] outstanding book! It's the book of the year so far - do not miss it!

Astronomy Now
[a] truly excellent book.Andrea Wulf tell[s] the rip-roaring tales of numerous expeditions that set off around the globe to observe the Venusian transit of 1761.[She] communicate[s] the verve and energy - not to mention the perilous nature - of the expeditions.

Marcus Chown, New Scientist
Replete with meticulous detail, delightful illustrations and a cast of very familiar names from world history, Chasing Venus is an eminently readable account of humanity's effort to chart the heavens. At once an exhilarating adventure, a tale of personal obsession, a tragedy and a detailed history of astronomical endeavour, Wulf's latest work is a fascinating read.

Press Association
A fine example of scientific storytelling about astronomers of the Enlightenment observing the transit of Venus ... narrated with elegant expertise.

Iain Finlayson, The Times
The result is a human story, and it's worth reading as a rallying call to humanity's quest to explore the universe simple for the sake of it.

Tom Payne, Telegraph
Andrea Wulf's immaculately researched book describes the endeavours of the early scientific community to observe the transit around the world.an absorbing.exciting yarn.

The Lady
Chasing Venus is the entertaining tale of the expeditions that set off across the globe to use a transit of Venus to gain the first true measure of the size of the Solar System.captures the spirit of adventure and the wonder at mankind's new-found ability to understand the world around it. a pleasure to read from beginning to end.

Sky at Night Magazine
[A] thrilling, stirring tale, very well told, of global cooperation, and how the passion for Enlightenment triumphed against enormous odds.

Nicholas Lezard, Guardian
[a] thrilling book.an absorbing, even exciting yarn

Independent