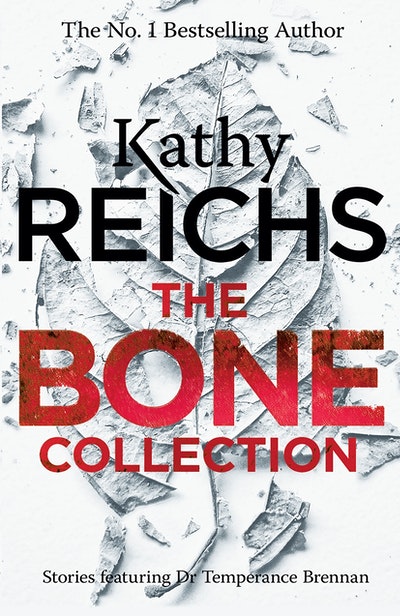 Published:

18 April 2017

ISBN:

9781784755898

Imprint:

Arrow

Format:

Paperback

Pages:

384

RRP:

$22.99
The Bone Collection
Four Novellas
---
---
---
A collection of short stories featuring Dr Temperance Brennan, from the Sunday Times and New York Times No. 1 bestselling author, Kathy Reichs.
A collection of chilling tales featuring forensic anthropologist Temperance Brennan - including the untold story of her first case.
No matter where she goes, Tempe's cases make for the most gripping reading.
Dr Temperance Brennan thought she'd seen it all until she came across Bones in Her Pocket in the foothills of North Carolina.
Down in the Everglades Tempe investigates Swamp Bones­ - a grisly discovery in the stomach of an eighteen-foot Burmese python.
In the heights of Mount Everest a frozen corpse means Bones On Ice.
And First Bones gets under Tempe's skin with the untold story of her first case and her decision to become a forensic anthropologist.
___________________________________
Dr Kathy Reichs is a professional forensic anthropologist. She has worked for decades with chief medical examiners, the FBI, and even a United Nations Tribunal on Genocide.
However, she is best known for her internationally bestselling Temperance Brennan novels, which draw on her remarkable experience to create the most vividly authentic, true-to-life crime thrillers on the market and which are the inspiration for the hit TV series Bones.
___________________________________
Many of the world's greatest thriller writers are huge fans of her work:
'Kathy Reichs writes smart - no, make that brilliant - mysteries that are as realistic as nonfiction and as fast-paced as the best thrillers about Jack Reacher, or Alex Cross.' JAMES PATTERSON
'One of my favourite writers.' KARIN SLAUGHTER
'I love Kathy Reichs? - always scary, always suspenseful, and I always learn something.' LEE CHILD
'Nobody does forensics thrillers like Kathy Reichs. She's the real deal.' DAVID BALDACCI
'Each book in Kathy Reichs's fantastic Temperance Brennan series is better than the last. They're filled with riveting twists and turns - and no matter how many books she writes, I just can't get enough!' LISA SCOTTOLINE
'Nobody writes a more imaginative thriller than Kathy Reichs.' CLIVE CUSSLER
Published:

18 April 2017

ISBN:

9781784755898

Imprint:

Arrow

Format:

Paperback

Pages:

384

RRP:

$22.99
Praise for The Bone Collection
Reichs' own experiences shine through at all times and she writes with an authority that few can match, but these are not dry takes from a textbook. Even in the middle of death at its most gruesome, life finds a way to shine through.

Crime Review