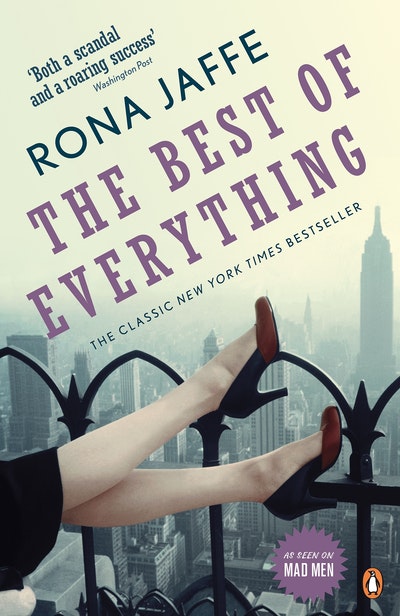 Published:

9 June 2011

ISBN:

9780141196312

Imprint:

Penguin Classics

Format:

Paperback

Pages:

512

RRP:

$19.99
The Best of Everything
---
---
---
Before Valley of the Dolls and Mad Men came this iconic novel of four young women making their way in New York City.
When it first published in 1958, Rona Jaffe's debut novel electrified readers who saw themselves reflected in its story of five young employees of a New York publishing company. There's Ivy League Caroline, who dreams of graduating from the typing pool to an editor's office; naive country girl April, who within months of hitting town reinvents herself as the woman every man wants on his arm; Gregg, the free-spirited actress with a secret yearning for domesticity. Now a classic, and as page-turning as when it first came out, The Best of Everything portrays their lives and passions with intelligence, affection, and prose as sharp as a paper cut.
Published:

9 June 2011

ISBN:

9780141196312

Imprint:

Penguin Classics

Format:

Paperback

Pages:

512

RRP:

$19.99
Praise for The Best of Everything
This stirring, evocative novel tells it exactly as it was

Fay Weldon
Not since One Day have I stayed up so late reading a book, but Rona Jaffe's The Best of Everything has me gripped...So much more than chick-lit

Laura Craik, The Evening Standard
The emotional lives of these women are beautifully drawn...It is, I think, the perfect summer read: juicy, involving and classy. Even as you smile at the thought that smoking was once considered a skill, and white cotton gloves a wardrobe basic, it will also make you feel nostalgic for your own past, for those feverish days when fear and elation were pretty much the same thing

Rachel Cooke, The Observer
One of Don's first bed companions in series one of Mad Men is not another woman, but The Best of Everything, this 1958 novel by Rona Jaffe...It is a world of typing pools and tie-wearing at all times; of whiskey drinking and womanising; a world in which secretaries grope their way towards feminism with difficulty and bosses grope their secretaries with with ease...As Draper himself might say: fascinating

The Times
Decades before Sex and the City, Jaffe recorded the minutiae of women's lives and broke powerful taboos.

Joan Smith, The Independent
I absolutely LOVED this ...what a great novel

Elizabeth Noble
Most career girls, past or present, will respond with the shock of authenticity

The Saturday Review
The book is a fantastically entertaining and witty read, following the lives of three young women, Caroline, Gregg, and April working on the New York publishing scene as they search for love while trying to succeed in the metropolis ... the book's portrait of young women at a vibrant stage in their life, their excitement, fun, struggles and friendships in the city, is accurate and timeless. A fabulous summer novel best consumed poolside with a cigarette and martini

Lucy Greene, City A.M.