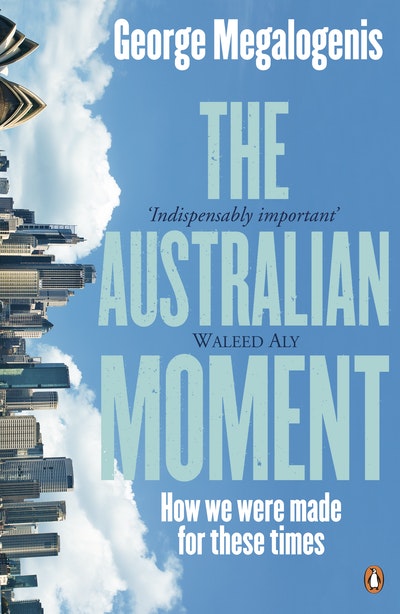 Published:

3 January 2017

ISBN:

9780143783503

Imprint:

Penguin

Format:

Paperback

Pages:

432

RRP:

$24.99
The Australian Moment
How we were made for these times
---
---
---
With new material reflecting on the changed state of the nation, this edition of the Walkley Award–winning The Australian Moment by George Megalogenis, one of our most respected journalists, will coincide with the TV series based on the book, Making Australia Great.
Winner of the 2013 Prime Minister's Literary Award, 2012 Walkley Book Award, and Australia's bestselling political book of 2012
The book of the TV series Making Australia Great
There's no better place to be during economic turbulence than Australia. Brilliant in a bust, we've learnt to use our brains in a boom. Despite a lingering inability to acknowledge our achievements at home, the rest of the world asks: how did we get it right?
George Megalogenis, one of our most respected political and economic writers, reviews the key events since the 1970s that have forged institutional and political leadership and a canny populace. He examines how we developed from a closed economy racked by the oil shocks, toughed it out during the sometimes devastating growing pains of deregulation, and survived the Asian financial crisis, the dotcom tech wreck and the GFC to become the last developed nation standing in the 2000s. As a result, whatever happens next, we're as well positioned as any to survive the ongoing rumblings of the Great Recession.
Drawing on newly declassified documents, fresh interviews with our former prime ministers and a unique ability to bring the numbers to life, Megalogenis describes how, at just the right time, the Australian people became more farsighted than our politicians. We stopped spending before the rest of the world, and at the top of a boom voted out a government that was throwing around the biggest bribes ever offered.
The Australian Moment is packed with original insight, challenging our often partisan selective memories and revealing how our leadership and community have underestimated each other's contribution to the nation's resilience.
With a new afterword and appendix for the 2015 edition
Published:

3 January 2017

ISBN:

9780143783503

Imprint:

Penguin

Format:

Paperback

Pages:

432

RRP:

$24.99
Praise for The Australian Moment
Arguably the most important work on Australian economics and modern political history of our generation.

Australian Book Review
Probably the best exposition of Australia's political history over the period of market liberal reform, and from the viewpoint of the reformers, that we have seen, or are likely to.

John Quiggin, Canberra Times
Stimulating ... It is a tribute to the intellectual power of the book that it provokes the reader to consider seriously the compelling counter-argument that, instead of continuing to progress, we have in some crucial ways squandered our inheritance.

Sydney Morning Herald
The Australian Moment reminds us that politics really does matter because the power of government matters ... George Megalogenis is no ordinary journalist.

Canberra Times
Lucid and flowing ... One of the best communicators in Australia today.

Courier-Mail
Wise, considered and incisive ... [a] lucid and penetrating portrait of Australia during the past 40 years.

Herald Sun
Highly recommended.

Good Reading
Megalogenis has the rare gift of being both comprehensive and detailed. He identifies big-picture global trends and demonstrates them forensically. The Australian Moment is him at his insightful, meticulous best. Anyone interested in Australia's political history and future, anyone who wants to understand our economic and cultural development, has no reasonable choice but to imbibe this.

Waleed Aly
This man is perhaps the sanest journalist in Australia. He believes in facts and figures. He has a unique grasp of politics in all its messy detail. The result is this splendid account of the great reforms of the last forty years.

David Marr
Megalogenis is Australia's best explainer – a historical bowerbird who has woven a sparkling narrative answering the big contemporary questions of how the hell we got here, and how we go about not buggering it up. A brilliant read.

Annabel Crabb
Likely to become the essential short work on modern Australia.

Don Watson
Queensland Literary Awards
Winner • 2012 • Advancing Public Debate
Walkley Award for Excellence in Journalism
Winner • 2012 • Non-Fiction Book
John Button Prize
Shortlisted • 2012 • Writing on Policy and Politics
Prime Minister's Literary Award
Winner • 2013 • Non-Fiction
Adelaide Festival Awards for Literature
Shortlisted • 2014 • Non-Fiction