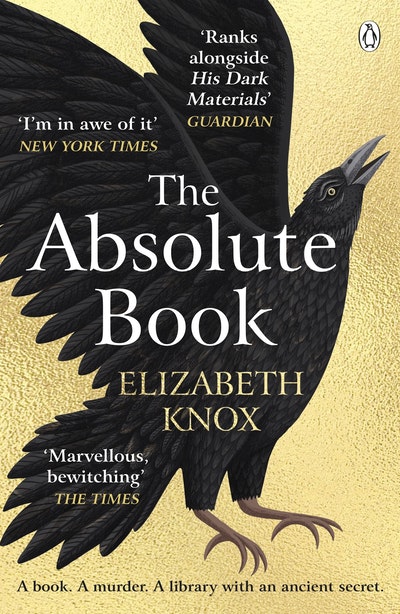 Published:

17 May 2022

ISBN:

9781405947244

Imprint:

Michael Joseph

Format:

Paperback

Pages:

400

RRP:

$22.99
The Absolute Book
'An INSTANT CLASSIC, to rank [with] masterpieces of fantasy such as HIS DARK MATERIALS or JONATHAN STRANGE AND MR NORRELL' GUARDIAN
---
---
---
'An instant classic. Ranks with masterpieces of fantasy such as His Dark Materials and Jonathan Strange & Mr Norrell' Guardian
Taryn Cornick can barely remember the library in her old family home. Since her sister was murdered, she's forgotten so much.
Now it's all coming back. The fire. The thief. The scroll box.
People are asking questions about the library. Questions that might relate to her sister's death.
And something called The Absolute Book.
A book in which secrets are written - and which everyone believes only she can find.
They insist Taryn be the hunter. But she knows the truth.
She is the hunted . . .
Published:

17 May 2022

ISBN:

9781405947244

Imprint:

Michael Joseph

Format:

Paperback

Pages:

400

RRP:

$22.99
Praise for The Absolute Book
Reminded me of how I felt reading Jonathan Strange and Mr. Norrell or His Dark Materials - this is a masterpiece

Dan Kois, Slate
A triumph. Book where the best hearts meet the best minds meet the best imaginations are few and far between

Pip Adam
Every page is a declaration of love for story, for literature, for libraries

Maria McMillan
A tour de force. Ursula Le Guin would have loved this book

Jane Stafford
The power is in the skill and pace of Knox's storytelling, the perfect spinning of the intricate plot, the sharp dialogue and luminous evocation of place

Charlotte Grimshaw
An angelic book, an apocalyptic book, an astounding book

Francis Spufford
Intricately plotted and gorgeously written, THE ABSOLUTE BOOK has something for everyone: the search for a mysterious book, talking ravens, police detectives and academics, gods and demons, a giant saltwater crocodile, the bucolic English countryside and magical gates to hidden worlds. Here is a cinematic tale that is by turns dark and dreamlike, yet ultimately hopeful

Deborah Harkness, author of A Discovery of Witches
Gorgeous. The payoffs and reveals are mind-blowing

Laini Taylor, author of Daughter of Smoke and Bone
A bibliophile's daydream

Scotland on Sunday
A propulsive parallel-worlds fantasy epic about the power of stories and storytelling

Guardian, 'What to look forward to this year'
One of those books which will never let you go. A beautiful, fantastic, ride that travels from one end of the earth to the other and beyond, Knox takes you on a journey that will amaze and astound you . . . The Absolute Book takes readers on a journey they won't soon forget. Fantastic and wondrous, it is a delight and will leave readers wistful for a world as magical as the one she's created

Blogcritics
Contains multitudes, spanning the geographies of Canada, Britain and New Zealand; the cosmologies of fairies, demons and angels; and the genres of thriller, domestic realism and epic fantasy. Reading the book is like holding folds of shot silk to the light, finding green flash in something that looks purple, and appreciating how thoughtfully the warp and weft embrace each other. I'm in awe of it

New York Times Review of Books
If you love a little supernatural magic and mystery, you will love this clever blend of myth, religion, folklore and reality, as the story draws the reader into the realm of faerie and demon, immersing us in a fantasy world where bliss can be found

Living Edge
An enchanting weaving together of mythologies and a meeting of worlds, all bound up with the power of stories and the fate of the ultimate book. Far-reaching and profound, this is a novel to lose yourself in

Alison Littlewood, bestselling author of A Cold Season and The Hidden People
A mind-blowing optical illusion of a novel. This grand ode to Story itself is one that begs for a reread

Booklist
Full of intrigue, mystery, magic, and history, this is a fascinating read that is hard to put down

Buzzfeed
A murder, a mysterious library and something called the Absolute Book feature in this fantastical new outing

The Times
An ambitious, gripping, and multifaceted [novel], animated by a sharp imagination

SFX
Gripping and hugely ambitious, the broad narrative flood sweeps us on to an extraordinary conclusion

Daily Mail
The dream for any book lover - a story about the importance of stories and all the ways we pass them on

Foyles
A marvellous argument for stories. There are Norse gods, references to Merlin, a tour through purgatory and a strange parallel world where magic is real and humans are bit players in the clash of supernatural realms. Bewitching

The Times
An INSTANT CLASSIC, a work to rank alongside other modern masterpieces of fantasy such as Philip Pullman's His Dark Materials series or Susanna Clarke's Jonathan Strange and Mr Norrell. Everything fantasy should be: original, magical, well read, compelling

Guardian
Savour and absorb the world Knox conjures

Sunday Times
A book about books, a psychological crime novel, a romance, a portal fantasy, a technothriller, a historical fantasy, and an allegory - this melding of modes and mixing of genres, this surfeit of stories, is The Absolute Book's greatest strength. Accomplished, exuberant, generous, original . . . readers will have few regrets

Matthew Keeley, Tor.com
Where better to get lost than a mighty, make-believe kingdom reminiscent of Swift

i
Epic, imaginative and exquisitely written, this is a feat of fantastical world-building

Daily Express
Enchanting . . . Knox hits the mark

Herald
A magical book; doors between worlds; talking birds, vicious fairies and a trip to Purgatory. Stuffed with literary allusion and mythic echoes from the Norse legends to Alan Garner, straddling dimensions and hopping genres with ease, this is a one-of-a-kind fantasy novel that's worth getting lost in

Guardian, 50 Hottest Books