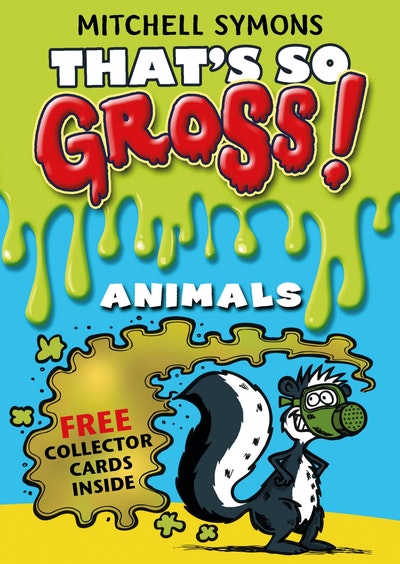 Published:

30 March 2012

ISBN:

9781409026457

Imprint:

Penguin eBooks

Format:

EBook

Pages:

160
That's So Gross!: Animals
---
---
---
A funny and fascinating new series from Mitch Symons - the double Blue Peter Award winning, revolting reference expert!
IT'S A JUNGLE OUT THERE...
Arm yourself with the answers to top trivia such as:
Why are porcupines so pongy?
Why do angry monkeys fling their poo at each other?
Why do ostriches pee on their own legs?
Includes cool collector cards to swap with your mates.
Published:

30 March 2012

ISBN:

9781409026457

Imprint:

Penguin eBooks

Format:

EBook

Pages:

160
Praise for That's So Gross!: Animals
Mitch knows more totally useless things about useless subjects than anybody on Earth

Chris Tarrant
Boys love facts. And the more disgusting these facts are, the better. As I have mentioned on The Book Zone in the past, some of the most popular books in the school library are The Guiness Book of Records and Ripley's Believe It Or Not. Every break time there are groups of boys gathered around the various volumes of these that we have on the shelves, and sometimes we have to step in and encourage them to enjoy them in a slightly less rowdy manner, especially where Ripley's is concerned. Thus, when these four books arrived from the generous people at Random House I decided that before going through them myself I would put them to the test in the school library. We took the boys' favourites off the shelf for one break time and had these ready in their place, and then sat back to observe their reaction. Their reaction spoke volumes. After the initial disappointment at the absence of their glossy, large format favourites they were soon gathered around in their groups, taking it in turns to flick through whichever book they had in search of the grossest fact they could find. Cue raucous laughter and non-stop giggling for the next twenty minutes - Mitchell Symons's That's So Gross books passed the test with flying colours!

The Book Zone (for boys): bookzone4boys.blogspot.com
Animals, creepy crawlies and the human body are tackled in a Horrible Histories way, and each book is packed with the sort of disgusting trivia that delights children under eight.

Toby Clements, The Telegraph