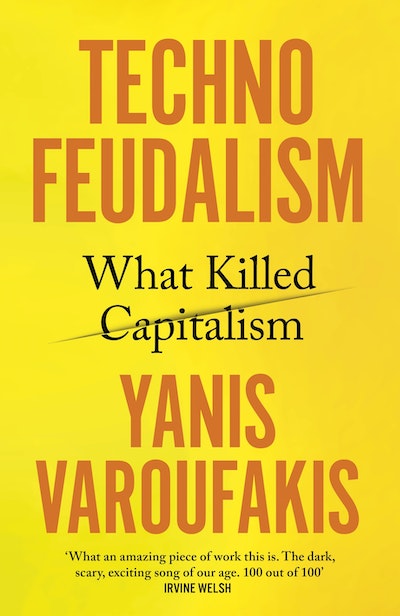 Published:

26 September 2023

ISBN:

9781847927286

Imprint:

Bodley Head

Format:

Trade Paperback

Pages:

224

RRP:

$36.99
Technofeudalism
What Killed Capitalism
---
---
---
The world-famous #1 bestselling economist explains how capitalism has been usurped by a technologically enhanced form of feudalism
No one noticed when capitalism died.
Perhaps we were too distracted by the implosion of global finance, or the rise of populism, or the demise of the planet - or all of those cute cats on Instagram. But gradually, quietly, a yet more exploitative new system has taken hold: techno-feudalism.
Written in the form of a letter to his late father, who first taught him about the power of new technologies to shape human history, Yanis Varoufakis explains how Big Tech has effected an invisible but fundamental transformation in all our lives.
Drawing on stories from Greek Myth and pop culture, from Mad Men to Karl Marx, he explains how the key ingredients of capitalism - profit and markets - have both been replaced. And he exposes the hidden connection between your personal data and the transformative power of 'cloud capital' which means that without our realising it, we are all working every day for the tech giants, for free.
Published:

26 September 2023

ISBN:

9781847927286

Imprint:

Bodley Head

Format:

Trade Paperback

Pages:

224

RRP:

$36.99
Praise for Technofeudalism
An incisive critique

Guardian
An incisive critique

Guardian
An incisive critique

Guardian
An incisive critique

Guardian
An incisive critique

Guardian
An incisive critique

Guardian
An incisive critique

Guardian
An incisive critique

Guardian
An incisive critique

Guardian
An incisive critique

Guardian
An incisive critique

Guardian
A book for anybody who wants to understand the mess we're in - and since we're all in this mess, that makes it a book for everybody

SLAVOJ ZIZEK
A book for anybody who wants to understand the mess we're in - and since we're all in this mess, that makes it a book for everybody

SLAVOJ ZIZEK
A book for anybody who wants to understand the mess we're in - and since we're all in this mess, that makes it a book for everybody

SLAVOJ ZIZEK
A book for anybody who wants to understand the mess we're in - and since we're all in this mess, that makes it a book for everybody

SLAVOJ ZIZEK
A book for anybody who wants to understand the mess we're in - and since we're all in this mess, that makes it a book for everybody

SLAVOJ ZIZEK
A book for anybody who wants to understand the mess we're in - and since we're all in this mess, that makes it a book for everybody

SLAVOJ ZIZEK
A book for anybody who wants to understand the mess we're in - and since we're all in this mess, that makes it a book for everybody

SLAVOJ ZIZEK
A book for anybody who wants to understand the mess we're in - and since we're all in this mess, that makes it a book for everybody

SLAVOJ ZIZEK
A book for anybody who wants to understand the mess we're in - and since we're all in this mess, that makes it a book for everybody

SLAVOJ ZIZEK
A book for anybody who wants to understand the mess we're in - and since we're all in this mess, that makes it a book for everybody

SLAVOJ ZIZEK
A book for anybody who wants to understand the mess we're in - and since we're all in this mess, that makes it a book for everybody

SLAVOJ ZIZEK
With superb storytelling, Varoufakis shows how capitalism has eaten itself alive, mutating into an entirely different and more dangerous beast, and calls on us to free ourselves from digital serfdom

BRETT SCOTT, author of Cloudmoney
With superb storytelling, Varoufakis shows how capitalism has eaten itself alive, mutating into an entirely different and more dangerous beast, and calls on us to free ourselves from digital serfdom

BRETT SCOTT, author of Cloudmoney
With superb storytelling, Varoufakis shows how capitalism has eaten itself alive, mutating into an entirely different and more dangerous beast, and calls on us to free ourselves from digital serfdom

BRETT SCOTT, author of Cloudmoney
With superb storytelling, Varoufakis shows how capitalism has eaten itself alive, mutating into an entirely different and more dangerous beast, and calls on us to free ourselves from digital serfdom

BRETT SCOTT, author of Cloudmoney
With superb storytelling, Varoufakis shows how capitalism has eaten itself alive, mutating into an entirely different and more dangerous beast, and calls on us to free ourselves from digital serfdom

BRETT SCOTT, author of Cloudmoney
With superb storytelling, Varoufakis shows how capitalism has eaten itself alive, mutating into an entirely different and more dangerous beast, and calls on us to free ourselves from digital serfdom

BRETT SCOTT, author of Cloudmoney
With superb storytelling, Varoufakis shows how capitalism has eaten itself alive, mutating into an entirely different and more dangerous beast, and calls on us to free ourselves from digital serfdom

BRETT SCOTT, author of Cloudmoney
With superb storytelling, Varoufakis shows how capitalism has eaten itself alive, mutating into an entirely different and more dangerous beast, and calls on us to free ourselves from digital serfdom

BRETT SCOTT, author of Cloudmoney
With superb storytelling, Varoufakis shows how capitalism has eaten itself alive, mutating into an entirely different and more dangerous beast, and calls on us to free ourselves from digital serfdom

BRETT SCOTT, author of Cloudmoney
With superb storytelling, Varoufakis shows how capitalism has eaten itself alive, mutating into an entirely different and more dangerous beast, and calls on us to free ourselves from digital serfdom

BRETT SCOTT, author of Cloudmoney
With superb storytelling, Varoufakis shows how capitalism has eaten itself alive, mutating into an entirely different and more dangerous beast, and calls on us to free ourselves from digital serfdom

BRETT SCOTT, author of Cloudmoney
Provocative and accessible, this is sure to be a key touchstone in debates about the future of the global economy

NICK SRNICEK, co-author of Inventing the Future
Provocative and accessible, this is sure to be a key touchstone in debates about the future of the global economy

NICK SRNICEK, co-author of Inventing the Future
Provocative and accessible, this is sure to be a key touchstone in debates about the future of the global economy

NICK SRNICEK, co-author of Inventing the Future
Provocative and accessible, this is sure to be a key touchstone in debates about the future of the global economy

NICK SRNICEK, co-author of Inventing the Future
Provocative and accessible, this is sure to be a key touchstone in debates about the future of the global economy

NICK SRNICEK, co-author of Inventing the Future
Provocative and accessible, this is sure to be a key touchstone in debates about the future of the global economy

NICK SRNICEK, co-author of Inventing the Future
Provocative and accessible, this is sure to be a key touchstone in debates about the future of the global economy

NICK SRNICEK, co-author of Inventing the Future
Provocative and accessible, this is sure to be a key touchstone in debates about the future of the global economy

NICK SRNICEK, co-author of Inventing the Future
Provocative and accessible, this is sure to be a key touchstone in debates about the future of the global economy

NICK SRNICEK, co-author of Inventing the Future
Provocative and accessible, this is sure to be a key touchstone in debates about the future of the global economy

NICK SRNICEK, co-author of Inventing the Future
Provocative and accessible, this is sure to be a key touchstone in debates about the future of the global economy

NICK SRNICEK, co-author of Inventing the Future
Compulsive and necessary reading

KEN LOACH
Compulsive and necessary reading

KEN LOACH
Compulsive and necessary reading

KEN LOACH
Compulsive and necessary reading

KEN LOACH
Compulsive and necessary reading

KEN LOACH
Compulsive and necessary reading

KEN LOACH
Compulsive and necessary reading

KEN LOACH
Compulsive and necessary reading

KEN LOACH
Compulsive and necessary reading

KEN LOACH
Compulsive and necessary reading

KEN LOACH
Compulsive and necessary reading

KEN LOACH
What if capitalism died and no one noticed - not even the capitalists? Digital platforms usurped capitalism and installed something far worse. This book is an urgent demand to seize the means of computation

CORY DOCTOROW
What if capitalism died and no one noticed - not even the capitalists? Digital platforms usurped capitalism and installed something far worse. This book is an urgent demand to seize the means of computation

CORY DOCTOROW
What if capitalism died and no one noticed - not even the capitalists? Digital platforms usurped capitalism and installed something far worse. This book is an urgent demand to seize the means of computation

CORY DOCTOROW
What if capitalism died and no one noticed - not even the capitalists? Digital platforms usurped capitalism and installed something far worse. This book is an urgent demand to seize the means of computation

CORY DOCTOROW
What if capitalism died and no one noticed - not even the capitalists? Digital platforms usurped capitalism and installed something far worse. This book is an urgent demand to seize the means of computation

CORY DOCTOROW
What if capitalism died and no one noticed - not even the capitalists? Digital platforms usurped capitalism and installed something far worse. This book is an urgent demand to seize the means of computation

CORY DOCTOROW
What if capitalism died and no one noticed - not even the capitalists? Digital platforms usurped capitalism and installed something far worse. This book is an urgent demand to seize the means of computation

CORY DOCTOROW
What if capitalism died and no one noticed - not even the capitalists? Digital platforms usurped capitalism and installed something far worse. This book is an urgent demand to seize the means of computation

CORY DOCTOROW
What if capitalism died and no one noticed - not even the capitalists? Digital platforms usurped capitalism and installed something far worse. This book is an urgent demand to seize the means of computation

CORY DOCTOROW
What if capitalism died and no one noticed - not even the capitalists? Digital platforms usurped capitalism and installed something far worse. This book is an urgent demand to seize the means of computation

CORY DOCTOROW
What if capitalism died and no one noticed - not even the capitalists? Digital platforms usurped capitalism and installed something far worse. This book is an urgent demand to seize the means of computation

CORY DOCTOROW
Varoufakis is a remarkable combination of analyst and dreamer… as always, Varoufakis makes his readers think… an important achievement

Financial Times, *Books of the Year*
Varoufakis is a remarkable combination of analyst and dreamer… as always, Varoufakis makes his readers think… an important achievement

Financial Times, *Books of the Year*
Varoufakis is a remarkable combination of analyst and dreamer… as always, Varoufakis makes his readers think… an important achievement

Financial Times, *Books of the Year*
Varoufakis is a remarkable combination of analyst and dreamer… as always, Varoufakis makes his readers think… an important achievement

Financial Times, *Books of the Year*
Varoufakis is a remarkable combination of analyst and dreamer… as always, Varoufakis makes his readers think… an important achievement

Financial Times, *Books of the Year*
Varoufakis is a remarkable combination of analyst and dreamer… as always, Varoufakis makes his readers think… an important achievement

Financial Times, *Books of the Year*
Varoufakis is a remarkable combination of analyst and dreamer… as always, Varoufakis makes his readers think… an important achievement

Financial Times, *Books of the Year*
Varoufakis is a remarkable combination of analyst and dreamer… as always, Varoufakis makes his readers think… an important achievement

Financial Times, *Books of the Year*
Varoufakis is a remarkable combination of analyst and dreamer… as always, Varoufakis makes his readers think… an important achievement

Financial Times, *Books of the Year*
Varoufakis is a remarkable combination of analyst and dreamer… as always, Varoufakis makes his readers think… an important achievement

Financial Times, *Books of the Year*
Varoufakis is a remarkable combination of analyst and dreamer… as always, Varoufakis makes his readers think… an important achievement

Financial Times, *Books of the Year*