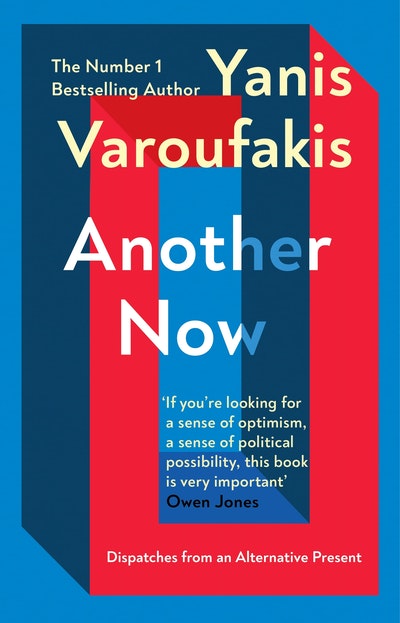 Published:

14 December 2021

ISBN:

9781529110630

Imprint:

Vintage

Format:

Paperback

Pages:

240

RRP:

$22.99
Another Now
Dispatches from an Alternative Present
---
---
---
What would a fair and equal society actually look like? The world-renowned economist and bestselling author presents his radical and subversive answer
'A landmark work' Brian Eno
Imagine a world with no banks. No stock market. No tech giants. No billionaires.
Imagine if Occupy and Extinction Rebellion actually won.
In Another Now world-famous economist, Yanis Varoufakis, shows us what such a world would look like. Far from being a fantasy, he describes how it could have come about - and might yet. But would we really want it?
Varoufakis's boundary-breaking new book confounds expectations of what the good society would look like and confronts us with the greatest question: are we able to build a better society, despite our flaws.
'One of my few heroes. As long as people like Varoufakis are around, there still is hope' Slavoj Zizek
Published:

14 December 2021

ISBN:

9781529110630

Imprint:

Vintage

Format:

Paperback

Pages:

240

RRP:

$22.99
The reason Varoufakis seems to have captured the imaginations of so many is that his words about the European crisis speak universal truths about democracy, capitalism and social policy

Guardian
The reason Varoufakis seems to have captured the imaginations of so many is that his words about the European crisis speak universal truths about democracy, capitalism and social policy

Guardian
The reason Varoufakis seems to have captured the imaginations of so many is that his words about the European crisis speak universal truths about democracy, capitalism and social policy

Guardian
The reason Varoufakis seems to have captured the imaginations of so many is that his words about the European crisis speak universal truths about democracy, capitalism and social policy

Guardian
One of my few heroes

Slavoj Zizek
One of my few heroes

Slavoj Zizek
One of my few heroes

Slavoj Zizek
One of my few heroes

Slavoj Zizek
The most interesting man in the world

Business Insider
The most interesting man in the world

Business Insider
The most interesting man in the world

Business Insider
The most interesting man in the world

Business Insider
I am enjoying Yanis Varoufakis's Another Now. The way we live is not inevitable

Jeanette Winterson
I am enjoying Yanis Varoufakis's Another Now. The way we live is not inevitable

Jeanette Winterson
I am enjoying Yanis Varoufakis's Another Now. The way we live is not inevitable

Jeanette Winterson
I am enjoying Yanis Varoufakis's Another Now. The way we live is not inevitable

Jeanette Winterson
Another Now is not only a marvellously good read - it is a notable addition to the literature of social change

The Wire
Another Now is not only a marvellously good read - it is a notable addition to the literature of social change

The Wire
Another Now is not only a marvellously good read - it is a notable addition to the literature of social change

The Wire
Another Now is not only a marvellously good read - it is a notable addition to the literature of social change

The Wire
There is something exciting, even invigorating, about envisioning this world alongside Varoufakis ... one finishes Another Now buzzing with a sense of possibility

The Monthly
There is something exciting, even invigorating, about envisioning this world alongside Varoufakis ... one finishes Another Now buzzing with a sense of possibility

The Monthly
There is something exciting, even invigorating, about envisioning this world alongside Varoufakis ... one finishes Another Now buzzing with a sense of possibility

The Monthly
There is something exciting, even invigorating, about envisioning this world alongside Varoufakis ... one finishes Another Now buzzing with a sense of possibility

The Monthly
I've absolutely loved reading [Another Now] ... the second I started reading it, it surprised and intrigued me

Matthew Taylor, RSA
I've absolutely loved reading [Another Now] ... the second I started reading it, it surprised and intrigued me

Matthew Taylor, RSA
I've absolutely loved reading [Another Now] ... the second I started reading it, it surprised and intrigued me

Matthew Taylor, RSA
I've absolutely loved reading [Another Now] ... the second I started reading it, it surprised and intrigued me

Matthew Taylor, RSA
I could not recommend this more. If you're looking for a sense of optimism, a sense of political possibility, this book is very important

Owen Jones
I could not recommend this more. If you're looking for a sense of optimism, a sense of political possibility, this book is very important

Owen Jones
I could not recommend this more. If you're looking for a sense of optimism, a sense of political possibility, this book is very important

Owen Jones
I could not recommend this more. If you're looking for a sense of optimism, a sense of political possibility, this book is very important

Owen Jones
Another Now is structurally, ideologically and linguistically an extraordinary work

Zoe Williams
Another Now is structurally, ideologically and linguistically an extraordinary work

Zoe Williams
Another Now is structurally, ideologically and linguistically an extraordinary work

Zoe Williams
Another Now is structurally, ideologically and linguistically an extraordinary work

Zoe Williams
Combining a provocative thought-experiment with a deeply original sci-fi narrative, this book is both visionary in its search for new possibilities and realistic in its embrace of the complexities of our human nature

Alfonso Cuarón, Oscar-winning Director of Roma and Gravity
Combining a provocative thought-experiment with a deeply original sci-fi narrative, this book is both visionary in its search for new possibilities and realistic in its embrace of the complexities of our human nature

Alfonso Cuarón, Oscar-winning Director of Roma and Gravity
Combining a provocative thought-experiment with a deeply original sci-fi narrative, this book is both visionary in its search for new possibilities and realistic in its embrace of the complexities of our human nature

Alfonso Cuarón, Oscar-winning Director of Roma and Gravity
Combining a provocative thought-experiment with a deeply original sci-fi narrative, this book is both visionary in its search for new possibilities and realistic in its embrace of the complexities of our human nature

Alfonso Cuarón, Oscar-winning Director of Roma and Gravity
A landmark work ... A vision of a new society with new ways of thinking is possibly the most important thing an artist can offer at the moment

Brian Eno
A landmark work ... A vision of a new society with new ways of thinking is possibly the most important thing an artist can offer at the moment

Brian Eno
A landmark work ... A vision of a new society with new ways of thinking is possibly the most important thing an artist can offer at the moment

Brian Eno
A landmark work ... A vision of a new society with new ways of thinking is possibly the most important thing an artist can offer at the moment

Brian Eno
From @yanisvaroufakis' sf novel ANOTHER NOW, the absolute best description of the scam of #InvestmentBanking I've ever read

Cory Doctorow on Twitter
From @yanisvaroufakis' sf novel ANOTHER NOW, the absolute best description of the scam of #InvestmentBanking I've ever read

Cory Doctorow on Twitter
From @yanisvaroufakis' sf novel ANOTHER NOW, the absolute best description of the scam of #InvestmentBanking I've ever read

Cory Doctorow on Twitter
From @yanisvaroufakis' sf novel ANOTHER NOW, the absolute best description of the scam of #InvestmentBanking I've ever read

Cory Doctorow on Twitter