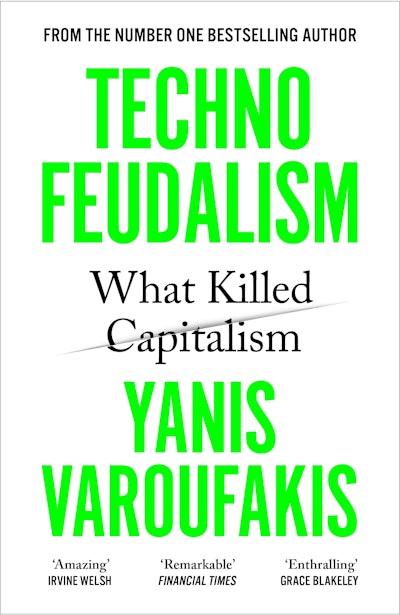 Published:

28 September 2023

ISBN:

9781529194500

Imprint:

Vintage Digital

Format:

EBook

Pages:

304
Technofeudalism
What Killed Capitalism
---
---
---
The #1 bestselling economist opens our eyes to the new power that is reshaping our lives and the world
No one noticed when capitalism was ... replaced. Perhaps we were too distracted by the pandemic, or the endless financial crises, or the rise of TikTok. But under cover of them all, a new and more exploitative system has been taking hold.
Insane sums of money that were supposed to re-float our economies went to big tech instead. Having privatised the internet, big tech has been able to replace capitalism's twin pillars - markets and profit - with its platforms and rents. With every click and scroll, we labour like serfs to increase its power. Welcome to technofeudalism: the new power that is reshaping our lives and the world, and the greatest current threat to social democracy.
Drawing on stories from Greek Myth and pop culture, from Homer to Mad Men, world-famous economist Yanis Varoufakis explains this revolutionary transformation: how it enslaves our minds, how it rewrites the rules of global power and ultimately what it will take overthrow it.
Published:

28 September 2023

ISBN:

9781529194500

Imprint:

Vintage Digital

Format:

EBook

Pages:

304
Praise for Technofeudalism
An incisive critique

Guardian
An incisive critique

Guardian
An incisive critique

Guardian
An incisive critique

Guardian
An incisive critique

Guardian
An incisive critique

Guardian
An incisive critique

Guardian
An incisive critique

Guardian
An incisive critique

Guardian
An incisive critique

Guardian
A book for anybody who wants to understand the mess we're in - and since we're all in this mess, that makes it a book for everybody

SLAVOJ ZIZEK
A book for anybody who wants to understand the mess we're in - and since we're all in this mess, that makes it a book for everybody

SLAVOJ ZIZEK
A book for anybody who wants to understand the mess we're in - and since we're all in this mess, that makes it a book for everybody

SLAVOJ ZIZEK
A book for anybody who wants to understand the mess we're in - and since we're all in this mess, that makes it a book for everybody

SLAVOJ ZIZEK
A book for anybody who wants to understand the mess we're in - and since we're all in this mess, that makes it a book for everybody

SLAVOJ ZIZEK
A book for anybody who wants to understand the mess we're in - and since we're all in this mess, that makes it a book for everybody

SLAVOJ ZIZEK
A book for anybody who wants to understand the mess we're in - and since we're all in this mess, that makes it a book for everybody

SLAVOJ ZIZEK
A book for anybody who wants to understand the mess we're in - and since we're all in this mess, that makes it a book for everybody

SLAVOJ ZIZEK
A book for anybody who wants to understand the mess we're in - and since we're all in this mess, that makes it a book for everybody

SLAVOJ ZIZEK
A book for anybody who wants to understand the mess we're in - and since we're all in this mess, that makes it a book for everybody

SLAVOJ ZIZEK
With superb storytelling, Varoufakis shows how capitalism has eaten itself alive, mutating into an entirely different and more dangerous beast, and calls on us to free ourselves from digital serfdom

BRETT SCOTT, author of Cloudmoney
With superb storytelling, Varoufakis shows how capitalism has eaten itself alive, mutating into an entirely different and more dangerous beast, and calls on us to free ourselves from digital serfdom

BRETT SCOTT, author of Cloudmoney
With superb storytelling, Varoufakis shows how capitalism has eaten itself alive, mutating into an entirely different and more dangerous beast, and calls on us to free ourselves from digital serfdom

BRETT SCOTT, author of Cloudmoney
With superb storytelling, Varoufakis shows how capitalism has eaten itself alive, mutating into an entirely different and more dangerous beast, and calls on us to free ourselves from digital serfdom

BRETT SCOTT, author of Cloudmoney
With superb storytelling, Varoufakis shows how capitalism has eaten itself alive, mutating into an entirely different and more dangerous beast, and calls on us to free ourselves from digital serfdom

BRETT SCOTT, author of Cloudmoney
With superb storytelling, Varoufakis shows how capitalism has eaten itself alive, mutating into an entirely different and more dangerous beast, and calls on us to free ourselves from digital serfdom

BRETT SCOTT, author of Cloudmoney
With superb storytelling, Varoufakis shows how capitalism has eaten itself alive, mutating into an entirely different and more dangerous beast, and calls on us to free ourselves from digital serfdom

BRETT SCOTT, author of Cloudmoney
With superb storytelling, Varoufakis shows how capitalism has eaten itself alive, mutating into an entirely different and more dangerous beast, and calls on us to free ourselves from digital serfdom

BRETT SCOTT, author of Cloudmoney
With superb storytelling, Varoufakis shows how capitalism has eaten itself alive, mutating into an entirely different and more dangerous beast, and calls on us to free ourselves from digital serfdom

BRETT SCOTT, author of Cloudmoney
With superb storytelling, Varoufakis shows how capitalism has eaten itself alive, mutating into an entirely different and more dangerous beast, and calls on us to free ourselves from digital serfdom

BRETT SCOTT, author of Cloudmoney
Provocative and accessible, this is sure to be a key touchstone in debates about the future of the global economy

NICK SRNICEK, co-author of Inventing the Future
Provocative and accessible, this is sure to be a key touchstone in debates about the future of the global economy

NICK SRNICEK, co-author of Inventing the Future
Provocative and accessible, this is sure to be a key touchstone in debates about the future of the global economy

NICK SRNICEK, co-author of Inventing the Future
Provocative and accessible, this is sure to be a key touchstone in debates about the future of the global economy

NICK SRNICEK, co-author of Inventing the Future
Provocative and accessible, this is sure to be a key touchstone in debates about the future of the global economy

NICK SRNICEK, co-author of Inventing the Future
Provocative and accessible, this is sure to be a key touchstone in debates about the future of the global economy

NICK SRNICEK, co-author of Inventing the Future
Provocative and accessible, this is sure to be a key touchstone in debates about the future of the global economy

NICK SRNICEK, co-author of Inventing the Future
Provocative and accessible, this is sure to be a key touchstone in debates about the future of the global economy

NICK SRNICEK, co-author of Inventing the Future
Provocative and accessible, this is sure to be a key touchstone in debates about the future of the global economy

NICK SRNICEK, co-author of Inventing the Future
Provocative and accessible, this is sure to be a key touchstone in debates about the future of the global economy

NICK SRNICEK, co-author of Inventing the Future
Compulsive and necessary reading

KEN LOACH
Compulsive and necessary reading

KEN LOACH
Compulsive and necessary reading

KEN LOACH
Compulsive and necessary reading

KEN LOACH
Compulsive and necessary reading

KEN LOACH
Compulsive and necessary reading

KEN LOACH
Compulsive and necessary reading

KEN LOACH
Compulsive and necessary reading

KEN LOACH
Compulsive and necessary reading

KEN LOACH
Compulsive and necessary reading

KEN LOACH
What if capitalism died and no one noticed - not even the capitalists? Digital platforms usurped capitalism and installed something far worse. This book is an urgent demand to seize the means of computation

CORY DOCTOROW
What if capitalism died and no one noticed - not even the capitalists? Digital platforms usurped capitalism and installed something far worse. This book is an urgent demand to seize the means of computation

CORY DOCTOROW
What if capitalism died and no one noticed - not even the capitalists? Digital platforms usurped capitalism and installed something far worse. This book is an urgent demand to seize the means of computation

CORY DOCTOROW
What if capitalism died and no one noticed - not even the capitalists? Digital platforms usurped capitalism and installed something far worse. This book is an urgent demand to seize the means of computation

CORY DOCTOROW
What if capitalism died and no one noticed - not even the capitalists? Digital platforms usurped capitalism and installed something far worse. This book is an urgent demand to seize the means of computation

CORY DOCTOROW
What if capitalism died and no one noticed - not even the capitalists? Digital platforms usurped capitalism and installed something far worse. This book is an urgent demand to seize the means of computation

CORY DOCTOROW
What if capitalism died and no one noticed - not even the capitalists? Digital platforms usurped capitalism and installed something far worse. This book is an urgent demand to seize the means of computation

CORY DOCTOROW
What if capitalism died and no one noticed - not even the capitalists? Digital platforms usurped capitalism and installed something far worse. This book is an urgent demand to seize the means of computation

CORY DOCTOROW
What if capitalism died and no one noticed - not even the capitalists? Digital platforms usurped capitalism and installed something far worse. This book is an urgent demand to seize the means of computation

CORY DOCTOROW
What if capitalism died and no one noticed - not even the capitalists? Digital platforms usurped capitalism and installed something far worse. This book is an urgent demand to seize the means of computation

CORY DOCTOROW
Varoufakis is a remarkable combination of analyst and dreamer… as always, Varoufakis makes his readers think… an important achievement

Financial Times, *Books of the Year*
Varoufakis is a remarkable combination of analyst and dreamer… as always, Varoufakis makes his readers think… an important achievement

Financial Times, *Books of the Year*
Varoufakis is a remarkable combination of analyst and dreamer… as always, Varoufakis makes his readers think… an important achievement

Financial Times, *Books of the Year*
Varoufakis is a remarkable combination of analyst and dreamer… as always, Varoufakis makes his readers think… an important achievement

Financial Times, *Books of the Year*
Varoufakis is a remarkable combination of analyst and dreamer… as always, Varoufakis makes his readers think… an important achievement

Financial Times, *Books of the Year*
Varoufakis is a remarkable combination of analyst and dreamer… as always, Varoufakis makes his readers think… an important achievement

Financial Times, *Books of the Year*
Varoufakis is a remarkable combination of analyst and dreamer… as always, Varoufakis makes his readers think… an important achievement

Financial Times, *Books of the Year*
Varoufakis is a remarkable combination of analyst and dreamer… as always, Varoufakis makes his readers think… an important achievement

Financial Times, *Books of the Year*
Varoufakis is a remarkable combination of analyst and dreamer… as always, Varoufakis makes his readers think… an important achievement

Financial Times, *Books of the Year*
Varoufakis is a remarkable combination of analyst and dreamer… as always, Varoufakis makes his readers think… an important achievement

Financial Times, *Books of the Year*