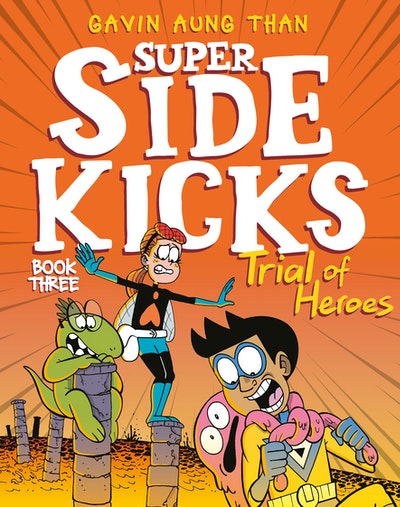 Published:

28 April 2020

ISBN:

9780143795902

Imprint:

Puffin

Format:

Trade Paperback

Pages:

160

RRP:

$14.99
Super Sidekicks 3: Trial of Heroes
---
---
---
'Everyone loves an underdog. SUPER SIDEKICKS is a winner!' Lincoln Peirce, author of BIG NATE
The Super Sidekicks just saved the world and now they've been invited to join H.E.R.O. – the Heroic Earth Righteousness Organisation – an exclusive club for the planet's most famous superheroes. But before they can become members, the team must pass the hardest challenge in the universe, a test so scary and difficult only the truly heroic can survive.
The Super Sidekicks are back! Prepare for another amazing adventure from New York Times bestselling Australian author, Gavin Aung Than.
Published:

28 April 2020

ISBN:

9780143795902

Imprint:

Puffin

Format:

Trade Paperback

Pages:

160

RRP:

$14.99
Praise for Super Sidekicks 3: Trial of Heroes
With its graphic novel format ensuring an abundance of action this new episode will be welcomed by the growing body of fans of the series as students return to school and are eagerly seeking something new to read . . . Pitch it to those newly independent readers who like action and adventure as well as a feeling of being on the side of right

Barbara Braxton, Teacher Librarian, thebottomshelf.edublogs.org
The writing style is highly engaging and a lot of fun to read. The layout leads the reader easily between graphic frames and the illustrations are exceptional. There are some very amusing moments throughout but there is more than entertainment here as this crazy superhero team undertakes challenging tasks in which they must rely on each other to succeed and demonstrate initiative and resilience. This is a great read and highly recommended.

Jennifer Mors, CBCA Reading Time
I enjoyed the overall sentiment of the story where working together as a team and looking out for each other is the main goal. Trial of heroes certainly had a 'feel good' element to it, especially the ending. I think children of ages 8 and above will really enjoy this story, especially the images. Gavin Aung Than is a cartoonist for the New York Times and his skills are very evident.

Lauren Fountain, ReadPlus
Article
Article
Easy activities for kids at home
Keep the kids entertained with these fun book-related ideas. There's an activity book for every age: one for littlies, one for kids and one for grown-ups too!