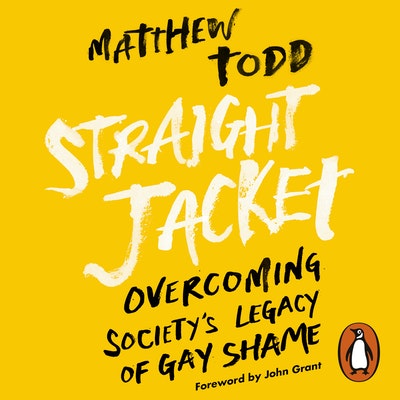 Published:

8 March 2018

ISBN:

9781473556263

Imprint:

Transworld Digital

Format:

Audio Download

Length:

11 hr 41 min

Narrator:

Matthew Todd

RRP:

$22.99
Straight Jacket
---
---
---
Part memoir, part groundbreaking polemic, this is a revolutionary guide for the gay and LGBT community on how to build happy, secure lives and relationships, and a call-to-arms for society to protect and nurture young people, regardless of their sexual orientation.

Random House presents the audio edition of Straight Jacket, written and read by Matthew Todd.
WINNER BOYZ BEST LGBT BOOK 2017
SHORTLISTED FOR THE POLARI BOOK PRIZE 2017
Straight Jacket is a revolutionary clarion call for gay men, the wider LGBT community, their friends and family. Part memoir, part ground-breaking polemic, it looks beneath the shiny facade of contemporary gay culture and asks if gay people are as happy as they could be - and if not, why not?
Meticulously researched, courageous and life-affirming, Straight Jacket offers invaluable practical advice on how to overcome a range of difficult issues. It also recognizes that this is a watershed moment, a piercing wake-up-call-to-arms for the gay and wider community to acknowledge the importance of supporting all young people - and helping older people to transform their experience and finally get the lives they really want.
'This is an essential read for every gay person on the planet' - Elton John
'Matthew Todd thought he had long since dealt with the demons surrounding his sexuality. In [his] new book, he reveals the crisis of shame facing the gay community - and how to solve it.' - The Observer
Published:

8 March 2018

ISBN:

9781473556263

Imprint:

Transworld Digital

Format:

Audio Download

Length:

11 hr 41 min

Narrator:

Matthew Todd

RRP:

$22.99
Praise for Straight Jacket
This book should have been written a long time ago, but it wasn't...Everyone, no matter what their background, will benefit from reading this book. A much-needed and healing work of tough love, written with love.

John Grant
A sensitive subject, brilliantly and intelligently handled.

Evan Davis
If only this had been written twenty years ago I can only imagine the lives that could have been saved sooner. This is a hugely important book for everyone. It's changed the way I see myself, other people and the world.

Paris Lees, author and <i>British Vogue</i> Contributing Editor
An essential book... Part sociological polemic and part self-help book, it zones in on some of the issues that disproportionately affect the gay community, from depression and anxiety to drug and alcohol addiction and body and eating disorders. I found myself both deeply upset and hugely relieved by its candour. After reading the book, tender as it is, you can't help but want to share your own experiences. Consider Straight Jacket a call to arms.

Independent (i)
Matthew Todd thought he had long since dealt with the demons surrounding his sexuality. In [his] new book, he reveals the crisis of shame facing the gay community - and how to solve it.

The Observer
Straight Jacket documents Todd's own childhood experiences, and the long-term mental health and addiction issues he has suffered; he is also using it to call for a government inquiry into the experiences of LGBT children at school.

Guardian
It's an important book. I had to read it right through. It tackles some tough issues and is searingly honest

Lorraine Kelly
Matthew Todd dares to shine a light on the dark legacy of gay shame [and] it's not a pretty sight.There are some uncomfortable and downright terrifying truths to be confronted in Todd's brilliant, essential new book. It's difficult to underestimate the importance of Straight Jacket. If you are struggling and want help and don't know where to look, this book is a great place to start. But even if you're not, [it] is by far one of the most important books you'll read this year.

Gay Community News Ireland
Cannot put it down. a book like this is long overdue.

Charlie Condou
An excoriating book, Straight Jacket: How to be Gay and Happy delves into contemporary gay culture to address a plethora of issues gay people continue to face in 2016.

Attitude
Todd doesn't hold back in calling for a shift both outside and inside the gay community. He calls out hook-up apps such as Grindr, the 'mean girls' persona that so many gay men adopt, and the gay press itself. Straight Jacket isn't just a self-help book. It's a resource for anyone with an interest in knowing what needs to change to bring about real equality... For that, Matthew Todd has another reason to be proud.

Evening Standard
There are some uncomfortable and downright terrifying truths in Todd's brilliant, essential new book... It's difficult to underestimate the importance of Straight Jacket. It's fundamentally a call to arms, a wide-ranging, desperately heartfelt cri de coeur. The gay community needs to look at ways of taking better care of itself, being nicer to each other and offering and providing support when it's needed.

Gay Community News, Dublin
This is an essential read for every gay person on the planet.

Elton John
An honest and perceptive book.

Sunday Express
Utterly brilliant.

Owen Jones, The Guardian
A smashing book.

Paul O'Grady
Excellent. A valuable contribution to mental health and a must read.

Dr Christian Jessen
One of the most powerful books, sensitively and elegantly written, I think, that I have ever read.

Lord Michael Cashman CBE
The book everyone is talking about. This is probably the most important thing I'll ever read as a gay man. Full of profundity and fearless honesty.

Calum McSwiggan, Youtuber, </i>Calum McSwiggan, Youtuber
Straight Jacket is a really brilliant and moving read for everybody, especially LGBTQ+ people. Thanks Matthew.

<i> Years and Years </i> singer Olly Alexander
I got so much out of that book and I know a lot of people have. It's helping a lot of people. It's a bible.

Performance artist David Hoyle
I'm about to read Straight Jacket for a second time. Brilliant, important, inspiring, brave.

Rucomingout.com's Wayne Dhesi
An honest insight into LGBTQ life that everybody should be enlightened about regardless of sexuality.

Rylan Clark-Neal
This powerful book, I believe, will save lives. I'd like to see every gay man read this.

Juno Dawson, The Guardian
A superb book. Have read it twice now.

Oliver Thring, <i>Times</i> journalist
The book we should all be talking about.

Prowler magazine
Thank you for writing this book. It is a must read.

Activist Bisi Alimi
One of the best books we have ever read. Honest, thought provoking and much needed.

Q Scene magazine
Finally started to read Straight Jacket. I'm already blown away. An incredibly honest and insightful read. Bravo Matthew.

Journalist Tom Knight
I recommend it to everyone I meet. I've bought 15 copies to give to people. In my opinion it should be on every teacher's reading list. Whoever you are - especially if you are straight - go and buy it now. It could help change your life and the world around you.

</i>Rankin (Photographer & Director)
Insightful, inclusive, clever and engaging

Jeremy Langmead
Amazing. A seminal work. It will be used as a study book.

</i>Will Young