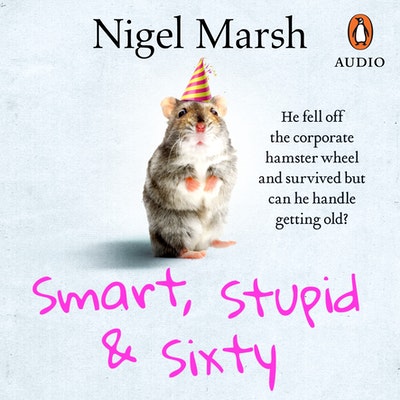 Published:

16 August 2022

ISBN:

9780143779667

Imprint:

Penguin Random House Australia Audio

Format:

Audio Download

Narrator:

Nigel Marsh

RRP:

$34.99
Smart, Stupid and Sixty
---
---
---
From the bestselling author of Fat, Forty and Fired comes this entertaining, thought-provoking and poignant account of turning sixty.

Twenty years ago, Nigel Marsh was an overweight mortgage slave struggling to balance a career, marriage and four children under eight. Until he lost his job.
InFat, Forty and Fired, Nigel wrote about falling off the corporate hamster wheel and surviving. Now that he's approaching sixty, he can't help but notice it's been a while since he was asked onto that wheel by other hamsters. One day he reads that a graduate trainee who used to work for him in London is now a global CEO with an office on the top floor of a skyscraper in New York. Nigel, by contrast, is wearing a dressing gown and sitting at his writing desk in a dank storage room under his garage in Sydney. It's enough to give anyone a moment of self-doubt.
Could it be that Nigel's most successful days are behind him? Or is conventional success simply that – conventional success? And is it possible that his happiest days lie ahead?
In his memoir for his sixth decade on earth, Nigel ponders ageing well, sex, parenting adult children, his parents' passing, and the secret to living a happy life. By turns entertaining, thought-provoking, poignant and life-affirming, Smart, Stupid and Sixty is a celebration of the third trimester as a privilege to be enjoyed rather than a sentence to be endured.
Published:

16 August 2022

ISBN:

9780143779667

Imprint:

Penguin Random House Australia Audio

Format:

Audio Download

Narrator:

Nigel Marsh

RRP:

$34.99