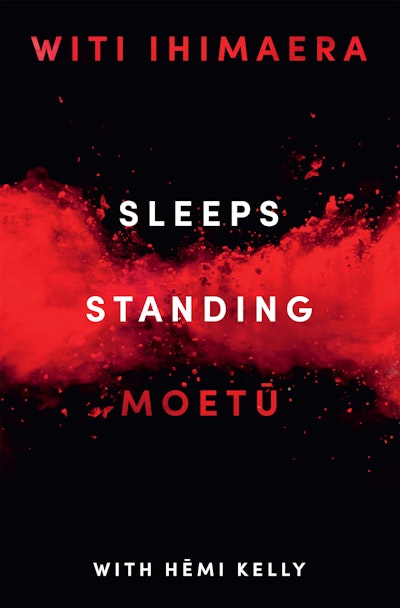 Published:

16 April 2019

ISBN:

9780143773887

Imprint:

RHNZ Vintage

Format:

Paperback

Pages:

224

RRP:

$27.99
Sleeps Standing
A Story of the Battle of Orakau
---
---
---
A little book containing so much: a novella, history, eyewitness reports, Maori translation, verse and images.
Both fiction and fact, this fascinating book is a kaleidoscopic exploration of the Battle of Orakau.
During three days in 1864, 300 Maori men, women and children fought an Imperial army and captured the imagination of the world. The battle marked the end of the Land Wars in the Waikato and resulted in vast tracts of land being confiscated for European settlement. Instead of following the usual standpoint of the victors, this book takes a Maori perspective. It is centred around Witi Ihimaera's moving novella, Sleeps Standing, which views the battle through the eyes of a 16-year-old boy named Moetu.
Alongside the novella are non-fiction narratives from Maori eyewitnesses, together with images and a Maori translation by Hemi Kelly, further giving voice to and illuminating the people who tried to protect their culture and land.
It is estimated that, at the height of the battle, 1700 immensely superior troops, well-armed and amply resourced, laid siege to the hastily constructed pa at Orakau. The defenders were heavily outnumbered with few supplies or weapons but, when told to submit, they replied:
'E hoa, ka whawhai tonu matou, ake, ake, ake!'
'Friend, I shall fight against you for ever, for ever!'
Published:

16 April 2019

ISBN:

9780143773887

Imprint:

RHNZ Vintage

Format:

Paperback

Pages:

224

RRP:

$27.99
Praise for Sleeps Standing
Moetu is a wonderful character, and vividly drawn. . . . The novella is printed in English on the right-hand page, and in Kelly's Maori translation on the left. It is followed by some other eyewitness testimonies from those involved in the battle. These are as vitally written as the novella, though the details vary - in the midst of a battle no-one will know exactly what's going on. . . . the value of the Maori translation is that it enables those whose grasp of the language is not yet strong to check their understanding of what they're reading from the opposite page. For non-Maori speakers, the book gives a different perspective on a battle that's not always been presented from the Maori side.

Mike Crow, Otago Daily Times
Selected as one of the '100 Best Books of 2017'.

Russell Baillie, NZ Listener
This small book, with its precious illustrations, is a treasure.

Linda Thompson, Horowhenua Chronicle
Witi Ihimaera's fascinating novella mixes fact and fiction in retelling the tragic story of the battle. It also mixes, innovatively, both English and Maori. Ably abetted by translator Hemi Kelly, Ihimaera has produced a parallel text, giving access to both the richness and poeticism of the Maori text and to the gritty realism of the English. Its bifocal perspective lends great depth to the story. A further framing device is the modern story of a returning whanau member seeking a name for his son. Also added are surviving eye-witness accounts. . . . Particularly impressive in this novella is Hemi Kelly's erudite and passionate introduction. He raises the important point of commemoration. How do we honour the combatants of a civil war in an accurate and dignified way? Ihimaera's novella is an important step in that direction.

Steve Walker, Stuff
The novella at the heart of Witi Ihimaera's Sleeps Standing – in parallel with Hemi Kelly's elegant and supple Maori translation – is a long-overdue treatment of the Battle of Orakau, the climax of the New Zealand Wars in the Waikato. . . . Sleeps Standing is a story consciously and unapologetically told from the Maori perspective; but it isn't a story about generals and chiefs brooding moodily into the distance. This is very much a view from the flax-roots, and a most welcome one. . . . The story of Orakau's defenders is strong enough, and disgracefully unfamiliar to too many, to not need any kind of sexing up. Moetu's bittersweet fate set against this backdrop is Ihimaera's best work in a long time. . . . Hilary Mantel, in the 2017 Reith Lectures, argued that "the task of historical fiction is to take the past out of the archive and relocate it in a body". Ihimaera and Kelly, in two modes that are more closely related than we often admit, provide eloquent and timely reminders that this is true.

Craig Ranapia, NZ Listener
Sleeps standing Moetu is a small but complex volume; a history of the Battle of Orakau (one of the most significant battles in the New Zealand Wars in the Waikato), a summary of depictions of the battle in history books and other cultural media, some eye witness accounts, a set of photographs (including some stunning portraits, one lovely one of a young Witi Ihimaera), and at its heart a novella in parallel text, the te reo version by Hemi Kelly. The novella is a beautiful piece of historical fiction. . . . A great reminder of some of the powerful and appalling and history of New Zealand.

Alyson Baker, Nelson Public Libraries
What a coup for Te wiki o te Reo Maori this book is. . . . A celebration of the bravery and tenacity of Maori, this wonderful book collects haka, waiata, personal accounts, photographs and maps, as well as Witi's novella. The story is written in Te Reo Maori on the left page and English on the right, enabling the reader to choose to learn from the translated text.

Fionaccl, Christchurch City Libraries
International Dublin Literary Award
Longlisted • 2019 • Dublin Literary Award