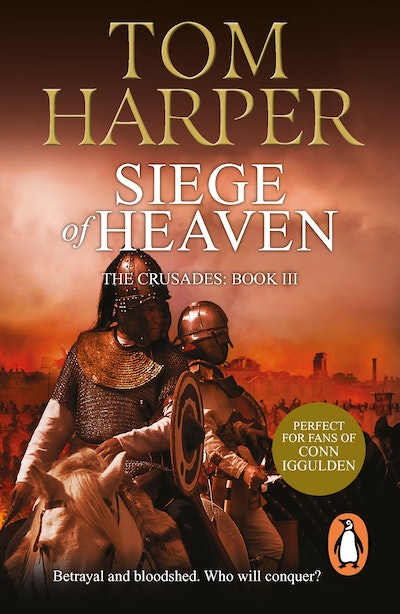 Published:

1 July 2010

ISBN:

9781409065524

Imprint:

Cornerstone Digital

Format:

EBook

Pages:

640
Siege of Heaven
(The Crusade Trilogy: III): a powerful, fast-paced and exciting adventure steeped in the atmosphere of the First Crusade
---
---
---
A powerful novel of intrigue, sacrifice, savagery and holy war, by the author of the Mosaic of Shadows and Knights of the Cross.

If you love Conn Iggulden, Lindsey Davis and Steven Pressfield, you will love this breathtaking historical adventure, brimming with murder, betrayal, bloodshed and romance, from the pen of prizewinning author Tom Harper.
'Harper's portrayal of Byzantium and the intrigues that threaten its destruction is vivid and convincing.' -- Sunday Times
'Harper effortlessly draws the reader into an unfamiliar time bringing alive the characters and their motivations' -- Publisher's Weekly
'A must read' -- ***** Reader review
'Superb read. Thoroughly enjoyed it' -- ***** Reader review
'A real joy to read. Keeps you wanting to read more, griping and exciting right to the end'-- ***** Reader review
*******************************************************************
BETRAYAL AND BLOODSHED. WHO WILL CONQUER?
August, 1098: after countless battles and sieges, the surviving soldiers of the first crusade are at last within reach of their ultimate goal - Jerusalem. But rivalries fester and new enemies are massing against them in the Holy Land.
Demetrios Askiates, the Emperor's spy, has had enough of the crusade's violence and hypocrisy and longs to return home. But when a routine diplomatic mission leads to a deadly ambush, he realises he has been snared in the vast power struggles which underlie the crusade. The only way out now leads through the Holy City.
From the plague-bound city of Antioch to the heart of Muslim Egypt, Demetrios must accompany the army of warlords and fanatics to the very gates of Jerusalem.
But what awaits him there is an apocalypse of pillage, bloodshed and slaughter...Who will be the victor?
Siege of Heaven ends the Crusade trilogy. Have you read TheMosaic of Shadows and Knights of the Cross?
Published:

1 July 2010

ISBN:

9781409065524

Imprint:

Cornerstone Digital

Format:

EBook

Pages:

640
Praise for Siege of Heaven
Tom Harper writes with strident clarity in this epic tale of murder and betrayal, bloodshed and romance. Gripping from the first page, the reader is swept up in this colourful and convincing portrayal of an Emperor and his realm, under siege. Well-researched, and cinematic in its imagery, this is a fast-paced and exciting debut.

Ink
Tom Harper's speciality is a hitherto unvisited era in historical crime fiction- It's a world which Harper brings exuberantly to life, clearly revelling in its teeming, tumultuous extravagance.

Yorkshire Evening Post
Harper effortlessly draws the reader into the court intrigues and conspiracies of 11th-century Byzantium in his outstanding debut

Publishers' Weekly
Scholarly but speedy narrative, steeped in medieval horrors ranging from flogging to famine, all anchored in what feels like a passion for history and spelling out the way things were

Literary Review