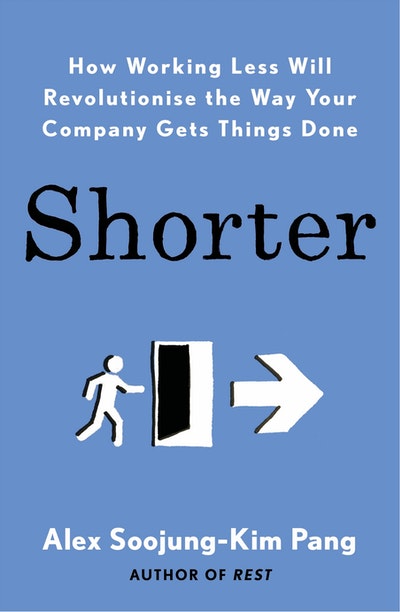 Published:

17 March 2020

ISBN:

9780241406786

Imprint:

Penguin General UK

Format:

Trade Paperback

Pages:

320

RRP:

$35.00
Shorter
How smart companies work less, embrace flexibility and boost productivity
---
---
---
How reducing working hours can revolutionize your company by boosting productivity, creativity and resilience
Forget the old concept of the 9-5. Companies around the world are redesigning the work week to increase efficiency, health, productivity and happiness in their workers.
A growing number of businesses are shortening their working week to address problems with low productivity, poor mental health and unequal working opportunities. Workers are still paid the same salary for a four-day week and the results are revolutionary.
In Shorter, bestselling author Alex Pang studies these trailblazing businesses where managers are reporting their teams to be:
- More creative in their problem solving
- Happier and with lower stress and anxiety and cases of burn out
- More productive
Pang will reveal, step by step, how they have gone about making these changes, the challenges and solutions and, most importantly, how you can do the same.
Published:

17 March 2020

ISBN:

9780241406786

Imprint:

Penguin General UK

Format:

Trade Paperback

Pages:

320

RRP:

$35.00
This is one of the most hopeful books I have read about the state of modern work. In Shorter, Alex Soojung-Kim Pang shares not only the stories of the creatives and visionaries around the world who are pushing back against always-on burnout culture, but he gives a practical, step-by-step guide for how they did it, why it matters-for all of us-and how others can follow their lead. A must-read for anyone who cares about the now or the future of work

Brigid Schulte, award-winning journalist, author of the New York Times bestselling Overwhelmed: Work, Love & Play when No One has the Time, and director of The Better Life Lab at New America
It's time to question everything we think we know about work, starting with how long we need to do it. Shorter makes a strong case for working less, showing us how any business can profit from giving their workers more free time. Pang provides a step-by-step guide for leaders who are ready to liberate their people from the tyranny of the 40-hour work week

Carmen Medina, coauthor of Rebels at Work and former director of the CIA's Center for the Study of Intelligence.
Who said a full workweek has to be five days? What if less is actually more? In Shorter, Alex Soojung-Kim Pang inspires us with a powerful vision: A shorter, but more productive and enjoyable workweek. I hope this book sparks a revolution in how-and how much-we work!

Valorie Burton, founder and CEO of the Coaching and Positive Psychology (CaPP) Institute and bestselling author of Successful Women Think Differently
In Shorter, Soojung-Kim Pang, the author of Rest, looks at companies who have done just that - got their entire workforce to cut their working weeks. The result was an increase in productivity and often, profit. The practical study looks at what works and what doesn't. Do you want to hear the best news? Most companies that reduce their hours tend to cut meetings right back. If that isn't an incentive to read this book, I don't know what is.

Financial Times
The way we work is changing at an incredible pace. This invaluable book offers a clear way forward: we don't need to burn ourselves out, we can work less and get more done, and we can all, wherever we are in our careers, get our lives back.

Rebecca Seal, author of SOLO: How To Work Alone (And Not Lose Your Mind)
A must read for anyone interested in the 4 day week. Not only does the book provide detailed accounts of how the 4-day-week was implemented across a wide range of companies across sectors and across countries, the book also provides answers to any doubts you may have about whether implementing a 4 day week is realistic. The answer is yes.

Heejung Chung, professor at the University of Kent and author of The Flexibility Paradox
Read this book, stop with the long hours and get a life!

Henry Stewart, author of The Happy Manifesto and Founder and Chief Happiness Office at Happy