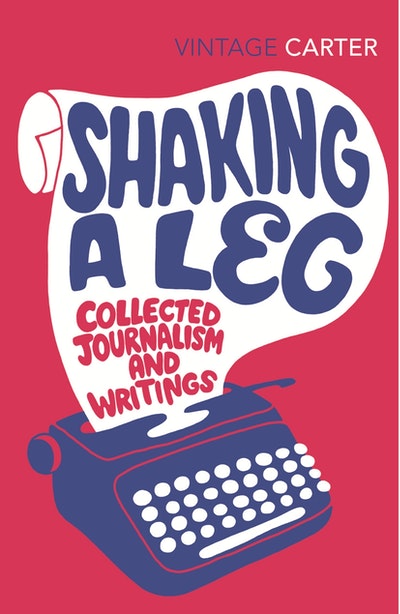 Published:

31 December 2012

ISBN:

9781409016601

Imprint:

Vintage Digital

Format:

EBook

Pages:

800
Shaking A Leg
Collected Journalism and Writings
---
---
---
Forthright, funny, unpredictable: Carter is capable of illuminating any topic with the brilliance of her prose.
WITH A NEW INTRODUCTION BY RACHEL COOKE
Reading Shaking a Leg is like spending time with the funniest, wisest friend you've ever had; a person whose breadth of interest ranges from food to feminism to science fiction, and everything in between; a person with an entirely unpredictable train of thought but whose exuberance, knowledge and insight sweeps you along. Bursting with ideas, culturally astute and sparklingly witty, this comprehensive volume of Angela Carter's journalism is the most down-to-earth and entertaining companion to latter twentieth-century thought you'll ever need.
Published:

31 December 2012

ISBN:

9781409016601

Imprint:

Vintage Digital

Format:

EBook

Pages:

800
It is her journalism, collected in the 1997 volume 'Shaking a Leg', to which I find myself returning again and again, struck freshly by its forthrightness, its imagination, its unpredictability - and by the sheer range of subjects on which she was fluent

Susannah Clapp, Guardian
Incisive cultural journalism by the British novelist that among other delicious subversions invokes the Greeks to argue for wearing high heels with long skirts

New York Times
Shocking, willful, extravagant - every cut and quip at the same time reveals a striking intellectual acuity

New York Times
This collection is a must... The writing is trenchant, acerbic, witty, probing, and often critically subtle

Booklist
The range of her interests is quite dazzling. She is the voice of an entire generation

Washington Post
These essays on culture and society first appeared from the Sixties to the Eighties: together, they prove that the despised press could breed the best in post-war thinking and writing; and that, in an age of woozy fantasy, witty rationality could still prevail

Independent
Reading Shaking a Leg is like sitting down with a friend who is clever, funny, outrageous, compassionate, anecdotal and sociologically aware; someone with a great memory and a quirky, associative train of thought; someone who can make you laugh and say "yes" out loud before you turn the page to devour her next paragraph, whether it be about Hollywood or Venice, her dotty parents or her favourite writers. Carter is endlessly entertaining, endearing and down-to-earth in this admirably comprehensive collection

Irish Times
Some of her best, wittiest writing is here...Shaking a Leg contains some of the best essays since Orwell

Independent
Shaking a Leg...explains what makes her a great and indispensable talent...there's the gold she left behind in this book, a treasury of her life and art and thought

Independent on Sunday
A treasure trove...You quickly start needing to read bits out to people...For one thing she's extremely funny: for another, she's cantankerous as hell, with a bullshit antenna of NASA-engineered proportions...Stunning, an inspiring, delightful breath of air

Time Out
Shaking a Leg is packed with deliciously tongue-in-cheek wit about the everyday world of the 1970s and 1980s. She is mistress of the arresting opening and the bathetic end

The Times
Shaking a Leg reveals a stunning range of interests that marks her out not just as one of our greatest novelists and short story writers but as one of our best literary and cultural critics... If you would like better to understand the workings of the second half of our century, then this is the book

Ali Smith, Scotsman