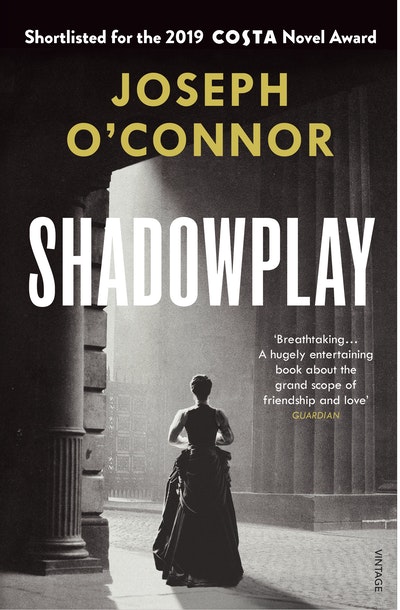 Published:

22 October 2020

ISBN:

9781784709150

Imprint:

Vintage

Format:

Paperback

Pages:

432

RRP:

$19.99
Shadowplay
---
---
---
A magnificent new novel from the bestselling author about Bram Stoker's intense relationships with the actors Henry Irving and Ellen Terry, while working together at the Lyceum Theatre, and the inspirations that led to the creation of Dracula.
Discover the enthralling Richard & Judy Book Club pick for winter 2020 from international bestseller Joseph O'Connor.
'Breathtaking... A hugely entertaining book about the grand scope of friendship and love' Sadie Jones, Guardian
__________
London, 1878. Three extraordinary people begin their life together - and the idea for Dracula is born.
Fresh from life in Dublin, Bram Stoker - now manager of the Lyceum Theatre - is wrestling with dark demons in a new city, in a new marriage, and with his own literary aspirations. As he walks the streets at night, streets haunted by the Ripper and the gossip which swirls around his friend Oscar Wilde, he finds new inspiration. Soon, the eerie tale of Dracula begins to emerge.
But Henry Irving, volcanic leading man and impresario, is determined that nothing will get in the way of Bram's dedication to the Lyceum. And both men are growing ever more enchanted by the beauty and boldness of Ellen Terry, the most celebrated actress of her generation.
__________
Shortlisted for the Costa Novel Award 2019
Winner of the Irish Book Awards Novel of the Year
'A colourful tale of secret love and public performance...in a romantic, lost London' The Times
'Hugely entertaining and atmospheric' DEBORAH MOGGACH
'Extraordinary' SEBASTIAN BARRY
'A novel I'd recommend to anyone: a rollicking and moving story' James Naughtie, Radio Times
'Fabulous... A truly great book you simply cannot put down' JUDY FINNIGAN
'Rich, sad, funny, and a beautiful read. You'll LOVE it' RICHARD MADELEY
'Ingenious...hugely impressive and utterly haunting' Sunday Mirror
Published:

22 October 2020

ISBN:

9781784709150

Imprint:

Vintage

Format:

Paperback

Pages:

432

RRP:

$19.99
Dazzling...the panache and subtlety of his prose perfectly match that gusto and creative finesse of the High Victorian world his novel wonderfully evokes

Sunday Times
An ingenious novel… O'Connor's work is hugely impressive and utterly haunting

Sunday Mirror
Joseph O'Connor is a very great artist and storyteller. The quotient of enjoyment in his extraordinary new novel is stupendous

Sebastian Barry
A hugely entertaining book about the grand scope of friendship and love, it is also, movingly – at times, astonishingly – a story of transience, loss and true loyalty

Sadie Jones, Guardian
A work of Gothic splendour...O'Connor's writing is always intensely atmospheric. As a romp through Ripper-ravaged London, Shadowplay is mightily entertaining. But as a meditation on hidden sexuality, it is powerful and poignant

Literary Review
A fabulous novel that tells the otherwise largely unknown story of the man behind Gothic horror's most enduring character… The narrative stretches decades, and throbs with theatrical vigour. This is writing at its most immersive, full of Dickensian pulchritude and pathos. It should, and might well, win prizes

Nick Duerden
A rollicking tale… an affecting depiction of artistic and social emancipation… O'Connor's well-researched theatrical caper offers total immersion in a romantic, lost London... be nourished by a colourful tale of secret love and public performance

The Times
There are few living writers who can take us back in time so assuredly, with such sensual density, through such gorgeous sentences. Joseph O'Connor is a wonder, and Shadowplay is a triumph.

Peter Carey, twice winner of the Booker Prize
Gorgeously dark… Shadowplay is an accomplished, compelling read

Herald
A hugely entertaining and atmospheric novel, one can almost smell the greasepaint

Deborah Moggach
A mesmerising read, meticulously researched, with beautiful prose...O'Connor has the gift of conjuring up any location....Wonderful suspense a la Wilkie Collins

Sunday Independent
Wonderful. The writing is beautiful.

Derek Jacobi
This is a marvellous novel: at once freewheeling, exultant, fully inhabiting the momentary, transitory nature of its world; and intensely aware of the limitations – too frequently self-imposed – of our painfully fleeting lives.

Dublin Review of Books
One of Ireland's finest writers

John Boyne, Washington Post
Three famous Victorians carry this sparkling historical novel: Sir Henry Irving, the great actor-manager; Ellen Terry, his leading lady; and Bram Stoker, the young Irishman who worked for Irving as a theatre manager before writing Dracula. From their entangled lives Joseph O'Connor weaves a story of love and loyalty, rich in wit and imagination.

100 Sizzling Summer Books, Daily Mail
One of the best writers working today

Alice Walker
In gorgeous sentences, Joseph O'Connor captures the essence of three very different artistic temperaments in all their nobility and glorious absurdity

Jake Kerridge, Sunday Express
Joseph O'Connor is the only writer I know who can make you laugh and cry in the same sentence.

Lawrence Norfolk
Joseph O'Connor is the only writer I know who can make you laugh and cry in the same sentence.

Lawrence Norfolk
Magnificent

John Boyne
A virtuoso act of literary ventriloquism. Shadowplay is funny, smart, tender, wise and written with inch-perfect precision

Colum McCann
A thrilling novel, exquisitely contrived to show the characters whose loves and lives inspired Dracula. A great tribute, and a work of art. Deeply affecting.

Essie Fox
As fascinating and memorable as anything O'Connor has done. The writing, too, as thrilling as ever. A great writer performing Olympian literary storytelling.

Sir Bob Geldof
O'Connor is a true master of historical fiction, able to illuminate a bygone age with skill, wit and imagination

Max Davidson, Mail on Sunday
A lushly enjoyable pastiche of fin-de-siècle prose, in which Victorian euphemism is an authenticating stamp that double as a source of humour

Anthony Cummins, Observer
A luminous and masterly depiction of Bram Stoker's time at the Lyceum, this wonderful book explores the complex nature of love and creativity. Utterly captivating.

Sophia Tobin
Beautifully written. O'Connor creates a vivid and vigorous world of his own

Andrew Taylor, Spectator
Beautifully written and gorgeously atmospheric

Best
A beautifully written masterpiece

SHEmazing!
A vividly written and atmospheric meditation on the creative process

Elizabeth Buchan, Daily Mail
O'Connor is masterly at evoking the late Victorian era; its train journeys, street scenes, formality and banter… O'Connor is masterly at evoking the late Victorian era; its train journeys, street scenes, formality and banter

Suzi Feay, Financial Times
Rich and vivid

Daily Telegraph
Joseph O'Connor has written an entertaining novel that combines narrative with transcripts of recordings, diary entries and other notes. It steeps viewers in the theatre of Irving and Terry in the late 1870s and beyond, providing much informative colour at the same time as delving deeply and frankly into a series of relationships that are generally convincing.

Philip Fisher, British Theatre Guide
O'Connor tells his story in rich and stylish prose

Jonathan Barnes, Times Literary Supplement
A rousing story about a remarkable woman

Neil Armstrong and Hephzibah Anderson, Mail on Sunday, *Summer reads of 2019*
Joseph O'Connor's vivid descriptive writing evokes Stoker's memories of the post-famine Ireland of his youth and of Irving's company's fraught tours of America… [his] fine writing, his wit and sympathy create a richly enjoyable backdrop for some familiar characters

Lindsay Duguid, Tablet, *Novel of the Week*
Enthralling… Brings to teeming life the London of the late Victorian and Edwardian eras

Irish Times
A thrilling novel, exquisitely contrived to show the characters whose loves and lives inspired Dracula. A great tribute, and a work of art. Deeply affecting.

Essie Fox