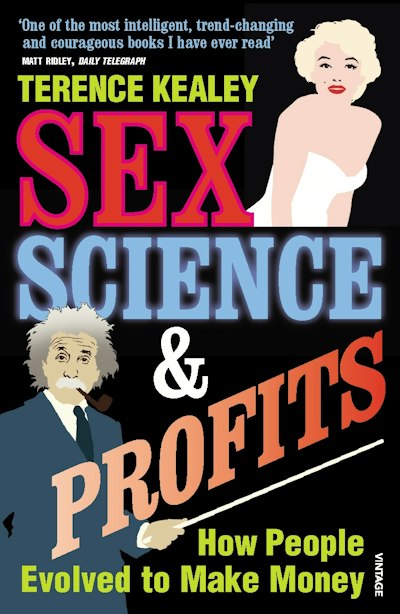 Published:

1 August 2011

ISBN:

9781446400470

Imprint:

Vintage Digital

Format:

EBook

Pages:

464
Sex, Science And Profits
---
---
---
A brilliant, provocative exploration of the biological roots of economics, in the tradition of Richard Dawkins, Steven Pinker and Jared Diamond.
In this highly original, ground-breaking book, Terence Kealey presents an evolutionary and economic history of humanity, showing how the roots of barter, trade and contract are embedded in human nature and how markets work on the evolutionary principles of natural selection.
Richly multi-disciplinary, the book ranges across human history from neolithic times, through Ancient Egypt and the European explorers of the Renaissance, to the failure of the Soviet economy, to show how an understanding of biology and natural selection can radically transform our view of economics, business, technology, and the economic history of our species.
Witty, brilliant, thought-provoking and provocative, this is an important and controversial book.
Published:

1 August 2011

ISBN:

9781446400470

Imprint:

Vintage Digital

Format:

EBook

Pages:

464
Praise for Sex, Science And Profits
A bracing argument, and Kealey writes clearly and well...fascinating

Guardian
Hugely ambitious, stupendously confident and unrelentingly provocative. It is indeed a tropical storm of a book; it throws out a whirlwind of ideas, it deluges its readers with facts and statistics, buffets them with challenges to conventional wisdom and leaves them feeling like heroes when they survive the commotion of reading it.

Sunday Telegraph
Absorbing...a gloriously idiosyncratic work

Sunday Times
An entertaining canter through global history...energy and muscular prose are much in evidence

The Times Higher Educational Supplement
Rip-roaring... Kealey's gallop through capitalism, sociology, history, economics and science is a stimulating and splendid read

The Times
Extraordinary... a brilliant, counter-intuitive argument in favour of individualism and market forces

Mail on Sunday