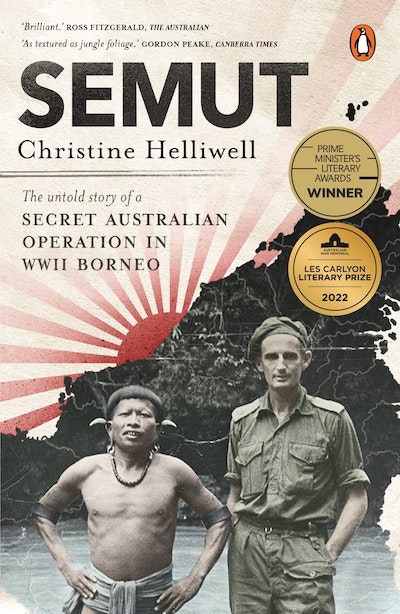 Published:

2 July 2021

ISBN:

9780143790020

Imprint:

Michael Joseph

Format:

Trade Paperback

Pages:

576

RRP:

$34.99
Semut
The Untold Story of a Secret Australian Operation in WWII Borneo
---
---
---
Winner of the Les Carlyon Literary Prize and the Prime Minister's Literary Awards Australian History Prize.
First Runner Up for Templer Medal Book Prize (UK).
Shortlisted for the NSW Premier's Australian History Prize, the ACT Notable Book Awards, and the Reid Prize.
A remarkable new book about Operation Semut, an Australian secret military operation launched by the organisation popularly known as Z Special Unit in the final months of WWII.
March 1945. A handful of young Allied operatives are parachuted into the remote jungled heart of the Japanese-occupied island of Borneo, east of Singapore, there to recruit the island's indigenous Dayak peoples to fight the Japanese. Yet most have barely encountered Asian or indigenous people before, speak next to no Borneo languages, and know little about Dayaks, other than that they have been – and may still be – headhunters. They fear that on arrival the Dayaks will kill them or hand them over to the Japanese. For their part, some Dayaks have never before seen a white face.
So begins the story of Operation Semut, an Australian secret operation launched by the organisation codenamed Services Reconnaisance Department – popularly known as Z Special Unit – in the final months of WWII. Anthropologist Christine Helliwell has called on her years of first-hand knowledge of Borneo, interviewed more than one hundred Dayak people and all the remaining Semut operatives, and consulted thousands of military and other documents to piece together this astonishing story. Focusing on the operation's activities along two of Borneo's great rivers – the Baram and Rejang – the book provides a detailed military history of Semut II's and Semut III's brutal guerrilla campaign against the Japanese, and reveals the decisive but long-overlooked Dayak role in the operation.
But this is no ordinary history. Helliwell captures vividly the sounds, smells and tastes of the jungles into which the operatives are plunged, an environment so terrifying that many are unsure whether jungle or Japanese is the greater enemy. And she takes us into the lives and cavernous longhouses of the Dayaks on whom their survival depends. The result is a truly unique account of the encounter between two very different cultures amidst the savagery of the Pacific War.
Published:

2 July 2021

ISBN:

9780143790020

Imprint:

Michael Joseph

Format:

Trade Paperback

Pages:

576

RRP:

$34.99
The incredible, little-known story of Australia's top secret 'Z' operations deep inside Japanese lines in Sarawak in 1945 – aided by Dayak tribes who, with Australian approval, had resumed the ancient practice of headhunting . . . against Japanese patrols. Christine Helliwell records the dying months of the Pacific War, the terror of the Japanese, the world of the indigenous tribes, the intensity – down to the very smell and taste – of this jungle conflict with such menacing immediacy that this book will possess you long after you lay it down. A superb read, brilliantly researched, written in prose as sharp as a machete

Paul Ham
An amazing, little known episode of the war, beautifully told by Helliwell, who has studied the Dayaks for decades.

Troy Lennon, Daily Telegraph
A story as textured as jungle foliage which feels qualitatively different to so many war histories. A thoroughly researched and absorbing story about a forgotten special forces operation behind enemy lines in Borneo at the tail-end of the Second World War . . . Captivating.

Gordon Peake, Canberra Times
A riveting history. A fascinating account superbly illustrated, well indexed and lucidly written . . . Brilliant.

Ross Fitzgerald, The Australian
Semut is a work of great narrative power that goes directly to the heart of Australia's place and identity in the Southeast Asian region . . . Semut is a deeply researched work . . . The result is a seamless, gripping, and visceral narrative history that transports the reader between Borneo's punishing jungle environment, the capacious Dayak longhouses located along its majestic rivers, and the atmosphere of fear, tension and rivalry surrounding the Australian operation.

Judges' Comments, Prime Minister's Literary Awards 2022
A thoroughly entertaining history of the war in Borneo. Impressive.

Chronicle (Toowoomba)/Gold Coast Bulletin
Helliwell pieced together a truly incredible tale involving headhunting, blowpipes and poison darts - and a brotherhood forged between men of different cultures, uniting against a brutal invader . . . A brilliant book.

Annabel Venning, Daily Express (UK)
What a narrative and revelation [this] book is . . . You'll be struck by the care, narrative authority and emotional textures.

David Hill, New Zealand Listener
Semut by Christine Helliwell is highly recommended. In fact it is a must read. It is more than a military history; it is also significant resource for all with an interest in understanding guerrilla or more specifically special warfare. The strength of this account over all others is that it also looks at the story from the perspective of the local indigenous inhabitants.

CONTACT Air Land & Sea
Professor Helliwell is to be congratulated on writing such a fine book. I have no doubt that it will become a classic and be highly prized especially by aficionados of the genera. It will certainly occupy pride of place in my guerrilla warfare library alongside Seven Pillars of Wisdom by T.E. Lawrence.

COMMANDO – The Magazine of the Australian Commando Association
One of the most comprehensive WWII military history books I've read in a long time . . . excellent.

Army News: The Soldiers' Newspaper
Possibly the most honest war history I have read. The descriptions of ambushes laid for the Japanese, quietly in the jungle, with heads being removed before the Europeans had time to reload their weapons, are jaw dropping. I hope all [Helliwell's] readers enjoy this book as much as I did. Inspiring.

Sabretache
Insightful and fascinating . . . Highly recommended.

Royal United Services Institute NSW
Semut is, above all, a human story. Extensively researched . . . It is a ripping, atmospheric and emotive story that both reviewers had difficulty in putting down.

Position magazine (SSSI)
A remarkable military history enhanced by the sensitivity of an anthropologist. This is military history of the finest calibre, meticulously researched. Having spent some 20 months living in an indigenous Dayak longhouse and subsequently spending years in various parts of Borneo [Helliwell has] an ability to put the war effort into a cultural context. This gives the book a dimension rarely found in such histories – a sensitivity to local beliefs and customs. An essential reference.

Paul Spencer Sochaczewski, author of 'EarthLove' and 'Searching for Ganesha'
ANU Emeritus Professor of Anthropology Christine Helliwell has produced an absolute triumph of a book in Semut, the story of Australia's secret WWII ops in Borneo. Think of it as a genre-bending, Dayak-eyed view of WWII replete with headhunting . . . and (now long-lost) thick, mysterious jungle. It's the war book for people who are not that into war books.

Indonesia Council Digest
A compelling book, brought to life by the depth of [Helliwell's] understanding of Sarawak and its people caught in the crosshairs of imperialism, both British and Japanese . . . Delivers extraordinary narrative punch.

The Spinoff (NZ)
More history should be written by anthropologists.

Surveying + Spatial Magazine (NZ)
Over the course of many years and much time spent in Borneo [Helliwell] has become widely recognised for her knowledge of its indigenous people. This knowledge of people and place is embedded in Semut; it is not promoted or overstated, but accounts for the creative insight that gives the story its depth and range . . . The book carries an important message, and Helliwell has written it so well the message has a chance of reaching a great many at this critical time . . . A historical account of the first order . . . a multilayered book full of meaning relevant to our relationships with place [and] each other.

New Zealand Surveyor
A remarkable book. The research is meticulous, helped by the fact that Helliwell has walked the ground of Operation Semut many times. The writing is superb and flows as smoothly as the rivers at the heart of this book. Semut is a revelation.

Glyn Harper, New Zealand Journal of History
A very fine account [that] provides deep insights into locals' involvement in . . . [Operation] Semut – a feat that no other author has managed to achieve with such sophistication . . . If academics wish to write good history for a general readership, Semut represents the quality to which they should aspire . . . Only a scholar with Helliwell's experience could weave such ecological and social depth into an account of Allied military activities in Borneo during WWII.

ANU Historical Journal
Helliwell masterfully guides the reader through Sarawak's rich cultural mosaic . . . [and] reframe[s] the public memorialisation of Australia's military history . . . A thought-provoking account straddling anthropology and military history . . . Semut is a labour of love to Borneo and its peoples.

The Interpreter (Lowy Institute)
Told from both Allied and Dayak intimate perspectives, Helliwell's sensitive approach provides insightful glimpses not only into the rigours of operating far behind enemy lines, but into the hidden world of Borneo's Indigenous tribes . . .Her erudite prose is complemented by meticulously and extensively researched archival material and other sources . . . Helliwell's atmospheric and emotive diction [captures] the sounds, smells and tastes of the jungle's claustrophobic impact . . . By interpreting warfare through a multivocal authorship of history, Helliwell's book provides a shared platform upon which some of the hidden human voices of Operation Semut can finally take centre stage.

Australian Historical Studies
Semut is a fine piece of work. Passionate yet largely balanced, it brings to life the people, places and events of Operations SEMUT II and III . . . Highly readable and compelling . . . Christine Helliwell has produced a detailed and authoritative study

Peter Dean, Australian Army Journal
Geertzian "thick description" meets military history to produce something special . . . Semut is more than a military history. It is a complex social and political history that just happens to be framed in war. As well as striking historical and anthropological insights . . . it also provides profound understandings that are relevant for today.

Sean Brawley, History Australia
NSW Premier's History Awards
Shortlisted • 2022 • AUSTRALIAN HISTORY PRIZE
ACT Notable Book Awards
Shortlisted • 2021 • ACT Notable Book Awards
The Reid Prize
Shortlisted • 2022 • Awarded by the Asian Studies Association of Australia
Templer Medal Book Prize
First runner up • 2021 • Awarded by The Society for Army Historical Research (UK)
Les Carlyon Literary Prize
Winner • 2022 • Les Carlyon Literary Prize
Prime Minister's Literary Awards
Winner • 2022 • The Prime Minister's Literary Awards celebrate outstanding literary talent in Australia and the valuable contribution Australian writing makes to the nation's cultural and intellectual life.
NSW Premier's History Awards
Shortlisted • 2022 • The NSW Premier's History Awards were first presented in 1997 to honour distinguished achievement in history by Australian citizens and permanent residents. The awards celebrate the contribution of historical research to our culture and communities, and to humanity at large.
Article