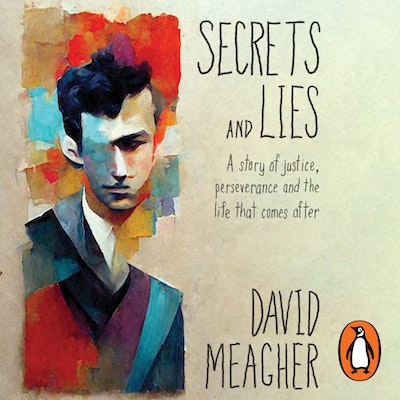 Published:

1 August 2023

ISBN:

9781761342639

Imprint:

Penguin Random House Australia Audio

Format:

Audio Download

Length:

7 hr 43 min

Narrator:

David Meagher

RRP:

$34.99
Secrets and Lies
A story of justice, perseverance and the life that comes after
---
---
---
I was a victim of child sexual abuse. It occurred more than 40 years ago when I was just 13 years old. This is the story about what happened to me when I was a young teenager, how I coped with it, how I kept it to myself, how I eventually fought back and how – after decades of living with the impact of the abuse – I decided one day, forty years after the event, to finally seek justice. It's also about what happened next.
This story has a happy ending.

For forty years David Meagher harboured a secret. Then in mid 2018 a text message from an old school friend forced him to confront his past and finally deal with it.
Secrets and Lies is a story about child sexual abuse. The culture that enabled it. How the perpetrator groomed his victims. How it finally came to an end. And how four decades after the crimes were committed his victims embarked on a successful two-year journey to bring the offender to justice.
David Meagher delivers an intimate account of the lasting impact of child sexual abuse on survivors. From growing up gay in a censorious and very Catholic suburban environment to struggles with mental health and substance use – Secrets and Lies tells the full account of child sexual abuse. Meagher's story, however, is ultimately one of hope and even a bit of humour. After all it has a happy ending, or as near to one as is possible under the circumstances.
Published:

1 August 2023

ISBN:

9781761342639

Imprint:

Penguin Random House Australia Audio

Format:

Audio Download

Length:

7 hr 43 min

Narrator:

David Meagher

RRP:

$34.99
Praise for Secrets and Lies
Grim and beautiful.

David Marr
This book both pierces and heals the soul. It is a triumph of truth and resilience.

Grace Tame
Told through a journalist's eye, this deeply personal tale unravels the painful power of secrets.

Hamish Macdonald
David Meagher has written a nuanced and beautifully candid account of what it means to seek justice. My heart broke for the boy and swelled with pride for the man.

Julia Leigh
Bravo, David Meagher, for creating a classic of Australian memoir. By turns harrowing and uplifting, it had made me in floods of tears one minute and punching the air in triumph the next. Everyone should read it - for the depths of its humanity, and its lessons in resilience.

Nikki Gemmell
This is very powerful writing of two men pursuing justice after sexual abuse by a teacher, four decades earlier - and putting the abuser in prison. Bravo, David Meagher, and your mate.

Peter FitzSimons