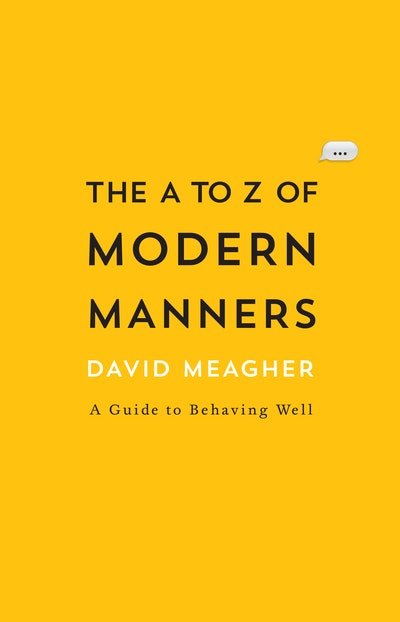 Published:

28 November 2016

ISBN:

9780857983688

Imprint:

Random House Australia

Format:

EBook

Pages:

304
The A to Z of Modern Manners
A Guide to Behaving Well
---
---
---
Some clear guidelines to navigate a rapidly changing world.
Some clear guidelines to navigate a rapidly changing world.
Why has 'Mr Manners', David Meagher, decided to write another book on the subject? He abhors crude and crass behaviour, yet found himself getting mad at others and teetering on the edge of becoming one of the ill-mannered people he so despised. So, instead of getting angry all the time – and risking becoming known as that crazy guy who yells out his car window at people – he decided the time was right to get back into the manners business.
The A to Z of Modern Manners looks at the new forces shaping the way we live, as well as some old ones, and suggests the best ways to behave. It's not about pointing the finger at people and calling out bad behaviour (okay, there's a bit of that but he hasn't named anyone); it's about using common sense and thinking about how your actions might make other people feel in that situation.
There is no right or wrong way to walk and text simultaneously. There is, however, a way to do it that will cause the least inconvenience for everyone else using the footpath. You can work out what form that takes by having a little empathy for your fellow humans. That's just good manners.
Published:

28 November 2016

ISBN:

9780857983688

Imprint:

Random House Australia

Format:

EBook

Pages:

304
Article
Finger food
David Meagher examines the finer details of dining etiquette.