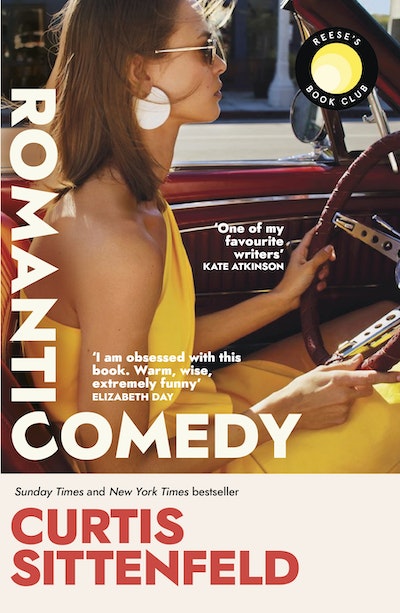 Published:

4 April 2023

ISBN:

9780857527509

Imprint:

Doubleday

Format:

Trade Paperback

Pages:

320

RRP:

$32.99
Romantic Comedy
The bestselling Reese Witherspoon Book Club Pick by the author of RODHAM and AMERICAN WIFE
---
---
---
Major new novel from the global bestselling author of Rodham and American Wife, a subversive and witty love story with a twist
THE SUNDAY TIMES AND NEW YORK TIMES BESTSELLER
A Reese's Book Club Pick 2023
'A hilarious, sweet, smart read that you're going to love!' REESE WITHERSPOON
'A rollercoaster of modern love and dating' STYLIST
A TV script writer thinks she's over romance, until an unlikely love interest upends all her assumptions: a humorous, sharp and tender novel from the bestselling author of Eligible, American Wife and Prep.
_____________
Life is (not)* a Romantic Comedy...
With a series of heartbreaks under her belt, Sally Milz - successful script writer for a legendary late-night TV comedy show - has long abandoned the search for love.
But when her friend and fellow writer begins to date a glamorous actress, he joins the growing club of interesting but average-looking men who get romantically involved with accomplished, beautiful women.
Sally channels her annoyance into a sketch, poking fun at this 'social rule'. The reverse never happens for a woman.
Then Sally meets Noah, a pop idol with a reputation for dating models. But this isn't a romantic comedy - it's real life.
Would someone like him ever date someone like her?
Skewering all our certainties about why we fall in love, ROMANTIC COMEDY is a witty and probing tale of how the heart will follow itself, no matter what anyone says. It is Curtis Sittenfeld at her most sharp, daring and compassionate best.
-----------------
'One of my all-time favourite authors. A brilliantly written, funny page-turner, I want to read it all again' PANDORA SYKES
'I am obsessed. A warm, wise, magnanimous and extremely funny novel. ROMANTIC COMEDY should be prescribed to anyone needing their mood lifted' ELIZABETH DAY
'Curtis Sittenfeld is in a league of her own' GUARDIAN
'Anyone who reads Sittenfeld will read anything she ever writes' THE TIMES
Published:

4 April 2023

ISBN:

9780857527509

Imprint:

Doubleday

Format:

Trade Paperback

Pages:

320

RRP:

$32.99
Praise for Romantic Comedy
No-one writes romantic yearning as brilliantly and believably as Curtis Sittenfeld. I could not have adored this book more.

DAISY BUCHANAN, author of INSATIABLE
No-one writes romantic yearning as brilliantly and believably as Curtis Sittenfeld. I could not have adored this book more.

DAISY BUCHANAN, author of INSATIABLE
No-one writes romantic yearning as brilliantly and believably as Curtis Sittenfeld. I could not have adored this book more.

DAISY BUCHANAN, author of INSATIABLE
A rollercoaster of modern love and dating

STYLIST, Books to look forward to in 2023
A rollercoaster of modern love and dating

STYLIST, Books to look forward to in 2023
A rollercoaster of modern love and dating

STYLIST, Books to look forward to in 2023
Probably my favourite proof I've read for 2023, by one of my all-time favourite authors Curtis Sittenfeld... it's a brilliantly written, funny page-turner, I want to read it all again.

PANDORA SYKES
Probably my favourite proof I've read for 2023, by one of my all-time favourite authors Curtis Sittenfeld... it's a brilliantly written, funny page-turner, I want to read it all again.

PANDORA SYKES
Probably my favourite proof I've read for 2023, by one of my all-time favourite authors Curtis Sittenfeld... it's a brilliantly written, funny page-turner, I want to read it all again.

PANDORA SYKES
Biting, pacy and great fun.

SUNDAY TIMES, Books to Look Forward to
Biting, pacy and great fun.

SUNDAY TIMES, Books to Look Forward to
Biting, pacy and great fun.

SUNDAY TIMES, Books to Look Forward to
A gloriously quick-witted, intelligent love story, with sparkling dialogue and a satisfying plot

THE BOOKSELLER
A gloriously quick-witted, intelligent love story, with sparkling dialogue and a satisfying plot

THE BOOKSELLER
A gloriously quick-witted, intelligent love story, with sparkling dialogue and a satisfying plot

THE BOOKSELLER
I am obsessed with this book. A warm, wise, magnanimous and extremely funny novel which made me fall in love with the characters and feel happier about life. Sittenfeld writes with such insight and poignancy about the quirks of the human condition. ROMANTIC COMEDY should be prescribed to anyone needing their mood lifted

ELIZABETH DAY
I am obsessed with this book. A warm, wise, magnanimous and extremely funny novel which made me fall in love with the characters and feel happier about life. Sittenfeld writes with such insight and poignancy about the quirks of the human condition. ROMANTIC COMEDY should be prescribed to anyone needing their mood lifted

ELIZABETH DAY
I am obsessed with this book. A warm, wise, magnanimous and extremely funny novel which made me fall in love with the characters and feel happier about life. Sittenfeld writes with such insight and poignancy about the quirks of the human condition. ROMANTIC COMEDY should be prescribed to anyone needing their mood lifted

ELIZABETH DAY
One of the most compelling, funny and gorgeous novels I've read in a long time. Curtis Sittenfield is a master of dialogue, and this love story packs serious emotional heft that will leave you rooting for its characters right til the very end.

OTEGHA UWAGBA
One of the most compelling, funny and gorgeous novels I've read in a long time. Curtis Sittenfield is a master of dialogue, and this love story packs serious emotional heft that will leave you rooting for its characters right til the very end.

OTEGHA UWAGBA
One of the most compelling, funny and gorgeous novels I've read in a long time. Curtis Sittenfield is a master of dialogue, and this love story packs serious emotional heft that will leave you rooting for its characters right til the very end.

OTEGHA UWAGBA
I love Curtis Sittenfeld

BRYONY GORDON
I love Curtis Sittenfeld

BRYONY GORDON
I love Curtis Sittenfeld

BRYONY GORDON
i am excited beyond belief. This is THE literary event of the year for me

MARINA HYDE
i am excited beyond belief. This is THE literary event of the year for me

MARINA HYDE
i am excited beyond belief. This is THE literary event of the year for me

MARINA HYDE
Curtis has a gift for writing women. Her characters spill off the page in all their messy, complex glory

STYLIST
Curtis has a gift for writing women. Her characters spill off the page in all their messy, complex glory

STYLIST
Curtis has a gift for writing women. Her characters spill off the page in all their messy, complex glory

STYLIST
Curtis Sittenfeld's zingy new novel tackles media celebrity, the pandemic and romantic frustration with ambition and panache...[An] affable, intelligently crafted tale of work and love

OBSERVER
Curtis Sittenfeld's zingy new novel tackles media celebrity, the pandemic and romantic frustration with ambition and panache...[An] affable, intelligently crafted tale of work and love

OBSERVER
Curtis Sittenfeld's zingy new novel tackles media celebrity, the pandemic and romantic frustration with ambition and panache...[An] affable, intelligently crafted tale of work and love

OBSERVER
A witty, joyful, propulsive new take on the 'celebrity and the civilian' trope, Sittenfeld's novel feels like a classic dish prepared by a master chef and using only the freshest ingredients. I was so sad to say goodbye to these characters; I could have read 300 more pages, easily

CAROLINE O'DONOGHUE
A witty, joyful, propulsive new take on the 'celebrity and the civilian' trope, Sittenfeld's novel feels like a classic dish prepared by a master chef and using only the freshest ingredients. I was so sad to say goodbye to these characters; I could have read 300 more pages, easily

CAROLINE O'DONOGHUE
A witty, joyful, propulsive new take on the 'celebrity and the civilian' trope, Sittenfeld's novel feels like a classic dish prepared by a master chef and using only the freshest ingredients. I was so sad to say goodbye to these characters; I could have read 300 more pages, easily

CAROLINE O'DONOGHUE
The abiding pleasure of romantic comedy is that we can worry that they won't while knowing that they will. The genre acts as its own spoiler alert while somehow never lessening the suspense

WASHINGTON POST
The abiding pleasure of romantic comedy is that we can worry that they won't while knowing that they will. The genre acts as its own spoiler alert while somehow never lessening the suspense

WASHINGTON POST
The abiding pleasure of romantic comedy is that we can worry that they won't while knowing that they will. The genre acts as its own spoiler alert while somehow never lessening the suspense

WASHINGTON POST
Her zingy new novel. While Sittenfeld knows the dramatic value of putting obstacles in the path of characters you're rooting for, she also isn't above giving readers what they want - and that's exactly what she does in this affable, intelligently-crafted tale of work and love

GUARDIAN
Her zingy new novel. While Sittenfeld knows the dramatic value of putting obstacles in the path of characters you're rooting for, she also isn't above giving readers what they want - and that's exactly what she does in this affable, intelligently-crafted tale of work and love

GUARDIAN
Her zingy new novel. While Sittenfeld knows the dramatic value of putting obstacles in the path of characters you're rooting for, she also isn't above giving readers what they want - and that's exactly what she does in this affable, intelligently-crafted tale of work and love

GUARDIAN
A thoughtful discourse on celebrity

THE TIMES
A thoughtful discourse on celebrity

THE TIMES
A thoughtful discourse on celebrity

THE TIMES
Smart, funny and a fascinating look behind the scenes of a sketch show, it's another exquisitely written novel from Sittenfeld

WOMAN & HOME
Smart, funny and a fascinating look behind the scenes of a sketch show, it's another exquisitely written novel from Sittenfeld

WOMAN & HOME
Smart, funny and a fascinating look behind the scenes of a sketch show, it's another exquisitely written novel from Sittenfeld

WOMAN & HOME
[An] exhilarating love story that will restore your faith in humanity

RED
[An] exhilarating love story that will restore your faith in humanity

RED
[An] exhilarating love story that will restore your faith in humanity

RED
Getting inside a living person's head sounds like a colossally bad idea, but Sittenfeld makes it convincing here, just as she did with a character based on First Lady Laura Bush in her 2008 novel, American Wife

BBC CULTURE
Getting inside a living person's head sounds like a colossally bad idea, but Sittenfeld makes it convincing here, just as she did with a character based on First Lady Laura Bush in her 2008 novel, American Wife

BBC CULTURE
Getting inside a living person's head sounds like a colossally bad idea, but Sittenfeld makes it convincing here, just as she did with a character based on First Lady Laura Bush in her 2008 novel, American Wife

BBC CULTURE
A new novel from one of my very favourite writers...Bliss!

GOOD HOUSEKEEPING
A new novel from one of my very favourite writers...Bliss!

GOOD HOUSEKEEPING
A new novel from one of my very favourite writers...Bliss!

GOOD HOUSEKEEPING
If anyone who can simultaneously skewer and revere the underappreciated rom com genre it's the author of Prep and Eligible

THE I-NEWS
If anyone who can simultaneously skewer and revere the underappreciated rom com genre it's the author of Prep and Eligible

THE I-NEWS
If anyone who can simultaneously skewer and revere the underappreciated rom com genre it's the author of Prep and Eligible

THE I-NEWS
Expect lots of laughs and dry irony

DAILY EXPRESS
Expect lots of laughs and dry irony

DAILY EXPRESS
Expect lots of laughs and dry irony

DAILY EXPRESS
Sittenfeld's well-crafted will-they-won't-they tale pairs irresistible escapism with equally satisfying observational expertise

MAIL ON SUNDAY
Sittenfeld's well-crafted will-they-won't-they tale pairs irresistible escapism with equally satisfying observational expertise

MAIL ON SUNDAY
Sittenfeld's well-crafted will-they-won't-they tale pairs irresistible escapism with equally satisfying observational expertise

MAIL ON SUNDAY
Curtis Sittenfeld has made a name for herself by writing reliably smart, funny romantic heroines. Her new novel makes it official with a refreshingly irreverent take on the genre. Very funny

DAILY EXPRESS
Curtis Sittenfeld has made a name for herself by writing reliably smart, funny romantic heroines. Her new novel makes it official with a refreshingly irreverent take on the genre. Very funny

DAILY EXPRESS
Curtis Sittenfeld has made a name for herself by writing reliably smart, funny romantic heroines. Her new novel makes it official with a refreshingly irreverent take on the genre. Very funny

DAILY EXPRESS
Like all the best romantic comedies, the tension lies in the will-they-won't-they back and forth of the story arc and true to all the best examples of the genre, readers will be rooting for Sally to have her much-deserved happy-ever-after

MARIE-CLAIRE, BEST BOOKS OF 2023
Like all the best romantic comedies, the tension lies in the will-they-won't-they back and forth of the story arc and true to all the best examples of the genre, readers will be rooting for Sally to have her much-deserved happy-ever-after

MARIE-CLAIRE, BEST BOOKS OF 2023
Like all the best romantic comedies, the tension lies in the will-they-won't-they back and forth of the story arc and true to all the best examples of the genre, readers will be rooting for Sally to have her much-deserved happy-ever-after

MARIE-CLAIRE, BEST BOOKS OF 2023
Scapel-sharp

DAILY MAIL
Scapel-sharp

DAILY MAIL
Scapel-sharp

DAILY MAIL
Witty and sharp

BELLA MAGAZINE
Witty and sharp

BELLA MAGAZINE
Witty and sharp

BELLA MAGAZINE
Smart, sophisticated and fun

OPRAH DAILY
Smart, sophisticated and fun

OPRAH DAILY
Smart, sophisticated and fun

OPRAH DAILY
Delightful. The woman narrating ROMANTIC COMEDY is hyper-aware of the conventions of romantic comedy, and she knows full well that real life is no fairytale. But could it be this time?

WASHINGTON POST
Delightful. The woman narrating ROMANTIC COMEDY is hyper-aware of the conventions of romantic comedy, and she knows full well that real life is no fairytale. But could it be this time?

WASHINGTON POST
Delightful. The woman narrating ROMANTIC COMEDY is hyper-aware of the conventions of romantic comedy, and she knows full well that real life is no fairytale. But could it be this time?

WASHINGTON POST
Sittenfeld's latest takes a shot of SNL and makes sparks fly

ELLE
Sittenfeld's latest takes a shot of SNL and makes sparks fly

ELLE
Sittenfeld's latest takes a shot of SNL and makes sparks fly

ELLE
Hilarious, heartwarming

HARPER'S BAZAAR
Hilarious, heartwarming

HARPER'S BAZAAR
Hilarious, heartwarming

HARPER'S BAZAAR
If you're looking for a romance with edge, this book is for you. The writing is as intelligent and funny as you'd expect from the author of classics such as American Wife and it's a properly swoonsome love story

GOOD HOUSEKEEPING
If you're looking for a romance with edge, this book is for you. The writing is as intelligent and funny as you'd expect from the author of classics such as American Wife and it's a properly swoonsome love story

GOOD HOUSEKEEPING
If you're looking for a romance with edge, this book is for you. The writing is as intelligent and funny as you'd expect from the author of classics such as American Wife and it's a properly swoonsome love story

GOOD HOUSEKEEPING
Cancel plans and dive into bestselling author Sittenfeld's hilarious take on the classic will-they-won't-they storyline

ELLE
Cancel plans and dive into bestselling author Sittenfeld's hilarious take on the classic will-they-won't-they storyline

ELLE
Cancel plans and dive into bestselling author Sittenfeld's hilarious take on the classic will-they-won't-they storyline

ELLE
Written by one of the very best out there, Romantic Comedy is a novel that you won't want to put down and one you'll want to recommend to everyone you know

GLAMOUR
Written by one of the very best out there, Romantic Comedy is a novel that you won't want to put down and one you'll want to recommend to everyone you know

GLAMOUR
Written by one of the very best out there, Romantic Comedy is a novel that you won't want to put down and one you'll want to recommend to everyone you know

GLAMOUR
An enthralling, humorous and subversive tale set in the world of a live TV comedy show

STYLIST
An enthralling, humorous and subversive tale set in the world of a live TV comedy show

STYLIST
An enthralling, humorous and subversive tale set in the world of a live TV comedy show

STYLIST
Whip-smart, funny and a fascinating look behind the scenes of a sketch show. Curtis Sittenfeld has penned another exquisitely written novel

WOMAN'S WEEKLY
Whip-smart, funny and a fascinating look behind the scenes of a sketch show. Curtis Sittenfeld has penned another exquisitely written novel

WOMAN'S WEEKLY
Whip-smart, funny and a fascinating look behind the scenes of a sketch show. Curtis Sittenfeld has penned another exquisitely written novel

WOMAN'S WEEKLY
A piercing look at the genre of Romcom set against the backdrop of a Saturday Night Live-esque TV show - a rollercoaster of modern love and dating

STYLIST
A piercing look at the genre of Romcom set against the backdrop of a Saturday Night Live-esque TV show - a rollercoaster of modern love and dating

STYLIST
A piercing look at the genre of Romcom set against the backdrop of a Saturday Night Live-esque TV show - a rollercoaster of modern love and dating

STYLIST
I ate it up whole. Joyful

EVA WISEMAN, OBSERVER
I ate it up whole. Joyful

EVA WISEMAN, OBSERVER
I ate it up whole. Joyful

EVA WISEMAN, OBSERVER
Get lost in a modern romantic fantasy

DAILY RECORD
Get lost in a modern romantic fantasy

DAILY RECORD
Get lost in a modern romantic fantasy

DAILY RECORD
A humorous take on Hollywood romcoms

BBC BEST BOOKS OF THE YEAR
A humorous take on Hollywood romcoms

BBC BEST BOOKS OF THE YEAR
A humorous take on Hollywood romcoms

BBC BEST BOOKS OF THE YEAR
Sittenfeld's novel continues her wider project of exploring the possibility for a kind of redemptive idealism within our flawed world

GUARDIAN
Sittenfeld's novel continues her wider project of exploring the possibility for a kind of redemptive idealism within our flawed world

GUARDIAN
Sittenfeld's novel continues her wider project of exploring the possibility for a kind of redemptive idealism within our flawed world

GUARDIAN
Sittenfeld has penned another exquisitely written novel

WOMAN MAGAZINE
Sittenfeld has penned another exquisitely written novel

WOMAN MAGAZINE
Sittenfeld has penned another exquisitely written novel

WOMAN MAGAZINE
A fizzy love letter to the prototypical romcom

NEW YORK TIMES, Editor's Choice
A fizzy love letter to the prototypical romcom

NEW YORK TIMES, Editor's Choice
A fizzy love letter to the prototypical romcom

NEW YORK TIMES, Editor's Choice
So much of Sittenfeld's work exists in the dissection and comprehension of female desire

NEW YORK TIMES
So much of Sittenfeld's work exists in the dissection and comprehension of female desire

NEW YORK TIMES
So much of Sittenfeld's work exists in the dissection and comprehension of female desire

NEW YORK TIMES
Flirting with the tropes of its namesake genre, this playful novel follows Sally, a writer on an "S.N.L."-like show called "Night Owls," who falls in love with one of its guest hosts. Their relationship develops via e-mail in the post-grocery-wiping, pre-vaccine days of covid-19. When Sally decides to visit her beloved in L.A., their time together in his Topanga mansion requires her to navigate incredulity, insecurity, and an offer that she feels is an "affront to my independence." The novel is preoccupied with the instinctual nature of self-sabotage, and with the fulfillment that can come from defying ingrained impulses

NEW YORKER
Flirting with the tropes of its namesake genre, this playful novel follows Sally, a writer on an "S.N.L."-like show called "Night Owls," who falls in love with one of its guest hosts. Their relationship develops via e-mail in the post-grocery-wiping, pre-vaccine days of covid-19. When Sally decides to visit her beloved in L.A., their time together in his Topanga mansion requires her to navigate incredulity, insecurity, and an offer that she feels is an "affront to my independence." The novel is preoccupied with the instinctual nature of self-sabotage, and with the fulfillment that can come from defying ingrained impulses

NEW YORKER
Flirting with the tropes of its namesake genre, this playful novel follows Sally, a writer on an "S.N.L."-like show called "Night Owls," who falls in love with one of its guest hosts. Their relationship develops via e-mail in the post-grocery-wiping, pre-vaccine days of covid-19. When Sally decides to visit her beloved in L.A., their time together in his Topanga mansion requires her to navigate incredulity, insecurity, and an offer that she feels is an "affront to my independence." The novel is preoccupied with the instinctual nature of self-sabotage, and with the fulfillment that can come from defying ingrained impulses

NEW YORKER
Insightful romcom sparkles with real wit and wisdom

SUNDAY INDEPENDENT
Insightful romcom sparkles with real wit and wisdom

SUNDAY INDEPENDENT
Insightful romcom sparkles with real wit and wisdom

SUNDAY INDEPENDENT
Whip smart and really funny

BUSINESS POST
Whip smart and really funny

BUSINESS POST
Whip smart and really funny

BUSINESS POST
Scores big on giving readers an insight into the machinations of a TV writers-room

CRACK
Scores big on giving readers an insight into the machinations of a TV writers-room

CRACK
Scores big on giving readers an insight into the machinations of a TV writers-room

CRACK
Full of dazzling banter and sizzling chemistry

PEOPLE MAGAZINE
Full of dazzling banter and sizzling chemistry

PEOPLE MAGAZINE
Full of dazzling banter and sizzling chemistry

PEOPLE MAGAZINE
If you ever wanted a backstage pass to Saturday Night Live, this book is for you

GOOD MORNING AMERICA
If you ever wanted a backstage pass to Saturday Night Live, this book is for you

GOOD MORNING AMERICA
If you ever wanted a backstage pass to Saturday Night Live, this book is for you

GOOD MORNING AMERICA
Excellent

MAIL ON SUNDAY
Excellent

MAIL ON SUNDAY
Excellent

MAIL ON SUNDAY
Both a brilliant portrait of the comedy world and a witty grown-up love story. Lives up to its name

IRISH TIMES
Both a brilliant portrait of the comedy world and a witty grown-up love story. Lives up to its name

IRISH TIMES
Both a brilliant portrait of the comedy world and a witty grown-up love story. Lives up to its name

IRISH TIMES
Article