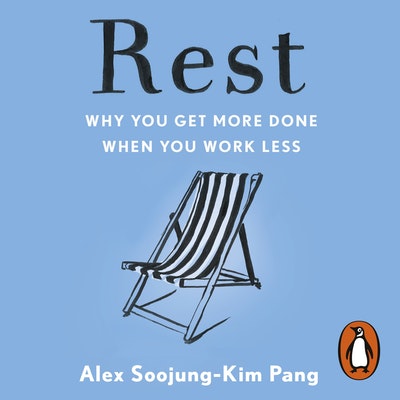 Published:

30 March 2017

ISBN:

9780241981962

Imprint:

Penguin Audio

Format:

Audio Download

RRP:

$19.99
Rest
Why You Get More Done When You Work Less
---
---
---
Learning how to rest: the smartest lifehack of all
Penguin presents the complete unabridged, downloadable audiobook edition of Rest by Alex Soojung-Kim Pang, read by Adam Sims.
In our 24-7 global economy, rest feels like a luxury at best and a weakness at worst. We see work and rest as competitors - but what if they're actually partners in a productive, balanced life?
Blending rigorous scientific research with examples of writers, painters and thinkers - from Darwin to Stephen King - Silicon Valley futurist and business consultant Alex Soojung-Kim Pang exposes how we've underestimated the power of rest for our success. Though it's as natural as breathing, it's also a skill we can all learn to boost our creativity and productivity.
Full of tips for upping our downtime, from sleep to hobbies to vacation, Rest is a new roadmap for finding renewed energy and inspiration, and getting more done.
Published:

30 March 2017

ISBN:

9780241981962

Imprint:

Penguin Audio

Format:

Audio Download

RRP:

$19.99
Want to be creative and get more done? We used to think only hard work was the answer. This beautifully researched book debunks the "work till you drop" myth by describing how intentional rest is crucial for being your best. Drawing on a wide range of sources, including neuroscience, the arts and psychology, Rest will fundamentally change the way we see work in the years to come. Give it to your boss! Give it to your work-obsessed spouse! Give it to your frazzled office buddies! A new paradigm of work is emerging and this fascinating book will be an indispensable guide

Peter Fleming author of 'The Mythology of Work'
If work is our national religion, Pang is the philosopher reintegrating our bifurcated selves

Arianna Huffington, New York Times Book Review
An incredibly timely read - for this moment in history, but also in my own increasingly rest-starved life. This might be the book to finally persuade us that downtime isn't in conflict with good work; rather, it's an essential ingredient of it.

Oliver Burkeman, Guardian columnist and author of 'The Antidote'
Read this book, and you'll see how time off helps us learn and create better

Ferran Adria, 3-Star Michelin chef and founder of El Bulli
Take a break and read Rest: you'll make smarter decisions, have better relationships, and be happier and more creative.

James Wallman, author of 'Stuffocation'
Alex Soojung-Kim Pang shows us how much more productive we can be by spending less time in noisy open-plan offices . . . It should be compulsory reading for office managers everywhere

Katie Law, Evening Standard
I love Rest. It places rest back on the pedestal it so clearly deserves and generously points out - through great stories and acute insight - things to reflect on and build into our own lives.

Rohan Gunatillake, Founder of Mindfulness Everywhere and creator of the bestselling buddhify app
Good books are interesting and valuable; but the best books reframe the way you see the world, getting you thinking differently about everyday situations and assumptions. Rest does just that. With a fascinating combination of research and historical examples, your view of rest - as what you do when you are not working - is turned upside down. A thoroughly enjoyable, insightful and life-enhancing book.

Tony Crabbe, International Business Psychologist
In his Fascinating, well-researched and highly readable new book, Dr pang makes an excellent case for the critical importance of rest in our lives. You will consider how and why you rest in a completely new light after reading this book.

Wendy Suzuki, Professor of Neural Science and Psychology, author of Healthy Brain, Happy Life
It's high noon for the global economy's thinking class, who are locked in a losing battle for clarity in a crowded, clickable world. This book is a science packed call to arms: it's time to claim rest as a right and pay close attention to the needs of our beleaguered brains.

Anthony Townsend, author of Smart Cities
You're holding some terrific advice in your hands on the virtues of walking, napping, and playing. Pang has written a delightful and thought-provoking book on the science of restful living.

Clive Thompson, author of Smarter Than You Think
Pang offers original and often inspired ideas

San Francisco Chronicle (on The Distraction Addiction)
Amusing and edifying

Washington Post (on The Distraction Addiction)
Skeptical without pandering to technophobia or neuroscience

The New Yorker (on The Digital Distraction)