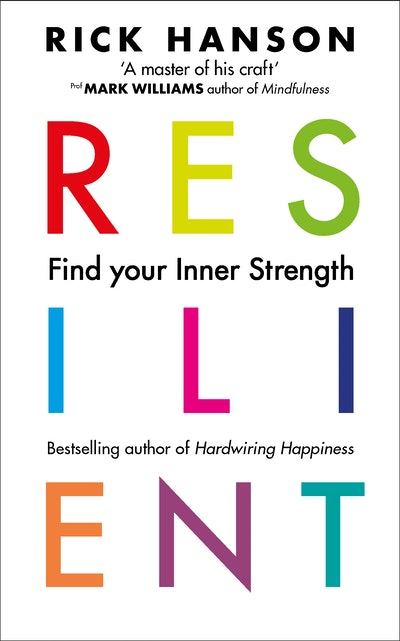 Published:

16 April 2018

ISBN:

9781846045813

Imprint:

Rider

Format:

Trade Paperback

Pages:

304

RRP:

$32.99
Resilient
12 Tools for transforming everyday experiences into lasting happiness
---
---
---
The New York Times bestselling author, and respected psychologist, Rick Hanson, offers a scientifically grounded programme for developing the 12 fundamental inner strengths that will help you thrive, no matter what life throws at you.

Your key to lasting happiness, self-love and inner peace
'A master of his craft' - Prof Mark Williams, bestselling author of Mindfulness: a practical guide to finding peace in a frantic world

Rick Hanson, author of the New York Times bestselling Hardwiring Happiness, is known for his trademark blend of neuroscience, positive psychology and contemplative practices. In Resilient, he explains how to build the very foundations of well-being by harnessing the power of positive experiences to build an unshakeable core.
Dr. Hanson poses that anyone can build up resilience, the key to a positive mindset, unshakeable sense of self and the ability to get back up again and withstand anything life throws your way. He has distilled 40 years of clinical work and teaching into 12 practical, highly effective tools to help you build your resilience. Working with these tools allows you to enter a positive feedback cycle, which creates a sense of well-being, which in turn establishes resilience, and ultimately powers itself to strengthen you.
Developed from his incredibly popular online course called The Foundations of Well-Being, here is the groundwork you need to meet any challenge in life head on and to live with an open heart.
Published:

16 April 2018

ISBN:

9781846045813

Imprint:

Rider

Format:

Trade Paperback

Pages:

304

RRP:

$32.99
A master of his craft

Prof Mark Williams, author of Mindfulness
A master of his craft

Prof Mark Williams, author of Mindfulness
One of the world's leading authorities on mind training

Prof Paul Gilbert, author of The Compassionate Mind
One of the world's leading authorities on mind training

Prof Paul Gilbert, author of The Compassionate Mind
Brilliant at making complex scientific information simple

Harville Hendrix
Brilliant at making complex scientific information simple

Harville Hendrix
I'm a huge fan of Rick Hanson's writings and find the twelve inner strengths at the core of his new book a compelling guide to building resilience into your life. I especially loved the section on the psychology of grit – a much underrated skill in the art of living!

Roman Krznaric, Author of Empathy and Carpe Diem Regained
I'm a huge fan of Rick Hanson's writings and find the twelve inner strengths at the core of his new book a compelling guide to building resilience into your life. I especially loved the section on the psychology of grit – a much underrated skill in the art of living!

Roman Krznaric, Author of Empathy and Carpe Diem Regained
Clear, accessible and wise, this book sums up the teachings that have been Rick Hanson's lifetime's work on well-being: how to be a better friend to yourself in a way that is truly unselfish, mindfully cherishing your gifts rather than being your own worst critic…life changing…

Prof Mark Williams, author of Mindfulness
Clear, accessible and wise, this book sums up the teachings that have been Rick Hanson's lifetime's work on well-being: how to be a better friend to yourself in a way that is truly unselfish, mindfully cherishing your gifts rather than being your own worst critic…life changing…

Prof Mark Williams, author of Mindfulness
Smart and well-written, Resilient provides a clear blueprint for sustaining happiness by building a reservoir of resilience. With his trademark deep synthesis of multiple disciplines, Rick Hanson provides a practical guidebook for anyone living in complicated and challenging times, which means this book couldn't come at a better time.

Shawn Achor author of The Happiness Advantage and Big Potential
Smart and well-written, Resilient provides a clear blueprint for sustaining happiness by building a reservoir of resilience. With his trademark deep synthesis of multiple disciplines, Rick Hanson provides a practical guidebook for anyone living in complicated and challenging times, which means this book couldn't come at a better time.

Shawn Achor author of The Happiness Advantage and Big Potential
In the jungle of books on mindfulness and neuroscience, Rick Hanson hacks a comprehensive and enlightening path through, while giving insight on how to understand your wild and woolly mind. And if that wasn't enough, he gives us tools to achieve peace and happiness. What more could you ask for?

Ruby Wax, O.B.E. author of How to Be Human: The Manual
In the jungle of books on mindfulness and neuroscience, Rick Hanson hacks a comprehensive and enlightening path through, while giving insight on how to understand your wild and woolly mind. And if that wasn't enough, he gives us tools to achieve peace and happiness. What more could you ask for?

Ruby Wax, O.B.E. author of How to Be Human: The Manual
Tremendously practical neuroscience. Resilient is wise and helpful: skill building for the brain, medicine for the heart, and guidance for living a beautiful and enjoyable life.

Jack Kornfield, author of A Path With Heart
Tremendously practical neuroscience. Resilient is wise and helpful: skill building for the brain, medicine for the heart, and guidance for living a beautiful and enjoyable life.

Jack Kornfield, author of A Path With Heart
Rick Hanson guides us in how to cultivate well-being through learning to hold in mind what is helpful, enjoyable, and promotes flourishing. Here is a book of immense wisdom and practicality. Written in a clear, inviting, and friendly style, it can help all of us to cultivate a mind that is more able to induce happiness for ourselves and others.

Paul Gilbert. O.B.E. Founder of Compassion Focused Therapy, author of The Compassionate Mind
Rick Hanson guides us in how to cultivate well-being through learning to hold in mind what is helpful, enjoyable, and promotes flourishing. Here is a book of immense wisdom and practicality. Written in a clear, inviting, and friendly style, it can help all of us to cultivate a mind that is more able to induce happiness for ourselves and others.

Paul Gilbert. O.B.E. Founder of Compassion Focused Therapy, author of The Compassionate Mind