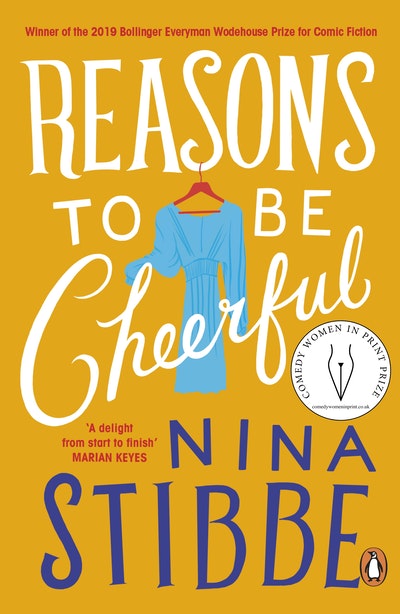 Published:

28 March 2019

ISBN:

9780241974995

Imprint:

Penguin eBooks

Format:

EBook

Pages:

320
Reasons to be Cheerful
Winner of the 2019 Bollinger Everyman Wodehouse Prize for Comic Fiction
---
---
---
A brilliantly funny and heartbreaking story of growing up and finding the independence you might not actually want . . .
In 1980 Lizzie Vogel is eighteen years old and is about to embark on the first major step of grown-up life as she moves from the sheltered village existence of her family home and out into the big, wide, metropolis that is Leicester. There she takes up the pioneering position of dental nurse to a dentist with bad teeth and some deeply unpleasant attitudes, whose main ambition in life is to become a freemason. In her tiny one-bedroomed flat above the dental practice, Lizzie reflects on all that she's learning in her new career: whether she'll have to hold her boss's cigarette while he smokes it, whether she wants a boyfriend and, if she does, whether it should be Andy Nicolello who delivers the patients' dentures; and if it is Andy Nicolello whether it's dangerous to allow him to become her mother's lodger.
Slowly it dawns on Lizzie that the area in which she has most to learn is life: in taking those first wobbly steps to independence, in falling in love, in navigating the ups and downs of adulthood (and her mother's new career as a novelist) and, most importantly, in staying cheerful through it all.
Published:

28 March 2019

ISBN:

9780241974995

Imprint:

Penguin eBooks

Format:

EBook

Pages:

320
Praise for Reasons to be Cheerful
This made me laugh and broke my heart, it's a gorgeous, profound, tender book about growing up and discovering that other humans are charming, obnoxious, enlightening and odd. I think Stibbe is one of the all time greats

Daisy Buchanan
Comedy gold . . . Reasons To Be Cheerful is just the read you need right now, seamlessly weaving together the big themes of life with charm and warmth

Stylist
The true heir to Sue Townsend

Caitlin Moran
Very few writers can find the delicate balance between heartbreak and hilarity like Nina Stibbe

Red Magazine
Funny, charming, odd-in-the-best-way and gorgeously uplifting! A delight from start to finish

Marian Keyes
'Nina Stibbe is an author of such effortless wit that she could turn a shopping list into a bestseller'

Isabelle Broom, Women and Home
Loved it! I so love Lizzie. She is brave and kind and funny and totally original . . . I couldn't have liked it more (as I think Noel Coward said.)

Katie Fforde
I read all of Reasons To Be Cheerful last night in one GLORIOUS gulp and it's SUCH a joy - Nina Stibbe turns out more perfect, sharp, unique sentences than anyone else in the game. It just CARTWHEELS

Caitlin Moran
My friends, you will UTTERLY ADORE Nina Stibbe's latest novel Reasons To Be Cheerful . . .It is SO SO funny, charming, odd-in-the-best-way and gorgeously uplifting! A delight from start to finish

Marian Keyes
Full of comedy, but with moving themes of loss and grief, it's an utterly charming coming of age story. A reason to be cheerful indeed

Sunday Mirror
If you loved Adrian Mole you'll adore Lizzie Vogel . . . quirky and witty, it also packs an emotional punch

Sun
Pitch perfect vintage comedy

Guardian
A wonderfully funny novel . . . Nina Stibbe is still on sparkling form.

Oldie
There's a strong Sue Townsend/Alan Bennett flavour to it all . . . funny and sweet

Daily Mail
Lives up to its title

Sunday Times
Stibbe's comedy probes what it means to become an adult, and how we form our financial, sexual, moral and political selves

Daily Telegraph
Reasons to be Cheerful's tone has been compared to Sue Townsend's but I could haul in Alan Bennett, Barbara Pym and even Jane Austen . . . she writes brilliantly

The Times
An idiosyncratic, bittersweet coming-of-age tale that certainly justifies its title

Kirkus
A joyfully meandering, episodic novel that probes what it means to become an adult

Daily Telegraph
So dense with amusing detail that I thought about holding the book upside down to see if any extra funny bits might spill from the creases between the page

New York Times