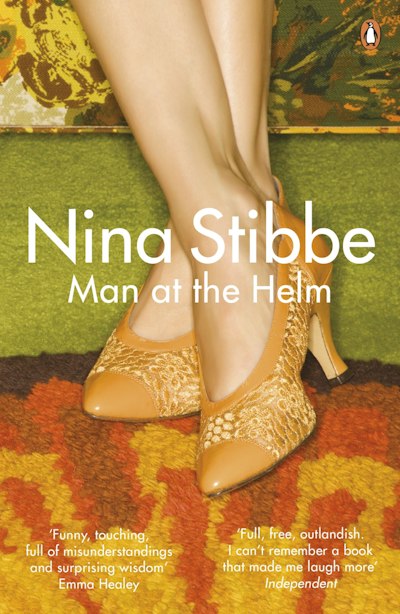 Published:

28 August 2014

ISBN:

9780241967812

Imprint:

Penguin eBooks

Format:

EBook

Pages:

320
Man at the Helm
The hilarious debut novel from one of Britain's wittiest writers
---
---
The funniest paperback of the year from Britain's best new comic novelist
Meet Lizzie Vogel, 9.
Lizzie is concerned about her newly divorcée mother - thirty-one years old, with three young children and a Labrador in a hostile village in the English countryside.
It isn't that having a husband is good, but in 1970s rural Leicestershire, not having one is bad. The women in the village think Lizzie's mother is after their husbands and no one will let the children into the Brownies. And so Lizzie and her sister embark on a misguided campaign to find a new Man at the Helm.
Published:

28 August 2014

ISBN:

9780241967812

Imprint:

Penguin eBooks

Format:

EBook

Pages:

320
Praise for Man at the Helm
[A] joyous read, full of wit and charm . . . I am already longing for Nina Stibbe's next book

Express
A beguilingly comic blend of naivety and precociousness

Sunday Times
All hail a book that's funny!

Barbara Trapido
Fantastic. Comical, moving and brilliantly evocative of British childhood

Glamour
I can't remember a book that made me laugh more . . . Man at the Helm is a winner - it even trumps Love, Nina

Observer
Read it and be charmed. Just the right mixture of childhood innocence and incredulity for the necessary deadpan delivery of Stibbe's particular brand of comedy

Independent
This book is very, very funny. Stibbe has a fine eye for absurdity, and her writing has an unforced charm. [And] there is real darkness here, which makes the humour shimmer all the more

Independent on Sunday
This densely populated coming-of-age story (for both mother and children) has retained and even expanded on Stibbe's signature antic charm ... The appeal of Stibbe's novel lies less in plotting than in the way she shades a sequence of comic vignettes with seriously sad undertones. It's not too much of a stretch to conclude that Man at the Helm, with its jauntily matter-of-fact social satire, wouldn't be out of place on the same shelf as Cold Comfort Farm and I Capture the Castle

New York Times
A wicked anatomising of a dysfunctional family . . . Buoyantly comic: farcical yet tender, rude with a forgiving sweetness

Spectator
Fans of Love, Nina will not be disappointed. Amusing, the writing is never less than accomplished

Daily Mail
Lizzie's voice is convincingly childlike but also confidently witty . . . What is most moving here - and what makes the book most similar to Love, Nina - is its celebration of the happiness possible within the family. Stibbe's feat is to remain unsentimentally barbed while subtly and triumphantly demonstrating the value of the kind of understated love found within the strangest and least obviously functional families

Telegraph
Within a few pages I was completely caught up in the lives of Lizzie and her family . . . I couldn't have loved it more

Lisa Jewell