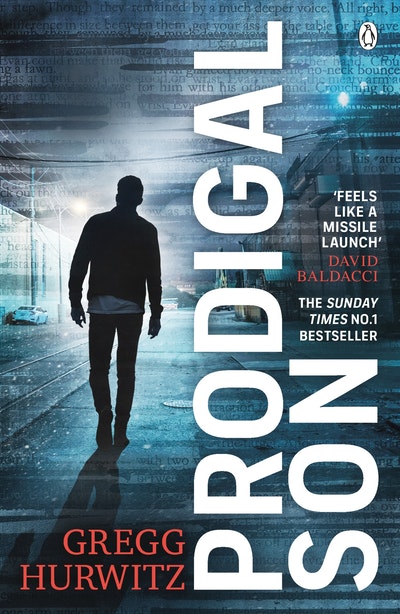 Published:

4 February 2021

ISBN:

9781405948890

Imprint:

Penguin Audio

Format:

Audio Download

RRP:

$32.99
Prodigal Son
The explosive and thrilling Sunday Times bestseller
---
---
---
The World Needs a New Hero . . . a tense and exciting new thriller from Gregg Hurwitz featuring Evan Smoak - aka Orphan X
He can escape anything. Except his own past . . .
'Evan. It's your mother. I heard you help people . . '
Evan Smoak used to be known as Orphan X: a figure as elusive as a rumour, until he came to the rescue of those who most desperately needed his help. The kind of help no one else could provide. The kind that caused concern in the corridors of power.
As a boy he'd been plucked from a foster home and trained as an off-the-books assassin inside a top secret US government programme.
Which is why, even forced into early retirement, he dare not trust the phone call. Nor the caller claiming to be his mother. Asking him to protect a complete stranger who just happened to be in the wrong place at the wrong time.
None of it stacks up. Yet it bears the tell-tale signs of the secret world that made him. And from inside it, a deadly new threat to the nation's security.
But this time the danger is more personal than he could have ever imagined. Because blood runs deep ...
Published:

4 February 2021

ISBN:

9781405948890

Imprint:

Penguin Audio

Format:

Audio Download

RRP:

$32.99
Other books in the series
There is a 'this time it's personal' feel to this latest in the violent, classy series and the action never flags

Sun
Video
Prodigal Son | Book Trailer
The astounding sixth novel from Gregg Hurwitz featuring Evan Smoak - Orphan X aka The Nowhere Man As a boy, Evan Smoak was pulled out of a foster home and trained off-the-books as a government assassin, codenamed Orphan X. Forced into retirement, Evan Smoak gets an urgent request from someone he never expected - his mother. She needs his help protecting Andrew Duran, a man in the wrong place at the wrong time, with no safe place to hide. Running from a brutal assassination team, Duran's only hope lies with Evan. But when a hidden cabal catches on to what Evan is doing, everything he's fought for is on the line - including his own life.