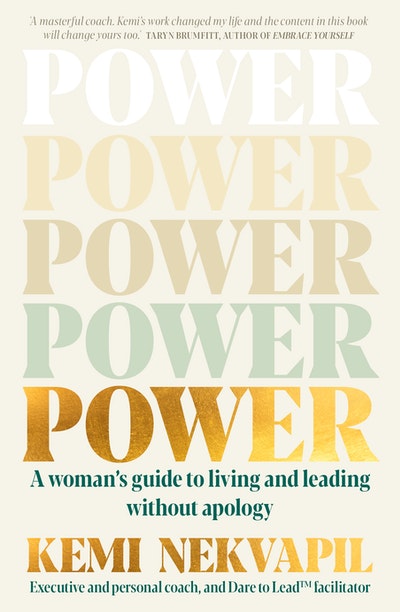 Published:

1 March 2022

ISBN:

9781761045240

Imprint:

Penguin Life

Format:

Trade Paperback

Pages:

336

RRP:

$34.99
POWER
A woman's guide to living and leading without apology
---
---
---
FEATURED AS ONE OF ELIZABETH GILBERT'S ONWARD BOOK CLUB PICKS

Shift your thinking about what power is and who gets to have it. Live and lead fully, without apology.

Glennon Doyle's Untamed meets Brené Brown's leadership lessons in this essential guide for women, with hugely important discussions of race and privilege woven in.
'This book is beautiful, it's thoughtful, it's instructive.' Elizabeth Gilbert
Kemi Nekvapil knows the feelings of fear, vulnerability and powerlessness. Growing up in foster care, many times she had the doors to validation and opportunity closed to her because of her race and gender. Learning to make her own choices and use her voice without apology were her first steps towards a bold, purpose-filled life.
Now a highly respected executive and personal coach, Kemi has created a five-step framework to guide other women to build their power through:
Presence to understand what is and isn't working in our lives
Ownership of our personal narratives, especially our power stories
Wisdom about our needs, boundaries and growth
Equality as part of the diverse human family, all of us worthy
Responsibility for our choices, healing and happiness
Blending inspiring stories with reflective coaching practices, POWER provides the tools to navigate the challenges that impact who we are and how we lead, from discrimination and burnout to trauma and self-doubt.
Reclaim your power and create a life of true joy and fulfilment.
_________________________________________________________________________________________
'Kemi's work changed my life and the content in this book will change yours too. If you are committed to personal development on your own terms, you want Kemi walking alongside you for the journey.' Taryn Brumfitt, founder of The Body Image Movement
'To me, Kemi has always epitomised grace and calmness – a quiet strength and assuredness that you can't help but feel more centred around. POWER is a reflection of this strength and assuredness and it's my hope that we can all learn from this incredible guide and live and lead just a little bit more like Kemi!' Emma Isaacs, founder of Business Chicks
'Kemi Nekvapil is passionate, fearless and she espouses living a powerful life. As a coach and speaker, Kemi actively seeks to assist women find ways to live their best lives. As an author, she has pulled together her experiences and knowledge to make it possible for YOU too!' Dr Anita Heiss

Published:

1 March 2022

ISBN:

9781761045240

Imprint:

Penguin Life

Format:

Trade Paperback

Pages:

336

RRP:

$34.99
Kemi's work changed my life and the content in this book will change yours too. If you are committed to personal development on your own terms, you want Kemi walking alongside you for the journey. She is a masterful coach, and she embodies the best bit of every great leader I've ever met.

Taryn Brumfitt, founder of The Body Image Movement
I met Kemi over a decade ago and was gravitationally pulled into her presence and her ideas on what it takes to live more powerfully. To me, Kemi has always epitomised grace and calmness – a quiet strength and assuredness that you can't help but feel more centred around. POWER is a reflection of this strength and assuredness and it's my hope that we can all learn from this incredible guide and live and lead just a little bit more like Kemi!

Emma Isaacs, founder of Business Chicks
Kemi Nekvapil is passionate, fearless and she espouses living a powerful life. As a coach and speaker, Kemi actively seeks to assist women find ways to live their best lives. As an author, she has pulled together her experiences and knowledge to make it possible for YOU too!

Dr Anita Heiss
In true Kemi style, this is so beautifully written and refreshingly unapologetic. The life lessons in POWER are not to be missed.

Sally Obermeder, co-founder of SWIISH
Kemi writes the unthinkable and this is why this is a must-read for EVERY woman. This isn't for the faint-hearted but for the brave who are open to transformation. Every now and again you seek out a living ancestor, and I found this in Kemi when reading her book, POWER. I have never felt more seen as a black woman.

Yemi Penn, entrepreneur and transformation coach
Compelling, probing and necessary. Kemi Nekvapil empowers us to step proudly from a life of doubt and learned smallness, and into a life where we can unapologetically recognise and own our worth, courage and the gift of our fullness.

Madeleine Dore, creator of Extraordinary Routines