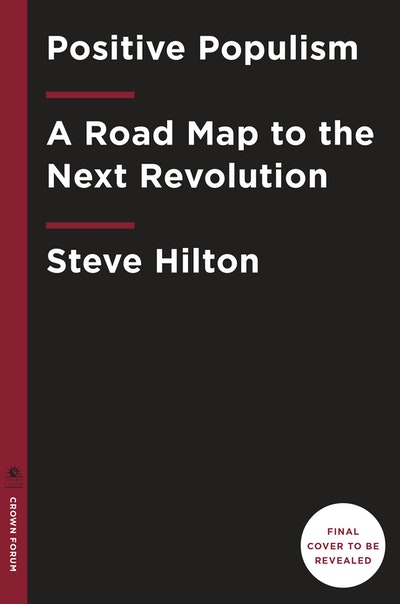 Published:

15 September 2018

ISBN:

9780525575580

Imprint:

Christian/Forum

Format:

Hardback

Pages:

208

RRP:

$39.99
Positive Populism
Revolutionary Ideas to Rebuild Economic Security, Family, and Community in America
---
---
The elites still can't believe that Donald Trump won or that Britain voted for Brexit. But what next for the populist revolution? Fox News host and former government insider Steve Hilton shows how populism can be a positive force for improving lives, with big ideas for giving power back to the people: in the economy, our society and government itself.
Recounting his own deeply personal battles with the permanent bureaucracy, Hilton vividly describes the scale of the change that's needed if the promise of the populist revolution is to be delivered.
What's the real solution to the problem of the Deep State? Hilton's answer will have bureaucrats calling their union representatives. How can "Drain the Swamp" become more than a slogan? Positive Populism has specific plans that will leave Washington reeling - from radical decentralization to reshaping government along entrepreneurial lines.
But populism is about more than taking away the power of the establishment. It's about giving power to people. Hilton sets out a detailed and inspiring pro-worker policy agenda, on everything from giving Americans the tools to survive the twin threats of Artificial Intelligence and China, to strengthening families at a time of unprecedented stress. He charts a fresh course through debates over health care, education and job training by showing how universal access can be combined with competitive market provision, and describes specific new initiatives to repair America's torn social fabric at the community level.
For too long, populism has been defined by the elites who despise it. By focusing on what populism is for, rather than what is against, Hilton provides a practical blueprint for how the movement can have an impact beyond one election cycle, and in people's everyday lives.
Published:

15 September 2018

ISBN:

9780525575580

Imprint:

Christian/Forum

Format:

Hardback

Pages:

208

RRP:

$39.99