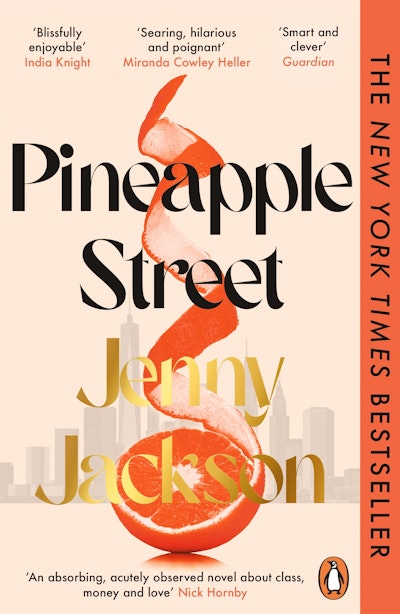 Published:

13 February 2024

ISBN:

9781529156157

Imprint:

Penguin

Format:

Paperback

Pages:

288

RRP:

$22.99
Pineapple Street
THE INSTANT NEW YORK TIMES BESTSELLER
---
---
---
'The novel Jane Austen would have written if Jane Austen lived in Brooklyn Heights' NEW YORK TIMES
'Searing, hilarious and poignant' MIRANDA COWLEY HELLER
'Smart and clever' GUARDIAN
'A killer debut about class, love and money' GRAZIA
'Marvellous - clever, funny and brilliantly well observed' INDIA KNIGHT
Meet the Stockton women of Brooklyn Heights: Darley, who was born with money; Sasha, who married into it; and Georgiana, who wants to give it all away.
Among glittering parties, weekend homes and hungover brunches, the three will have to grapple with the burden of parental expectations, the hardships and bewilderment of growing up, and the miles between the haves and have-nots.
Pineapple Street is a witty and wicked novel about New York's one percenters: their first loves, family feuds and the complexities of being human – even when you have everything.
'Wise, emotionally honest fun' HELEN FIELDING
'Deliciously fun' KEVIN KWAN
'Lovely, absorbing, acutely observed' NICK HORNBY
Published:

13 February 2024

ISBN:

9781529156157

Imprint:

Penguin

Format:

Paperback

Pages:

288

RRP:

$22.99
Praise for Pineapple Street
Pineapple Street is that rarest of gifts-a novel you don't want to put down for anything. Transporting and laugh-out-loud funny, this intergenerational story is a perfect tale for our times

J. Courtney Sullivan, New York Times bestselling author of FRIENDS AND STRANGERS
Pineapple Street is that rarest of gifts-a novel you don't want to put down for anything. Transporting and laugh-out-loud funny, this intergenerational story is a perfect tale for our times

J. Courtney Sullivan, New York Times bestselling author of FRIENDS AND STRANGERS
Pineapple Street is that rarest of gifts-a novel you don't want to put down for anything. Transporting and laugh-out-loud funny, this intergenerational story is a perfect tale for our times

J. Courtney Sullivan, New York Times bestselling author of FRIENDS AND STRANGERS
Pineapple Street is that rarest of gifts-a novel you don't want to put down for anything. Transporting and laugh-out-loud funny, this intergenerational story is a perfect tale for our times

J. Courtney Sullivan, New York Times bestselling author of FRIENDS AND STRANGERS
Pineapple Street is that rarest of gifts-a novel you don't want to put down for anything. Transporting and laugh-out-loud funny, this intergenerational story is a perfect tale for our times

J. Courtney Sullivan, New York Times bestselling author of FRIENDS AND STRANGERS
Pineapple Street is that rarest of gifts-a novel you don't want to put down for anything. Transporting and laugh-out-loud funny, this intergenerational story is a perfect tale for our times

J. Courtney Sullivan, New York Times bestselling author of FRIENDS AND STRANGERS
Pineapple Street is that rarest of gifts-a novel you don't want to put down for anything. Transporting and laugh-out-loud funny, this intergenerational story is a perfect tale for our times

J. Courtney Sullivan, New York Times bestselling author of FRIENDS AND STRANGERS
Pineapple Street is that rarest of gifts-a novel you don't want to put down for anything. Transporting and laugh-out-loud funny, this intergenerational story is a perfect tale for our times

J. Courtney Sullivan, New York Times bestselling author of FRIENDS AND STRANGERS
Pineapple Street is that rarest of gifts-a novel you don't want to put down for anything. Transporting and laugh-out-loud funny, this intergenerational story is a perfect tale for our times

J. Courtney Sullivan, New York Times bestselling author of FRIENDS AND STRANGERS
In this vibrant and hilarious debut, Jenny Jackson has taken a familiar tale-siblings, family money, competing interests-and given it fresh life. What binds the book together so wonderfully is Jackson's keen understanding of the beauty and difficulty of belonging, of how our desires can clash with our inherited narrative and what happens to the people we love when we need to rewrite the story. Pineapple Street is riveting, timely, hugely entertaining and brimming with truth

Cynthia D'Aprix Sweeney, New York Times bestselling author of THE NEST and GOOD COMPANY
In this vibrant and hilarious debut, Jenny Jackson has taken a familiar tale-siblings, family money, competing interests-and given it fresh life. What binds the book together so wonderfully is Jackson's keen understanding of the beauty and difficulty of belonging, of how our desires can clash with our inherited narrative and what happens to the people we love when we need to rewrite the story. Pineapple Street is riveting, timely, hugely entertaining and brimming with truth

Cynthia D'Aprix Sweeney, New York Times bestselling author of THE NEST and GOOD COMPANY
In this vibrant and hilarious debut, Jenny Jackson has taken a familiar tale-siblings, family money, competing interests-and given it fresh life. What binds the book together so wonderfully is Jackson's keen understanding of the beauty and difficulty of belonging, of how our desires can clash with our inherited narrative and what happens to the people we love when we need to rewrite the story. Pineapple Street is riveting, timely, hugely entertaining and brimming with truth

Cynthia D'Aprix Sweeney, New York Times bestselling author of THE NEST and GOOD COMPANY
In this vibrant and hilarious debut, Jenny Jackson has taken a familiar tale-siblings, family money, competing interests-and given it fresh life. What binds the book together so wonderfully is Jackson's keen understanding of the beauty and difficulty of belonging, of how our desires can clash with our inherited narrative and what happens to the people we love when we need to rewrite the story. Pineapple Street is riveting, timely, hugely entertaining and brimming with truth

Cynthia D'Aprix Sweeney, New York Times bestselling author of THE NEST and GOOD COMPANY
In this vibrant and hilarious debut, Jenny Jackson has taken a familiar tale-siblings, family money, competing interests-and given it fresh life. What binds the book together so wonderfully is Jackson's keen understanding of the beauty and difficulty of belonging, of how our desires can clash with our inherited narrative and what happens to the people we love when we need to rewrite the story. Pineapple Street is riveting, timely, hugely entertaining and brimming with truth

Cynthia D'Aprix Sweeney, New York Times bestselling author of THE NEST and GOOD COMPANY
In this vibrant and hilarious debut, Jenny Jackson has taken a familiar tale-siblings, family money, competing interests-and given it fresh life. What binds the book together so wonderfully is Jackson's keen understanding of the beauty and difficulty of belonging, of how our desires can clash with our inherited narrative and what happens to the people we love when we need to rewrite the story. Pineapple Street is riveting, timely, hugely entertaining and brimming with truth

Cynthia D'Aprix Sweeney, New York Times bestselling author of THE NEST and GOOD COMPANY
In this vibrant and hilarious debut, Jenny Jackson has taken a familiar tale-siblings, family money, competing interests-and given it fresh life. What binds the book together so wonderfully is Jackson's keen understanding of the beauty and difficulty of belonging, of how our desires can clash with our inherited narrative and what happens to the people we love when we need to rewrite the story. Pineapple Street is riveting, timely, hugely entertaining and brimming with truth

Cynthia D'Aprix Sweeney, New York Times bestselling author of THE NEST and GOOD COMPANY
In this vibrant and hilarious debut, Jenny Jackson has taken a familiar tale-siblings, family money, competing interests-and given it fresh life. What binds the book together so wonderfully is Jackson's keen understanding of the beauty and difficulty of belonging, of how our desires can clash with our inherited narrative and what happens to the people we love when we need to rewrite the story. Pineapple Street is riveting, timely, hugely entertaining and brimming with truth

Cynthia D'Aprix Sweeney, New York Times bestselling author of THE NEST and GOOD COMPANY
In this vibrant and hilarious debut, Jenny Jackson has taken a familiar tale-siblings, family money, competing interests-and given it fresh life. What binds the book together so wonderfully is Jackson's keen understanding of the beauty and difficulty of belonging, of how our desires can clash with our inherited narrative and what happens to the people we love when we need to rewrite the story. Pineapple Street is riveting, timely, hugely entertaining and brimming with truth

Cynthia D'Aprix Sweeney, New York Times bestselling author of THE NEST and GOOD COMPANY
Full of witty and caustic observations about a privileged class of New Yorkers, PINEAPPLE STREET is a sharp and juicy satire

Nita Prose, #1 New York Times bestselling author of THE MAID
Full of witty and caustic observations about a privileged class of New Yorkers, PINEAPPLE STREET is a sharp and juicy satire

Nita Prose, #1 New York Times bestselling author of THE MAID
Full of witty and caustic observations about a privileged class of New Yorkers, PINEAPPLE STREET is a sharp and juicy satire

Nita Prose, #1 New York Times bestselling author of THE MAID
Full of witty and caustic observations about a privileged class of New Yorkers, PINEAPPLE STREET is a sharp and juicy satire

Nita Prose, #1 New York Times bestselling author of THE MAID
Full of witty and caustic observations about a privileged class of New Yorkers, PINEAPPLE STREET is a sharp and juicy satire

Nita Prose, #1 New York Times bestselling author of THE MAID
Full of witty and caustic observations about a privileged class of New Yorkers, PINEAPPLE STREET is a sharp and juicy satire

Nita Prose, #1 New York Times bestselling author of THE MAID
Full of witty and caustic observations about a privileged class of New Yorkers, PINEAPPLE STREET is a sharp and juicy satire

Nita Prose, #1 New York Times bestselling author of THE MAID
Full of witty and caustic observations about a privileged class of New Yorkers, PINEAPPLE STREET is a sharp and juicy satire

Nita Prose, #1 New York Times bestselling author of THE MAID
Full of witty and caustic observations about a privileged class of New Yorkers, PINEAPPLE STREET is a sharp and juicy satire

Nita Prose, #1 New York Times bestselling author of THE MAID
Pineapple Street is a portrait at once searing, hilarious and poignant of a NY family straight-jacketed by their own wealth

Miranda Cowley Heller
Pineapple Street is a portrait at once searing, hilarious and poignant of a NY family straight-jacketed by their own wealth

Miranda Cowley Heller
Pineapple Street is a portrait at once searing, hilarious and poignant of a NY family straight-jacketed by their own wealth

Miranda Cowley Heller
Pineapple Street is a portrait at once searing, hilarious and poignant of a NY family straight-jacketed by their own wealth

Miranda Cowley Heller
Pineapple Street is a portrait at once searing, hilarious and poignant of a NY family straight-jacketed by their own wealth

Miranda Cowley Heller
Pineapple Street is a portrait at once searing, hilarious and poignant of a NY family straight-jacketed by their own wealth

Miranda Cowley Heller
Pineapple Street is a portrait at once searing, hilarious and poignant of a NY family straight-jacketed by their own wealth

Miranda Cowley Heller
Pineapple Street is a portrait at once searing, hilarious and poignant of a NY family straight-jacketed by their own wealth

Miranda Cowley Heller
Pineapple Street is a portrait at once searing, hilarious and poignant of a NY family straight-jacketed by their own wealth

Miranda Cowley Heller
A lovely, absorbing, acutely observed novel about class, money and love. These are the themes of Henry James and Jane Austen, but they are observed with a fresh eye and a contemporary voice.

Nick Hornby
A lovely, absorbing, acutely observed novel about class, money and love. These are the themes of Henry James and Jane Austen, but they are observed with a fresh eye and a contemporary voice.

Nick Hornby
A lovely, absorbing, acutely observed novel about class, money and love. These are the themes of Henry James and Jane Austen, but they are observed with a fresh eye and a contemporary voice.

Nick Hornby
A lovely, absorbing, acutely observed novel about class, money and love. These are the themes of Henry James and Jane Austen, but they are observed with a fresh eye and a contemporary voice.

Nick Hornby
A lovely, absorbing, acutely observed novel about class, money and love. These are the themes of Henry James and Jane Austen, but they are observed with a fresh eye and a contemporary voice.

Nick Hornby
A lovely, absorbing, acutely observed novel about class, money and love. These are the themes of Henry James and Jane Austen, but they are observed with a fresh eye and a contemporary voice.

Nick Hornby
A lovely, absorbing, acutely observed novel about class, money and love. These are the themes of Henry James and Jane Austen, but they are observed with a fresh eye and a contemporary voice.

Nick Hornby
A lovely, absorbing, acutely observed novel about class, money and love. These are the themes of Henry James and Jane Austen, but they are observed with a fresh eye and a contemporary voice.

Nick Hornby
A lovely, absorbing, acutely observed novel about class, money and love. These are the themes of Henry James and Jane Austen, but they are observed with a fresh eye and a contemporary voice.

Nick Hornby
I loved PINEAPPLE STREET. The characters are complex and engaging and their stories bring a particular slice of New York magically alive. So wise, emotionally honest, and such fun

Helen Fielding
I loved PINEAPPLE STREET. The characters are complex and engaging and their stories bring a particular slice of New York magically alive. So wise, emotionally honest, and such fun

Helen Fielding
I loved PINEAPPLE STREET. The characters are complex and engaging and their stories bring a particular slice of New York magically alive. So wise, emotionally honest, and such fun

Helen Fielding
I loved PINEAPPLE STREET. The characters are complex and engaging and their stories bring a particular slice of New York magically alive. So wise, emotionally honest, and such fun

Helen Fielding
I loved PINEAPPLE STREET. The characters are complex and engaging and their stories bring a particular slice of New York magically alive. So wise, emotionally honest, and such fun

Helen Fielding
I loved PINEAPPLE STREET. The characters are complex and engaging and their stories bring a particular slice of New York magically alive. So wise, emotionally honest, and such fun

Helen Fielding
I loved PINEAPPLE STREET. The characters are complex and engaging and their stories bring a particular slice of New York magically alive. So wise, emotionally honest, and such fun

Helen Fielding
I loved PINEAPPLE STREET. The characters are complex and engaging and their stories bring a particular slice of New York magically alive. So wise, emotionally honest, and such fun

Helen Fielding
I loved PINEAPPLE STREET. The characters are complex and engaging and their stories bring a particular slice of New York magically alive. So wise, emotionally honest, and such fun

Helen Fielding
I stayed up until five in the morning devouring PINEAPPLE STREET. Nothing beats a story told this well and rendered with such lovingly comic precision . . . Truly the smartest and most deliciously fun novel I've read in ages

Kevin Kwan
I stayed up until five in the morning devouring PINEAPPLE STREET. Nothing beats a story told this well and rendered with such lovingly comic precision . . . Truly the smartest and most deliciously fun novel I've read in ages

Kevin Kwan
I stayed up until five in the morning devouring PINEAPPLE STREET. Nothing beats a story told this well and rendered with such lovingly comic precision . . . Truly the smartest and most deliciously fun novel I've read in ages

Kevin Kwan
I stayed up until five in the morning devouring PINEAPPLE STREET. Nothing beats a story told this well and rendered with such lovingly comic precision . . . Truly the smartest and most deliciously fun novel I've read in ages

Kevin Kwan
I stayed up until five in the morning devouring PINEAPPLE STREET. Nothing beats a story told this well and rendered with such lovingly comic precision . . . Truly the smartest and most deliciously fun novel I've read in ages

Kevin Kwan
I stayed up until five in the morning devouring PINEAPPLE STREET. Nothing beats a story told this well and rendered with such lovingly comic precision . . . Truly the smartest and most deliciously fun novel I've read in ages

Kevin Kwan
I stayed up until five in the morning devouring PINEAPPLE STREET. Nothing beats a story told this well and rendered with such lovingly comic precision . . . Truly the smartest and most deliciously fun novel I've read in ages

Kevin Kwan
I stayed up until five in the morning devouring PINEAPPLE STREET. Nothing beats a story told this well and rendered with such lovingly comic precision . . . Truly the smartest and most deliciously fun novel I've read in ages

Kevin Kwan
I stayed up until five in the morning devouring PINEAPPLE STREET. Nothing beats a story told this well and rendered with such lovingly comic precision . . . Truly the smartest and most deliciously fun novel I've read in ages

Kevin Kwan
Filled with warmth and light. I was moved, engaged, inspired and charmed

Daisy Buchanan
Filled with warmth and light. I was moved, engaged, inspired and charmed

Daisy Buchanan
Filled with warmth and light. I was moved, engaged, inspired and charmed

Daisy Buchanan
Filled with warmth and light. I was moved, engaged, inspired and charmed

Daisy Buchanan
Filled with warmth and light. I was moved, engaged, inspired and charmed

Daisy Buchanan
Filled with warmth and light. I was moved, engaged, inspired and charmed

Daisy Buchanan
Filled with warmth and light. I was moved, engaged, inspired and charmed

Daisy Buchanan
Filled with warmth and light. I was moved, engaged, inspired and charmed

Daisy Buchanan
Filled with warmth and light. I was moved, engaged, inspired and charmed

Daisy Buchanan
Jenny Jackson delivers SUCH a delicious treat with her debut novel, PINEAPPLE STREET. It delights across the board - character (the wealthy, quirky Stockton family), setting (an insider's look at Brooklyn) and plot (a searingly honest exploration of class and privilege.) With shifting points of view and smart, laugh-out-loud observations on every single page, PINEAPPLE STREET is an instant classic

Elin Hilderbrand
Jenny Jackson delivers SUCH a delicious treat with her debut novel, PINEAPPLE STREET. It delights across the board - character (the wealthy, quirky Stockton family), setting (an insider's look at Brooklyn) and plot (a searingly honest exploration of class and privilege.) With shifting points of view and smart, laugh-out-loud observations on every single page, PINEAPPLE STREET is an instant classic

Elin Hilderbrand
Jenny Jackson delivers SUCH a delicious treat with her debut novel, PINEAPPLE STREET. It delights across the board - character (the wealthy, quirky Stockton family), setting (an insider's look at Brooklyn) and plot (a searingly honest exploration of class and privilege.) With shifting points of view and smart, laugh-out-loud observations on every single page, PINEAPPLE STREET is an instant classic

Elin Hilderbrand
Jenny Jackson delivers SUCH a delicious treat with her debut novel, PINEAPPLE STREET. It delights across the board - character (the wealthy, quirky Stockton family), setting (an insider's look at Brooklyn) and plot (a searingly honest exploration of class and privilege.) With shifting points of view and smart, laugh-out-loud observations on every single page, PINEAPPLE STREET is an instant classic

Elin Hilderbrand
Jenny Jackson delivers SUCH a delicious treat with her debut novel, PINEAPPLE STREET. It delights across the board - character (the wealthy, quirky Stockton family), setting (an insider's look at Brooklyn) and plot (a searingly honest exploration of class and privilege.) With shifting points of view and smart, laugh-out-loud observations on every single page, PINEAPPLE STREET is an instant classic

Elin Hilderbrand
Jenny Jackson delivers SUCH a delicious treat with her debut novel, PINEAPPLE STREET. It delights across the board - character (the wealthy, quirky Stockton family), setting (an insider's look at Brooklyn) and plot (a searingly honest exploration of class and privilege.) With shifting points of view and smart, laugh-out-loud observations on every single page, PINEAPPLE STREET is an instant classic

Elin Hilderbrand
Jenny Jackson delivers SUCH a delicious treat with her debut novel, PINEAPPLE STREET. It delights across the board - character (the wealthy, quirky Stockton family), setting (an insider's look at Brooklyn) and plot (a searingly honest exploration of class and privilege.) With shifting points of view and smart, laugh-out-loud observations on every single page, PINEAPPLE STREET is an instant classic

Elin Hilderbrand
Jenny Jackson delivers SUCH a delicious treat with her debut novel, PINEAPPLE STREET. It delights across the board - character (the wealthy, quirky Stockton family), setting (an insider's look at Brooklyn) and plot (a searingly honest exploration of class and privilege.) With shifting points of view and smart, laugh-out-loud observations on every single page, PINEAPPLE STREET is an instant classic

Elin Hilderbrand
Jenny Jackson delivers SUCH a delicious treat with her debut novel, PINEAPPLE STREET. It delights across the board - character (the wealthy, quirky Stockton family), setting (an insider's look at Brooklyn) and plot (a searingly honest exploration of class and privilege.) With shifting points of view and smart, laugh-out-loud observations on every single page, PINEAPPLE STREET is an instant classic

Elin Hilderbrand
Jenny Jackson turns this story of super-rich people living frustrated lives in Brooklyn into a compelling and thoughtful look at what it means to have very little agency in your own life. While it's hard to feel too much sympathy for the main characters, it's an excellent read

Stylist
Jenny Jackson turns this story of super-rich people living frustrated lives in Brooklyn into a compelling and thoughtful look at what it means to have very little agency in your own life. While it's hard to feel too much sympathy for the main characters, it's an excellent read

Stylist
Jenny Jackson turns this story of super-rich people living frustrated lives in Brooklyn into a compelling and thoughtful look at what it means to have very little agency in your own life. While it's hard to feel too much sympathy for the main characters, it's an excellent read

Stylist
Jenny Jackson turns this story of super-rich people living frustrated lives in Brooklyn into a compelling and thoughtful look at what it means to have very little agency in your own life. While it's hard to feel too much sympathy for the main characters, it's an excellent read

Stylist
Jenny Jackson turns this story of super-rich people living frustrated lives in Brooklyn into a compelling and thoughtful look at what it means to have very little agency in your own life. While it's hard to feel too much sympathy for the main characters, it's an excellent read

Stylist
Jenny Jackson turns this story of super-rich people living frustrated lives in Brooklyn into a compelling and thoughtful look at what it means to have very little agency in your own life. While it's hard to feel too much sympathy for the main characters, it's an excellent read

Stylist
Jenny Jackson turns this story of super-rich people living frustrated lives in Brooklyn into a compelling and thoughtful look at what it means to have very little agency in your own life. While it's hard to feel too much sympathy for the main characters, it's an excellent read

Stylist
Jenny Jackson turns this story of super-rich people living frustrated lives in Brooklyn into a compelling and thoughtful look at what it means to have very little agency in your own life. While it's hard to feel too much sympathy for the main characters, it's an excellent read

Stylist
Jenny Jackson turns this story of super-rich people living frustrated lives in Brooklyn into a compelling and thoughtful look at what it means to have very little agency in your own life. While it's hard to feel too much sympathy for the main characters, it's an excellent read

Stylist
Killer debut about class, love and money

Grazia
Killer debut about class, love and money

Grazia
Killer debut about class, love and money

Grazia
Killer debut about class, love and money

Grazia
Killer debut about class, love and money

Grazia
Killer debut about class, love and money

Grazia
Killer debut about class, love and money

Grazia
Killer debut about class, love and money

Grazia
Killer debut about class, love and money

Grazia
It's the novel Jane Austen would have written . . . if Jane Austen lived in Brooklyn Heights in the 21st century

New York Times
It's the novel Jane Austen would have written . . . if Jane Austen lived in Brooklyn Heights in the 21st century

New York Times
It's the novel Jane Austen would have written . . . if Jane Austen lived in Brooklyn Heights in the 21st century

New York Times
It's the novel Jane Austen would have written . . . if Jane Austen lived in Brooklyn Heights in the 21st century

New York Times
It's the novel Jane Austen would have written . . . if Jane Austen lived in Brooklyn Heights in the 21st century

New York Times
It's the novel Jane Austen would have written . . . if Jane Austen lived in Brooklyn Heights in the 21st century

New York Times
It's the novel Jane Austen would have written . . . if Jane Austen lived in Brooklyn Heights in the 21st century

New York Times
It's the novel Jane Austen would have written . . . if Jane Austen lived in Brooklyn Heights in the 21st century

New York Times
It's the novel Jane Austen would have written . . . if Jane Austen lived in Brooklyn Heights in the 21st century

New York Times
The season's first beach read, a delicious romp of a debut featuring family crises galore

New York Times
The season's first beach read, a delicious romp of a debut featuring family crises galore

New York Times
The season's first beach read, a delicious romp of a debut featuring family crises galore

New York Times
The season's first beach read, a delicious romp of a debut featuring family crises galore

New York Times
The season's first beach read, a delicious romp of a debut featuring family crises galore

New York Times
The season's first beach read, a delicious romp of a debut featuring family crises galore

New York Times
The season's first beach read, a delicious romp of a debut featuring family crises galore

New York Times
The season's first beach read, a delicious romp of a debut featuring family crises galore

New York Times
The season's first beach read, a delicious romp of a debut featuring family crises galore

New York Times
A delicious new Gilded Age family drama . . . a guilty pleasure that also feels like a sociological text

Vogue
A delicious new Gilded Age family drama . . . a guilty pleasure that also feels like a sociological text

Vogue
A delicious new Gilded Age family drama . . . a guilty pleasure that also feels like a sociological text

Vogue
A delicious new Gilded Age family drama . . . a guilty pleasure that also feels like a sociological text

Vogue
A delicious new Gilded Age family drama . . . a guilty pleasure that also feels like a sociological text

Vogue
A delicious new Gilded Age family drama . . . a guilty pleasure that also feels like a sociological text

Vogue
A delicious new Gilded Age family drama . . . a guilty pleasure that also feels like a sociological text

Vogue
A delicious new Gilded Age family drama . . . a guilty pleasure that also feels like a sociological text

Vogue
A delicious new Gilded Age family drama . . . a guilty pleasure that also feels like a sociological text

Vogue
If you're in search of the fiction trifecta - a captivating story that's masterfully constructed, vividly peopled, and crisply written - look no further. Jenny Jackson's Pineapple Street is pure reading pleasure, hilarious, big-hearted, and full of emotional truths. It's the kind of novel you hope will never end

Adrienne Brodeur
If you're in search of the fiction trifecta - a captivating story that's masterfully constructed, vividly peopled, and crisply written - look no further. Jenny Jackson's Pineapple Street is pure reading pleasure, hilarious, big-hearted, and full of emotional truths. It's the kind of novel you hope will never end

Adrienne Brodeur
If you're in search of the fiction trifecta - a captivating story that's masterfully constructed, vividly peopled, and crisply written - look no further. Jenny Jackson's Pineapple Street is pure reading pleasure, hilarious, big-hearted, and full of emotional truths. It's the kind of novel you hope will never end

Adrienne Brodeur
If you're in search of the fiction trifecta - a captivating story that's masterfully constructed, vividly peopled, and crisply written - look no further. Jenny Jackson's Pineapple Street is pure reading pleasure, hilarious, big-hearted, and full of emotional truths. It's the kind of novel you hope will never end

Adrienne Brodeur
If you're in search of the fiction trifecta - a captivating story that's masterfully constructed, vividly peopled, and crisply written - look no further. Jenny Jackson's Pineapple Street is pure reading pleasure, hilarious, big-hearted, and full of emotional truths. It's the kind of novel you hope will never end

Adrienne Brodeur
If you're in search of the fiction trifecta - a captivating story that's masterfully constructed, vividly peopled, and crisply written - look no further. Jenny Jackson's Pineapple Street is pure reading pleasure, hilarious, big-hearted, and full of emotional truths. It's the kind of novel you hope will never end

Adrienne Brodeur
If you're in search of the fiction trifecta - a captivating story that's masterfully constructed, vividly peopled, and crisply written - look no further. Jenny Jackson's Pineapple Street is pure reading pleasure, hilarious, big-hearted, and full of emotional truths. It's the kind of novel you hope will never end

Adrienne Brodeur
If you're in search of the fiction trifecta - a captivating story that's masterfully constructed, vividly peopled, and crisply written - look no further. Jenny Jackson's Pineapple Street is pure reading pleasure, hilarious, big-hearted, and full of emotional truths. It's the kind of novel you hope will never end

Adrienne Brodeur
If you're in search of the fiction trifecta - a captivating story that's masterfully constructed, vividly peopled, and crisply written - look no further. Jenny Jackson's Pineapple Street is pure reading pleasure, hilarious, big-hearted, and full of emotional truths. It's the kind of novel you hope will never end

Adrienne Brodeur
A witty, easy-to-devour story of wealth and love's never-ending war in the modern age

Elle
A witty, easy-to-devour story of wealth and love's never-ending war in the modern age

Elle
A witty, easy-to-devour story of wealth and love's never-ending war in the modern age

Elle
A witty, easy-to-devour story of wealth and love's never-ending war in the modern age

Elle
A witty, easy-to-devour story of wealth and love's never-ending war in the modern age

Elle
A witty, easy-to-devour story of wealth and love's never-ending war in the modern age

Elle
A witty, easy-to-devour story of wealth and love's never-ending war in the modern age

Elle
A witty, easy-to-devour story of wealth and love's never-ending war in the modern age

Elle
A witty, easy-to-devour story of wealth and love's never-ending war in the modern age

Elle
This novel...is laugh-out-loud good....Love and money have always mixed like oil and water (not well), but Jackson finds new humor and warmth in her particularly witty debut

Harper's Bazaar
This novel...is laugh-out-loud good....Love and money have always mixed like oil and water (not well), but Jackson finds new humor and warmth in her particularly witty debut

Harper's Bazaar
This novel...is laugh-out-loud good....Love and money have always mixed like oil and water (not well), but Jackson finds new humor and warmth in her particularly witty debut

Harper's Bazaar
This novel...is laugh-out-loud good....Love and money have always mixed like oil and water (not well), but Jackson finds new humor and warmth in her particularly witty debut

Harper's Bazaar
This novel...is laugh-out-loud good....Love and money have always mixed like oil and water (not well), but Jackson finds new humor and warmth in her particularly witty debut

Harper's Bazaar
This novel...is laugh-out-loud good....Love and money have always mixed like oil and water (not well), but Jackson finds new humor and warmth in her particularly witty debut

Harper's Bazaar
This novel...is laugh-out-loud good....Love and money have always mixed like oil and water (not well), but Jackson finds new humor and warmth in her particularly witty debut

Harper's Bazaar
This novel...is laugh-out-loud good....Love and money have always mixed like oil and water (not well), but Jackson finds new humor and warmth in her particularly witty debut

Harper's Bazaar
This novel...is laugh-out-loud good....Love and money have always mixed like oil and water (not well), but Jackson finds new humor and warmth in her particularly witty debut

Harper's Bazaar
This witty novel about the haves and have-mores is Succession with a soul

TIME
This witty novel about the haves and have-mores is Succession with a soul

TIME
This witty novel about the haves and have-mores is Succession with a soul

TIME
This witty novel about the haves and have-mores is Succession with a soul

TIME
This witty novel about the haves and have-mores is Succession with a soul

TIME
This witty novel about the haves and have-mores is Succession with a soul

TIME
This witty novel about the haves and have-mores is Succession with a soul

TIME
This witty novel about the haves and have-mores is Succession with a soul

TIME
This witty novel about the haves and have-mores is Succession with a soul

TIME
A novel about inheritance and the cultural inanities of the American WASP, set in a maximalist mansion? Don't mind if I do. Pineapple Street is more than a field report on the WASPs and their shabby-sweater super-wealth, of course-it's about class difference and the taxations of love

Bustle
A novel about inheritance and the cultural inanities of the American WASP, set in a maximalist mansion? Don't mind if I do. Pineapple Street is more than a field report on the WASPs and their shabby-sweater super-wealth, of course-it's about class difference and the taxations of love

Bustle
A novel about inheritance and the cultural inanities of the American WASP, set in a maximalist mansion? Don't mind if I do. Pineapple Street is more than a field report on the WASPs and their shabby-sweater super-wealth, of course-it's about class difference and the taxations of love

Bustle
A novel about inheritance and the cultural inanities of the American WASP, set in a maximalist mansion? Don't mind if I do. Pineapple Street is more than a field report on the WASPs and their shabby-sweater super-wealth, of course-it's about class difference and the taxations of love

Bustle
A novel about inheritance and the cultural inanities of the American WASP, set in a maximalist mansion? Don't mind if I do. Pineapple Street is more than a field report on the WASPs and their shabby-sweater super-wealth, of course-it's about class difference and the taxations of love

Bustle
A novel about inheritance and the cultural inanities of the American WASP, set in a maximalist mansion? Don't mind if I do. Pineapple Street is more than a field report on the WASPs and their shabby-sweater super-wealth, of course-it's about class difference and the taxations of love

Bustle
A novel about inheritance and the cultural inanities of the American WASP, set in a maximalist mansion? Don't mind if I do. Pineapple Street is more than a field report on the WASPs and their shabby-sweater super-wealth, of course-it's about class difference and the taxations of love

Bustle
A novel about inheritance and the cultural inanities of the American WASP, set in a maximalist mansion? Don't mind if I do. Pineapple Street is more than a field report on the WASPs and their shabby-sweater super-wealth, of course-it's about class difference and the taxations of love

Bustle
A novel about inheritance and the cultural inanities of the American WASP, set in a maximalist mansion? Don't mind if I do. Pineapple Street is more than a field report on the WASPs and their shabby-sweater super-wealth, of course-it's about class difference and the taxations of love

Bustle
Sparkling . . . The book is smart and sharply observed, peppered with small gems

The Washington Post
Sparkling . . . The book is smart and sharply observed, peppered with small gems

The Washington Post
Sparkling . . . The book is smart and sharply observed, peppered with small gems

The Washington Post
Sparkling . . . The book is smart and sharply observed, peppered with small gems

The Washington Post
Sparkling . . . The book is smart and sharply observed, peppered with small gems

The Washington Post
Sparkling . . . The book is smart and sharply observed, peppered with small gems

The Washington Post
Sparkling . . . The book is smart and sharply observed, peppered with small gems

The Washington Post
Sparkling . . . The book is smart and sharply observed, peppered with small gems

The Washington Post
Sparkling . . . The book is smart and sharply observed, peppered with small gems

The Washington Post
Pineapple Street encapsulates the oftentimes ridiculous nature of the ultra-wealthy. The author seamlessly immerses readers in the lives of the Stocktons...[who] must ask themselves the uncomfortable question: Is it possible to be "good" with this much money?

Shondaland
Pineapple Street encapsulates the oftentimes ridiculous nature of the ultra-wealthy. The author seamlessly immerses readers in the lives of the Stocktons...[who] must ask themselves the uncomfortable question: Is it possible to be "good" with this much money?

Shondaland
Pineapple Street encapsulates the oftentimes ridiculous nature of the ultra-wealthy. The author seamlessly immerses readers in the lives of the Stocktons...[who] must ask themselves the uncomfortable question: Is it possible to be "good" with this much money?

Shondaland
Pineapple Street encapsulates the oftentimes ridiculous nature of the ultra-wealthy. The author seamlessly immerses readers in the lives of the Stocktons...[who] must ask themselves the uncomfortable question: Is it possible to be "good" with this much money?

Shondaland
Pineapple Street encapsulates the oftentimes ridiculous nature of the ultra-wealthy. The author seamlessly immerses readers in the lives of the Stocktons...[who] must ask themselves the uncomfortable question: Is it possible to be "good" with this much money?

Shondaland
Pineapple Street encapsulates the oftentimes ridiculous nature of the ultra-wealthy. The author seamlessly immerses readers in the lives of the Stocktons...[who] must ask themselves the uncomfortable question: Is it possible to be "good" with this much money?

Shondaland
Pineapple Street encapsulates the oftentimes ridiculous nature of the ultra-wealthy. The author seamlessly immerses readers in the lives of the Stocktons...[who] must ask themselves the uncomfortable question: Is it possible to be "good" with this much money?

Shondaland
Pineapple Street encapsulates the oftentimes ridiculous nature of the ultra-wealthy. The author seamlessly immerses readers in the lives of the Stocktons...[who] must ask themselves the uncomfortable question: Is it possible to be "good" with this much money?

Shondaland
Pineapple Street encapsulates the oftentimes ridiculous nature of the ultra-wealthy. The author seamlessly immerses readers in the lives of the Stocktons...[who] must ask themselves the uncomfortable question: Is it possible to be "good" with this much money?

Shondaland
Ever wondered what it's like to be a New York socialite? This account of three ficitionalied Brooklyn Heights women lets you into the world of tennis clubs, long lunches and party politics. Life for Sasha, Daley and Georgina isn't as rosy as it seems. Each has her own personal drama, but releatable failures keep you rooting for them. Remember: money can't buy you love

Woman and Home
Ever wondered what it's like to be a New York socialite? This account of three ficitionalied Brooklyn Heights women lets you into the world of tennis clubs, long lunches and party politics. Life for Sasha, Daley and Georgina isn't as rosy as it seems. Each has her own personal drama, but releatable failures keep you rooting for them. Remember: money can't buy you love

Woman and Home
Ever wondered what it's like to be a New York socialite? This account of three ficitionalied Brooklyn Heights women lets you into the world of tennis clubs, long lunches and party politics. Life for Sasha, Daley and Georgina isn't as rosy as it seems. Each has her own personal drama, but releatable failures keep you rooting for them. Remember: money can't buy you love

Woman and Home
Ever wondered what it's like to be a New York socialite? This account of three ficitionalied Brooklyn Heights women lets you into the world of tennis clubs, long lunches and party politics. Life for Sasha, Daley and Georgina isn't as rosy as it seems. Each has her own personal drama, but releatable failures keep you rooting for them. Remember: money can't buy you love

Woman and Home
Ever wondered what it's like to be a New York socialite? This account of three ficitionalied Brooklyn Heights women lets you into the world of tennis clubs, long lunches and party politics. Life for Sasha, Daley and Georgina isn't as rosy as it seems. Each has her own personal drama, but releatable failures keep you rooting for them. Remember: money can't buy you love

Woman and Home
Ever wondered what it's like to be a New York socialite? This account of three ficitionalied Brooklyn Heights women lets you into the world of tennis clubs, long lunches and party politics. Life for Sasha, Daley and Georgina isn't as rosy as it seems. Each has her own personal drama, but releatable failures keep you rooting for them. Remember: money can't buy you love

Woman and Home
Ever wondered what it's like to be a New York socialite? This account of three ficitionalied Brooklyn Heights women lets you into the world of tennis clubs, long lunches and party politics. Life for Sasha, Daley and Georgina isn't as rosy as it seems. Each has her own personal drama, but releatable failures keep you rooting for them. Remember: money can't buy you love

Woman and Home
Ever wondered what it's like to be a New York socialite? This account of three ficitionalied Brooklyn Heights women lets you into the world of tennis clubs, long lunches and party politics. Life for Sasha, Daley and Georgina isn't as rosy as it seems. Each has her own personal drama, but releatable failures keep you rooting for them. Remember: money can't buy you love

Woman and Home
Ever wondered what it's like to be a New York socialite? This account of three ficitionalied Brooklyn Heights women lets you into the world of tennis clubs, long lunches and party politics. Life for Sasha, Daley and Georgina isn't as rosy as it seems. Each has her own personal drama, but releatable failures keep you rooting for them. Remember: money can't buy you love

Woman and Home
A joy to read . . . Pineapple Street is a gift of a novel

iNews
A joy to read . . . Pineapple Street is a gift of a novel

iNews
A joy to read . . . Pineapple Street is a gift of a novel

iNews
A joy to read . . . Pineapple Street is a gift of a novel

iNews
A joy to read . . . Pineapple Street is a gift of a novel

iNews
A joy to read . . . Pineapple Street is a gift of a novel

iNews
A joy to read . . . Pineapple Street is a gift of a novel

iNews
A joy to read . . . Pineapple Street is a gift of a novel

iNews
A joy to read . . . Pineapple Street is a gift of a novel

iNews
It's marvellous - clever, funny and brilliantly well observed

India Knight
It's marvellous - clever, funny and brilliantly well observed

India Knight
It's marvellous - clever, funny and brilliantly well observed

India Knight
It's marvellous - clever, funny and brilliantly well observed

India Knight
It's marvellous - clever, funny and brilliantly well observed

India Knight
It's marvellous - clever, funny and brilliantly well observed

India Knight
It's marvellous - clever, funny and brilliantly well observed

India Knight
It's marvellous - clever, funny and brilliantly well observed

India Knight
It's marvellous - clever, funny and brilliantly well observed

India Knight
Books about complicated American blue blood families are my literary catnip so I loved this novel about a woman marrying into a wealthy New York clan and the struggles she faces to fit in. It's a smart, entertaining exploration of class and money and the expectations that come with both

Good Housekeeping
Books about complicated American blue blood families are my literary catnip so I loved this novel about a woman marrying into a wealthy New York clan and the struggles she faces to fit in. It's a smart, entertaining exploration of class and money and the expectations that come with both

Good Housekeeping
Books about complicated American blue blood families are my literary catnip so I loved this novel about a woman marrying into a wealthy New York clan and the struggles she faces to fit in. It's a smart, entertaining exploration of class and money and the expectations that come with both

Good Housekeeping
Books about complicated American blue blood families are my literary catnip so I loved this novel about a woman marrying into a wealthy New York clan and the struggles she faces to fit in. It's a smart, entertaining exploration of class and money and the expectations that come with both

Good Housekeeping
Books about complicated American blue blood families are my literary catnip so I loved this novel about a woman marrying into a wealthy New York clan and the struggles she faces to fit in. It's a smart, entertaining exploration of class and money and the expectations that come with both

Good Housekeeping
Books about complicated American blue blood families are my literary catnip so I loved this novel about a woman marrying into a wealthy New York clan and the struggles she faces to fit in. It's a smart, entertaining exploration of class and money and the expectations that come with both

Good Housekeeping
Books about complicated American blue blood families are my literary catnip so I loved this novel about a woman marrying into a wealthy New York clan and the struggles she faces to fit in. It's a smart, entertaining exploration of class and money and the expectations that come with both

Good Housekeeping
Books about complicated American blue blood families are my literary catnip so I loved this novel about a woman marrying into a wealthy New York clan and the struggles she faces to fit in. It's a smart, entertaining exploration of class and money and the expectations that come with both

Good Housekeeping
Books about complicated American blue blood families are my literary catnip so I loved this novel about a woman marrying into a wealthy New York clan and the struggles she faces to fit in. It's a smart, entertaining exploration of class and money and the expectations that come with both

Good Housekeeping
Smart and clever, minutely observed and packed with one-liners, Pineapple Street is a more complicated read than it looks

The Guardian
Smart and clever, minutely observed and packed with one-liners, Pineapple Street is a more complicated read than it looks

The Guardian
Smart and clever, minutely observed and packed with one-liners, Pineapple Street is a more complicated read than it looks

The Guardian
Smart and clever, minutely observed and packed with one-liners, Pineapple Street is a more complicated read than it looks

The Guardian
Smart and clever, minutely observed and packed with one-liners, Pineapple Street is a more complicated read than it looks

The Guardian
Smart and clever, minutely observed and packed with one-liners, Pineapple Street is a more complicated read than it looks

The Guardian
Smart and clever, minutely observed and packed with one-liners, Pineapple Street is a more complicated read than it looks

The Guardian
Smart and clever, minutely observed and packed with one-liners, Pineapple Street is a more complicated read than it looks

The Guardian
Smart and clever, minutely observed and packed with one-liners, Pineapple Street is a more complicated read than it looks

The Guardian
A blissfully enjoyable novel. One to pack for the summer, whether you're headed for the Hamptons or the Norfolk Broads

India Knight, Sunday Times
A blissfully enjoyable novel. One to pack for the summer, whether you're headed for the Hamptons or the Norfolk Broads

India Knight, Sunday Times
A blissfully enjoyable novel. One to pack for the summer, whether you're headed for the Hamptons or the Norfolk Broads

India Knight, Sunday Times
A blissfully enjoyable novel. One to pack for the summer, whether you're headed for the Hamptons or the Norfolk Broads

India Knight, Sunday Times
A blissfully enjoyable novel. One to pack for the summer, whether you're headed for the Hamptons or the Norfolk Broads

India Knight, Sunday Times
A blissfully enjoyable novel. One to pack for the summer, whether you're headed for the Hamptons or the Norfolk Broads

India Knight, Sunday Times
A blissfully enjoyable novel. One to pack for the summer, whether you're headed for the Hamptons or the Norfolk Broads

India Knight, Sunday Times
A blissfully enjoyable novel. One to pack for the summer, whether you're headed for the Hamptons or the Norfolk Broads

India Knight, Sunday Times
A blissfully enjoyable novel. One to pack for the summer, whether you're headed for the Hamptons or the Norfolk Broads

India Knight, Sunday Times
A observed comedy of manners set among New York's one-per-centers . . . the angsty relationship they each have with the family coffers spices the escapist entertainment that ensues

Mail on Sunday
A observed comedy of manners set among New York's one-per-centers . . . the angsty relationship they each have with the family coffers spices the escapist entertainment that ensues

Mail on Sunday
A observed comedy of manners set among New York's one-per-centers . . . the angsty relationship they each have with the family coffers spices the escapist entertainment that ensues

Mail on Sunday
A observed comedy of manners set among New York's one-per-centers . . . the angsty relationship they each have with the family coffers spices the escapist entertainment that ensues

Mail on Sunday
A observed comedy of manners set among New York's one-per-centers . . . the angsty relationship they each have with the family coffers spices the escapist entertainment that ensues

Mail on Sunday
A observed comedy of manners set among New York's one-per-centers . . . the angsty relationship they each have with the family coffers spices the escapist entertainment that ensues

Mail on Sunday
A observed comedy of manners set among New York's one-per-centers . . . the angsty relationship they each have with the family coffers spices the escapist entertainment that ensues

Mail on Sunday
A observed comedy of manners set among New York's one-per-centers . . . the angsty relationship they each have with the family coffers spices the escapist entertainment that ensues

Mail on Sunday
A observed comedy of manners set among New York's one-per-centers . . . the angsty relationship they each have with the family coffers spices the escapist entertainment that ensues

Mail on Sunday
Sharp-eyed and witty, this is writing which cuts to the quick. Engrossing, full of pleasure, sadness too, it traces loss and change in a world of the haves and the have nots

Daily Mail
Sharp-eyed and witty, this is writing which cuts to the quick. Engrossing, full of pleasure, sadness too, it traces loss and change in a world of the haves and the have nots

Daily Mail
Sharp-eyed and witty, this is writing which cuts to the quick. Engrossing, full of pleasure, sadness too, it traces loss and change in a world of the haves and the have nots

Daily Mail
Sharp-eyed and witty, this is writing which cuts to the quick. Engrossing, full of pleasure, sadness too, it traces loss and change in a world of the haves and the have nots

Daily Mail
Sharp-eyed and witty, this is writing which cuts to the quick. Engrossing, full of pleasure, sadness too, it traces loss and change in a world of the haves and the have nots

Daily Mail
Sharp-eyed and witty, this is writing which cuts to the quick. Engrossing, full of pleasure, sadness too, it traces loss and change in a world of the haves and the have nots

Daily Mail
Sharp-eyed and witty, this is writing which cuts to the quick. Engrossing, full of pleasure, sadness too, it traces loss and change in a world of the haves and the have nots

Daily Mail
Sharp-eyed and witty, this is writing which cuts to the quick. Engrossing, full of pleasure, sadness too, it traces loss and change in a world of the haves and the have nots

Daily Mail
Sharp-eyed and witty, this is writing which cuts to the quick. Engrossing, full of pleasure, sadness too, it traces loss and change in a world of the haves and the have nots

Daily Mail