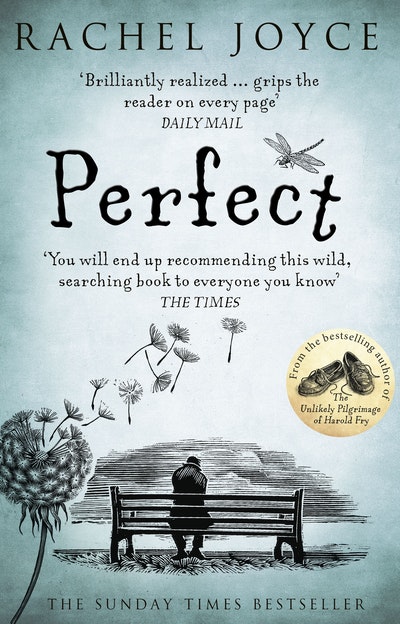 Published:

1 April 2014

ISBN:

9780552778107

Imprint:

Black Swan

Format:

Paperback

Pages:

448

RRP:

$22.99
Perfect
From the bestselling author of The Unlikely Pilgrimage of Harold Fry
---
---
---
A new Sunday Times bestseller from the author of The Unlikely Pilgrimage of Harold Fry with a very different but equally unlikely and heartrending hero. A story of secrets, a terrible mistake, and the destructive nature of perfection.
'It is her clever did-I-read-that-right twist at the end that really got to me and had me scrabbling through the chapters, open-mouthed.' Evening Standard
Summer, 1972: In the claustrophobic heat, eleven-year-old Byron and his friend begin 'Operation Perfect', a hapless mission to rescue Byron's mother from impending crisis.
Winter, present day: As frost creeps across the moor, Jim cleans tables in the local café, a solitary figure struggling with OCD. His job is a relief from the rituals that govern his nights.
Little would seem to connect them except that two seconds can change everything.
And if your world can be shattered in an instant, can time also put it right?

Published:

1 April 2014

ISBN:

9780552778107

Imprint:

Black Swan

Format:

Paperback

Pages:

448

RRP:

$22.99
Diana herself is faultless. She is to Perfect what Harold Fry was to [The Unlikely Pilgrimage of Harold Fry]: a fully rounded hero, someone to fall in love with and argue about, cherish and admonish, as though she were real... If only there were more novelists like Rachel Joyce

Telegraph
This book is hard in every sense... But persevere and plough on alongside Byron (who you'll find you want to stay with, as if by continuing to read him you might be able to protect him somehow, or at least keep him company), and the reward is a redemptive ending of such tenderness that after 300-odd pages of darkness you will end up grinning dippily and recommending this wild, searching book to everyone you know.

The Times
A near-flawless novel of emotional truth. Joyce executes this story with precision and flair... Its unputdownable factor lies in its exploration of so many multilayered emotions... It is her clever did-I-read-that-right twist at the end that really got to me and had me scrabbling back through the chapters, open-mouthed.

Evening Standard
The power of Joyce's prose lies in small, astute observations... [her] subtle touches give the book an intense, slightly mesmeric feel. Tense and engrossing... readers who loved The Unlikely Pilgrimage of Harold Fry will not be disappointed.

Sunday Times
Colonising the territory occupied by Catherine O'Flynn and Clare Morrall, Perfect is marked by effortless storytelling, droll side-swipes at the oddities of human behaviour and the use of simple, unaffected imagery that manages to plumb deep emotion... it will move and enchant.

Literary Review
This month's best book. 3 reasons to read Perfect: for real characters you'll fall in love with... for a book that will keep you asking questions... to question the nature of mistakes.

Psychologies Magazine
Full of compassion... the heartbreaking story of how two lives are derailed by a split-second mistake.

Good Housekeeping
A compelling novel about the crushing restrictions that class and gender can impose, the burden of parental expectation, and the stigma attached to mental illness.

Independent on Sunday
Brilliantly realized... a powerful study of grief, loss, guilt, depression, mental illness - and ultimately the power of love - which grips the reader on every page.

Daily Mail
[Joyce] is a charming and skilful writer

Guardian
Unforgettable... a deft and original follow-up to The Unlikely Pilgrimage of Harold Fry

Woman & Home
What's right with it? You'll fall in love with the characters. They're kind, anxious, flawed, funny and wonderful. Also, knowing that the two stories will have to meet builds a wonderful sense of tension. What's wrong with it? Nothing. It's brilliant. Even the fact that Byron is convinced that scientists tried to slip an extra two seconds into time is a wonderful hook for all the decisions he goes on to make. Verdict: Uplifting, engaging, sad and funny. A perfect follow-up to The Unlikely Pilgrimage of Harold Fry.

Heat magazine's #1 book to be reading right now (July)
The author of last year's biggest selling debut The Unlikely Pilgrimage of Harold Fry returns with a very different but equally captivating novel... This is a heartbreaking story, full of compassion, that unfolds gently but relentlessly against the backdrop of the suburban '70s. Perfect confirms [Rachel Joyce] as a major new voice.

Cathy Rentzenbrink, Bookseller Book of the Month July 2013
Moving, insightful and satirical

Booktime
Joyce's faith in the essential goodness of humanity and her observation of the comedy in the everyday shine through... This is a darker, more complex novel than Joyce's first but readers will find other points of comparison. Not least a twist that few will see coming and will leave you reeling; and a redemptive ending that is perhaps the sweeter given all the pain that goes before. An instant classic, Perfect confirms Rachel Joyce as a major new British literary voice.

Daily Express
Joyce's last novel The Unlikely Pilgrimage Of Harold Fry was a wonderful story of an older man walking across England to say goodbye to a dying friend. It was spoken of fondly in book clubs and in reviews and longlisted for the Man Booker Prize. In Perfect, Joyce has created an excellent follow up.

Emerald Street
A cleverly-plotted tale, it is moving yet unsentimental. Sure to delight Joyce fans who made The Unlikely Pilgrimage of Harold Fry a best-seller.

Sunday Mirror
With Perfect, Joyce wrings another rewarding tale out of the little tragedies of life

The Simple Things
Rachel Joyce's first novel, The Unlikely Pilgrimage of Harold Fry, won both commercial success and wide critical acclaim (it was longlisted for the Man Booker Prize). She may just repeat the trick with Perfect, a mixture of comedy and drama in much the same vein... this is a novel with the capacity to both surprise and charm.

Financial Times
Out of the smallest, most delicate building blocks, Rachel Joyce gradually builds a towering sense of menace. She understands people, in all their intricacy and vulnerability, in a way few writers do. Perfect is a poignant and powerful book, rich with empathy and charged with beautiful, atmospheric writing.

Tana French, bestselling author of In The Woods and Broken Harbour
The language [Joyce] uses is really poignant and evocative. It is so beautiful and well-crafted I didn't want it to end.

Jo Whiley, Mail on Sunday
Intriguing and suspenseful... Joyce, showing the same talent for adroit plot development seen in the bestselling The Unlikely Pilgrimage of Harold Fry, brings both narrative strands together in a shocking, redemptive denouement.

Publishers Weekly
[Joyce's] sympathetically realised characters are people living on the edge, whether of loneliness, poverty or mental illness, and despite its underlying sadness, the book ends with the presage of hope.

Good Book Guide
A moving and original novel... it confirms [Joyce] as one of the most interesting voices in British fiction

Il Venerdi
A rewarding, multi-layered novel with empathy for disturbed mental states and, towards the end, a clever fast-forwarding 30 years.

The Oldie
Rachel Joyce's new novel is simply Perfect.

Vanity Fair
[Joyce] triumphantly returns with PERFECT.As Joyce probes the souls of Diane, Byron, and Jim, she reveals - slowly and deliberately, as if peeling back a delicate onion skin - the connection between the two stories, creating a poignant, searching tale."

O: The Oprah Magazine
In alternating chapters, these two stories set 40 years apart frame Joyce's exquisitely played novel of tragedy and mental illness and the kind of wrenching courage unique to those who suffer from the latter and yet battle to overcome it. As in her brilliant debut, The Unlikely Pilgrimage of Harold Fry, Joyce stuns with her beautifully realized characters and the unexpected convergence of her two tales.

Library Journal
Perfect touches on class, mental illness, and the ways a psyche is formed or broken. It has the tenor of a horror film, and yet at the end, in some kind of contortionist trick, the narrative unfolds into an unexpected burst of redemption. Buy It.

New York Magazine
Joyce flings "Perfect's" characters into chaotic situations fraught with misgivings and confusion ... Diana's descent into terror is provocative enough to carry this story, but Joyce complements it with a contemporary one about an equally fragile man named Jim who has spent most of his life in a facility for the mentally ill. His connection to Diana will surprise many readers as Joyce spins this equally compelling subplot toward its shocking revelations and conclusion.

Star Tribune
Better than The Unlikely Pilgrimage of Harold Fry... touching [and] eccentric.

Janet Maslin, New York Times
Ambitious, dark and honest

The Guardian