An incredible career at a glance.
Peacock and Vine: Fortuny and Morris in Life and at Work is writer A.S. Byatt's ode to the lives, designs and passions of two of the world's most charismatic visual artists. An enchanting essay, glowing with colour and generously illustrated, the book brings the visions and ideas of Mariano Fortuny and William Morris dazzlingly to life.
Byatt's own 50-something-years-and-counting literary career is an artistic journey worthy of much retrospect. Her acclaimed fiction – from her 1964 debut novel The Shadow of the Sun to 1990's Man Booker-winning Possession to 2009's The Children's Book – speaks of an author driven to create at the peak of her ability. And her essays, biographies, short stories and criticism demonstrate a versatility of talent perhaps only attainable through a lifetime dedicated to the craft of writing. In addition to numerous accolades (including a ring-binder full of Honorary Doctorates), in 2016 Byatt received the illustrious Erasmus Prize in recognition of her 'inspiring contribution to life writing'.
Here's a snapshot of just ten of Byatt's career highlights to date.
The Shadow of the Sun (1964)
Byatt's debut novel tracks a young girl's struggle to find her own personality and emerge from the shadow of her famous novelist father.
Degrees Of Freedom: The Early Novels of Iris Murdoch (1965)
Examines the first eight novels of Iris Murdoch, identifying freedom as a central theme in all of them, and looking at Murdoch's interest in the relations between art and goodness, master and slave, and the novel of character in the nineteenth century sense.
Sugar and Other Stories (1987)
These short stories are populated by erudite paranoiacs, witches, changelings, and the ghost of a dead child. A collection that compels us to inhabit other lives and returns us to our own with new knowledge, compassion, and a sense of wonder.
Possession (1990)
Winner of the 1990 Man Booker Prize, Possession is rich in symmetry and symbolism, brimming over with myth, poetry and fairy tale. Part literary detective story, part academic satire and part historical novel, at its heart is a compelling romance that draws the reader in to explore the nature of obsession, possession and love.
Babel Tower (1997)
A cast of striking characters play out their personal dramas amid the clashing politics and passionate ideals of the early 1960s. Their crises mirror those of the age – the Berlin Wall, the Cuban Missile Crisis, the death of J.F. Kennedy, the Lady Chatterley's Lover trial, the Beatles, Mods and Rockers – and brings our own recent past to vivid, and disturbing life.
Portraits in Fiction (2001)
An exploration of the complex relations between portraits and characters, and between portraits and novels as whole works of art. The authors investigated range from Henry James to Iris Murdoch, and the artists from Holbein to Botticelli, Manet to the present day.
The Little Black Book of Stories (2003)
The stories in this collection are by turns funny, spooky, sparkling and haunting. The Little Black Book holds its secrets, adding a dark quality to Byatt's famous skill in mixing folk and fairy tale with everyday life.
The Children's Book (2009)
Famous author Olive Wellwood writes a special private book for each of her children. They play in a story-book world – but their lives, and those of their rich cousins and friends, are already inscribed with mystery. In the darkness ahead they will be betrayed unintentionally by the adults who love them.
Ragnarok (2011)
Ragnarok is the story of the end of the world. It is a tale of the destruction of life on this planet and the end of the gods themselves. What more relevant myth could any modern writer find?
Peacock and Vine: Fortuny and Morris in Life and at Work (2016)
Byatt's enchanting essay is a celebration of the lives, designs and passions of Mariano Fortuny and William Morris – bringing the visions and ideas to life.
---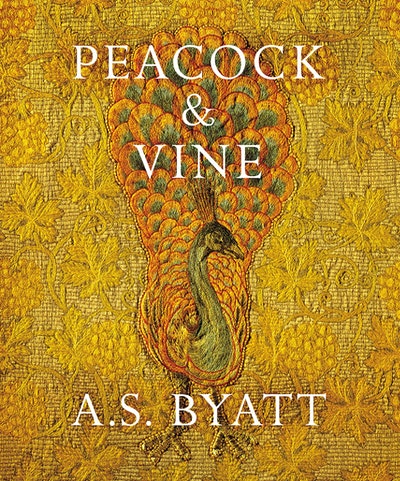 This enchanting essay, glowing with colour, unlocks the lives, passions and designs of two charismatic artists, Mariano Fortuny and William Morris
Buy now
Buy now
---