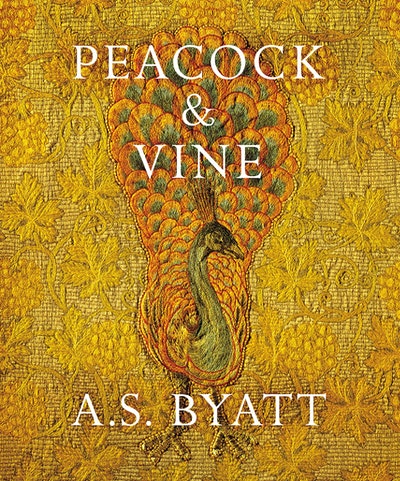 Published:

18 July 2016

ISBN:

9781784740801

Imprint:

Chatto & Windus

Format:

Hardback

Pages:

192

RRP:

$35.00
Peacock and Vine
Fortuny and Morris in Life and at Work
---
---
This enchanting essay, glowing with colour, unlocks the lives, passions and designs of two charismatic artists, Mariano Fortuny and William Morris
This ravishing book opens a window onto the lives, designs, and passions of two charismatic artists. Born a generation apart, they were seeming opposites: Mariano Fortuny, a Spanish aristocrat thrilled by the sun-baked cultures of Crete and Knossos; William Morris, a British craftsman, in thrall to the myths of the North. Yet through their revolutionary inventions and textiles, both men inspired a new variety of art, as vibrant today as when it was first conceived. Acclaimed writer A.S. Byatt traces their genius right to the source.
The Palazzo Pesaro Orfei in Venice is a warren of dark spaces leading to a workshop where Fortuny created his designs for pleated silks and shining velvets. Here he worked alongside the French model who became his wife and collaborator, including on the 'Delphos' dress – a flowing gown evoking classical Greece.
Morris's Red House, outside London, with its Gothic turrets and secret gardens, helped inspire his stunning floral and geometric patterns; it also represented a coming together of life and art. But it was Kelmscott Manor in the English countryside that he loved best – even when it became the setting for his wife's love affair with Dante Gabriel Rossetti.
Generously illustrated with the artists' beautiful designs – pomegranates and acanthus, peacock and vine – A.S. Byatt brings the visions and ideas of Fortuny and Morris dazzlingly to life.
Published:

18 July 2016

ISBN:

9781784740801

Imprint:

Chatto & Windus

Format:

Hardback

Pages:

192

RRP:

$35.00
Praise for Peacock and Vine
Byatt's latest offering is a slender but deliciously rich meditation on two artists who blurred the boundary between art and craft

Erica Wagner, Harper's Bazaar
A shimmering book… All admirers of AS Byatt's writing are aware of her profound intellectual awareness of the visual coexisting with an almost childlike delight in the colours and tactilities of everyday life... This is a small book but, in its enchanting way, it brings together so many of the themes of Byatt's larger and more obviously ambitious work. [...] Through concentrating on the interlocking worlds of Morris and Fortuny she makes a great defence of the values of art.

Fiona MacCarthy, Guardian
Charming... A. S. Byatt outlines the lives and passions - both intellectual and romantic - of two multitalented artist-designers who have captured her imagination

ELLE Décor
Compact, beautifully illustrated... Byatt teases out connections between [these two artists], using Fortuny to reimagine Morris and vice versa... [Her] short but luminous book is a celebration of the arts they practised

Nick Rennison, The Sunday Times
Filled with lovely images .... Byatt shows in her latest book, with her characteristic literary panache, these two titans of decoration and design had much in common, and the study of one brings into better relief the work of the other

Violet Henderson, Vogue
A fascinating read. A.S. Byatt has limned mini-biographies of both artists, drawing illuminating comparisons and contrasts between them ... Not only a pleasure to peruse, it will send its readers to libraries and museums to find out more about these two talented and immensely energetic men ... This is a book to enjoy, to think about, and to present to others as a gift

Claire Hopley, The Washington Times
Peacock and Vine is a very personal exploration of visual pleasure. The book is, accordingly, small and precious, its pages waxy and illustrations lush

Frances Wilson, The Daily Telegraph
A thoughtful exercise in parallel biography... by putting Morris and Fortuny side by side, Byatt celebrates their differences as much as their surprising affinities

Tanya Harrod, Literary Review
Beautifully produced little book…heavy with sensory perceptions. She mixes biographical details with accounts of their houses and luscious descriptions of the beautiful things that they made.

Michael Prodger, The Times
Her fictions swarm with physical objects of intense emotional potency and with characters whose lives they touch in strange and unexpected ways… In this brilliant and tenderly observant little book, with its elegant Gill typeface and handsome colour illustrations, she [Byatt] celebrates the fruits of making and looking.

Jane Shilling, New Statesman
[A] faceted gem of a book… An ingenious comparison.

Barbara Kisser, Nature
A lavishly illustrated blend of travelogue and art history.

Lady
Persuasively argued ... Abundant illustrations ... Byatt is an unabashed enthusiast of both her subjects, and her passion for their work enlivens every sentence of her text

Publishers Weekly
The book looks ravishing

Bookseller
[An] elegant new book.

The Economist
Peacock & Vine could be considered Ms. Byatt's meditation on tradition and the individual talent – Morris's, Fortuny's and her own.

Alexandra Mullen, Wall Street Journal (Europe)
A hymn to its subjects. It is much wilder, richer and more evocative – a paean of praise to the imagination of the inventor…and to the beauty of meticulous and absorbing work.

Lynn Roberts, Tablet
The charm of Peacock & Vine, lies in us overhearing a writer letting us in on her dialogue with past creators, her unravelling of them the inevitable material for our unravelling of her.

Rafia Zakaria, Prospect
[Byatt] teases out their affinities and differences with nuance, offering readers a vivid sense of her own appreciation of art and craft along the way.

Crafts Magazine
A lovely little monograph… As pleasing to hold as it is to look at, Peacock & Vine brings together the English artist William Morris (1834-1896) with the Spanish-born artist and designer Mariano Fortuny (1871-1949) in an act of vivid imaginative engagement.

Erica Wagner, Financial Times
A beautifully illustrated meditation.

Guardian, Book of the Year
Article
Book List
Big dreams
Find inspiration in the passions of the world's great artists and designers.