The Battle of Passchendaele begins…
Before dawn on 31st July 1917, the first wave of some 100,000 British and Anzac troops slung on their equipment, tossed back their tot of rum, dragged on a woodbine and urinated.
Each man wore full battle dress, his bayonet fixed, and carried a sandbag of Mills bombs around his neck. Every second man had a spade or trenching tool 'shoved down his back'; every third man carried a pair of wire-cutters. Their regiments hailed from the English shires, Midlands and the North, the Scottish highlands and the Welsh hills. They included Guardsmen, Regulars, Territorials and New Army men, with Australian, French and New Zealand troops in support.
At 3.50 am, the heavy guns started firing a creeping barrage: the six-minute storm of steel – millions of shrapnel balls – burst over the German lines. It paused. The whistles blew. The lead infantrymen scrambled up the fire steps and poured across No Man's Land, heading for the German lines, 300 yards away.
The barrage moved ahead of the men, at the pace of 100 yards (91 metres) every four minutes. None had experienced drumfire of this density. It stunned the attackers as much as the defenders, as W. Lockey of The Sherwood Foresters recalled: 'It was an inferno. Just a solid line of fire and sparks and rockets lighting up the sky.' A German commander recalled: 'My entire company [was] either destroyed or scattered.'
Heavy low clouds obscured the seam of sunlight on the eastern horizon. The attacking army navigated by compass. Ahead, a haunting, unnatural glow fell over the field. Red and green flares, the smoke of the barrage and the distant flash of guns lent a wonderland sensation to the scene: this was surreal, the stuff of dreams, not a battlefield. Long shadows loomed and coloured lights flickered through the curtain of fire revealing the shapes of stumps, ridges and ruins. The British and Anzacs pressed on, a swarm of little khaki creatures, miniaturised among the craters over which they scrambled, up and down, in a frantic effort to keep pace with the inside arc of bursting bombs.
Keep your eyes out for the next in this series of posts by Paul Ham, tracking the key moments and turning points in the Battle of Passchendaele.
---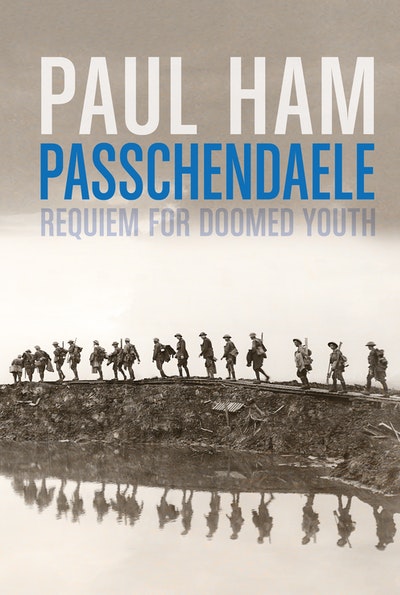 Passchendaele epitomises everything that was most terrible about the Western Front. The photographs never sleep of this four-month battle, fought from July to November 1917, the worst year of the war: blackened tree stumps rising out of a field of mud, corpses of men and horses drowned in shell holes, terrified soldiers huddled in trenches awaiting the whistle.
Buy now
Buy now
---