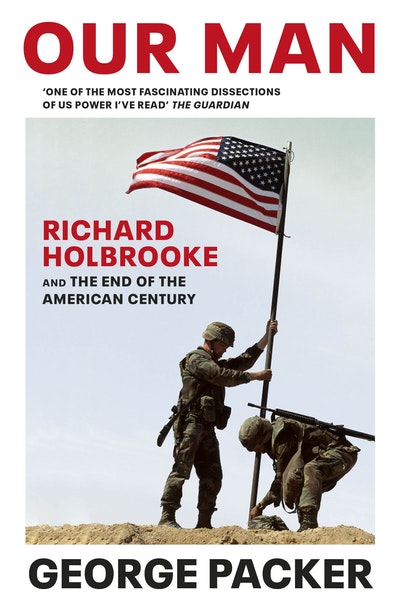 Published:

9 April 2020

ISBN:

9781784704216

Imprint:

Vintage

Format:

Paperback

Pages:

624

RRP:

$19.99
Our Man
Richard Holbrooke and the End of the American Century
---
---
---
From one of America's greatest non-fiction writers, an epic saga of the rise and fall of American power, from Vietnam to Afghanistan, told through the life of one man.
From one of America's greatest non-fiction writers, an epic saga of the rise and fall of American power, from Vietnam to Afghanistan, told through the life of one man.
**WINNER OF THE LOS ANGELES TIMES BIOGRAPHY PRIZE 2019**
**FINALIST FOR THE NATIONAL BOOK CRITICS CIRCLE AWARDS 2020**
Richard Holbrooke was one of the most legendary and complicated figures in recent American history. Brilliant, utterly self-absorbed, and possessed of almost inhuman energy and appetites, he was both admired and detested. From his days as a young adviser in Vietnam to his last efforts to end the war in Afghanistan, Holbrooke embodied the postwar American impulse to take the lead on the global stage. He was the force behind the Dayton Accords that ended the Balkan wars, America's greatest diplomatic achievement in the post-Cold War era. His power lay in an utter belief in himself and his idea of a muscular, generous foreign policy. But his sharp elbows and tireless self-promotion ensured that he never rose to the highest levels in government that he so desperately coveted.
Holbrooke's story is the story of the rise and fall of America during its era of supremacy: its strength, drive, and sense of possibility, as well as its penchant for overreach and heedless self-confidence. Drawing on Holbrooke's diaries and papers, George Packer's narrative is both intimate and epic in its revelatory portrait of this extraordinary and deeply flawed man, and the elite spheres of society and government he inhabited.
A GUARDIAN, FINANCIAL TIMES, SPECTATOR BOOK OF THE YEAR
Published:

9 April 2020

ISBN:

9781784704216

Imprint:

Vintage

Format:

Paperback

Pages:

624

RRP:

$19.99
Portrays Holbrooke in all of his endearing and exasperating self-willed glory... Both a sweeping diplomatic history and a Shakespearean tragicomedy… Our Man not only revitalizes but in some ways reinvents the art of journalistic biography… If you could read only one book to comprehend America's foreign policy and its quixotic forays into quicksands over the past 50 years, this would be it.

Walter Isaacson, New York Times
Rarely in recent years has a work of non-fiction so clearly, ruthlessly, compassionately shown such a prominent person's life from the inside out. It is a masterwork about diplomacy, government and the world.

Anand Giridharadas, Guardian, *Books of the Year*
Holbrooke in all his capacious brilliance and arrogance has been captured by George Packer… [Our Man] is, I strongly feel, a classic.

Richard Cohen, Washington Post
Outstanding... Our Man is one of the most fascinating dissections of US power – its strengths and serious weaknesses – I've read.

Steve Bloomfield, The Guardian
Packer is one of the most talented non-fiction writers in the US. In his hands, a biography of a diplomat who never quite made it to the top becomes a history of modern America's entanglement with the world.

Gideon Rachman, Financial Times, *Books of the Year*
You may ask yourself, is it worth one of the best American non-fiction writers producing a book of just under 600 pages on an arrogant and abrasive egotist whose highest sustained rank in the State Department was that of a lowly assistant secretary? The answer is unabashedly yes. This is a remarkable work about a remarkable, if deeply flawed, statesman whose career was intimately intertwined with the 50 years of American decline from Vietnam to Afghanistan. Nearly all biographies have long, boring stretches you want to skip. This one has none… A fascinating and compulsive read.

Jonathan Powell, Spectator
Our Man is a great, exuberant read, gossipy and thoughtful, about a remarkable American diplomat who tried to place himself at the heart of some of the bloodiest, most intractable wars of our age: Vietnam, Bosnia and Afghanistan… Packer displays his talents as a master of narrative reconstruction.

Roger Boyes, The Times
Dazzling… an exploration of American decline that's heartfelt, virtuosic and quietly thoughtful at the same time... Packer marshals a huge amount of material with great aplomb… His prose fizzes with almost Holbrookian levels of energy.

James Walton, Telegraph
Deeply researched, compelling… Our Man is not just a portrait of a fascinating historical figure, it is a contemplation of a half century of US foreign and security policy and its most intractable challenges.

Julian Borger, Observer
George Packer [is] arguably the most renowned American journalist of his generation… Our Man may be the most vivid tour of America's foreign delusions that has been offered since the Vietnam War.

Samuel Moyn, London Review of Books
[Packer] is such a masterful narrator – and Holbrooke such a vexing subject to portray – that this story is both gripping and surprisingly pacey, its wheels greased by revealing excerpts from Holbrooke's personal letters and the private reflections he recorded to tape. Added to this is Packer's arresting thesis: that his brash but erudite and driven subject symbolises something about America's engagement with the world following the Second World War that will never be recovered after Trump.

John Bew, New Statesman
A brazen book, one that buttonholes the reader…in just the way that its subject did… So perfectly has Packer captured his [Holbrooke's] style that there is no sense of discontinuity when the subject himself takes over as author… Enthralling… Our Man is unputdownable.

Niall Ferguson, Sunday Times
Brilliant reporting… brave and intellectually honest… This is the kind of biography (massive, detailed) by the kind of author (respected, experienced) reserved for great books on great men.

Adam B. Kushner, Washington Post
Packer's portrait is so full because he… [is] a first-rate reporter and writer who understands the history of the big conflicts at the centre of his story: Vietnam, Bosnia and Afghanistan… A vivid biography.

Lawrence Freedman, Literary Review
The story has been told many times… but it has never been told as George Packer tells it… Our Man is a nuanced portrait of a driven man whose brilliance was held back by his almost comical insecurities… Packer is an accomplished reporter and careful writer, and he manages to sketch out the three conflicts at the heart of Holbrooke's career – Vietnam, Bosnia, Afghanistan – with subtlety and texture.

Toby Vogel, Times Literary Supplement
A brilliant, abrasive diplomat struggles to resolve foreign conflicts while fighting bureaucratic wars at home in this scintillating biography… Packer makes him a Shakespearean character—egomaniacal, devious, sloppy enough to make presidents deny him the prize of becoming secretary of state, yet charismatic and inspiring—in a larger-than-life portrait brimming with vivid novelistic impressions… In Holbrooke's thwarted ambitions, Packer finds both a riveting tale of diplomatic adventure—part high drama, part low pettiness—and a captivating metaphor for America's waning power.

Publishers Weekly (starred review)
By the end of the second page, maybe the third, you will be hooked...There never was a diplomat-activist quite like [Holbrooke], and there seldom has been a book quite like this -sweeping and sentimental, beguiling and brutal, catty and critical, much like the man himself.

David M. Shribman, Boston Globe
The riveting life of a deeply flawed diplomat whose chief shortcoming seems to have been the need to be more recognized than he was... Students of recent world history and of American power, hard and soft, will find this an endlessly fascinating study of character and events.

Kirkus Reviews (starred review)
It is impossible to read George Packer's new biography of Richard Holbrooke without a piercing sense of melancholy, not only that a man so supremely alive should be dead, but also because such people — Our Man, in Packer's title, the incarnation of vanished glory, imperial hubris, exceptional Americanism — no longer walk the earth… Extraordinary.

James Traub, Foreign Policy
Stunning... If you're one of the dozens of people running for president, the book is probably the best guide you can find to navigating a transitional moment in American leadership and foreign policy. For the rest of us, it's a gripping read, and a sad one.

Ben Smith, BuzzFeed News
Through a depiction that may be likened to Robert Caro's The Power Broker, Packer analyzes the forces of character that led us from a commitment to unity to the chaotic division in which we find ourselves today.

Lauren LeBlanc, The Observer's "16 Most Anticipated Books of Spring 2019"
Best appreciated like a novel, consumed whole… charming, brilliant, cocksure.

Jennifer Szalai, New York Times
Like Holbrooke, Packer's account barrels along, brimming with mischief, verve and a sense of history. Unlike Holbrooke, it is tender and self-aware.

Tom Fletcher, Prospect
An endlessly engaging biography.

Jefferson Morley, Pak Banker
Our Man… [is] a fascinating examination of the (few) successes and (many) failures of US foreign policy over the last fifty years.

Keith Richmond, ASLEF Journal
[Our Man is] heartfelt, virtuosic and quietly thoughtful at the same time

Daily Telegraph