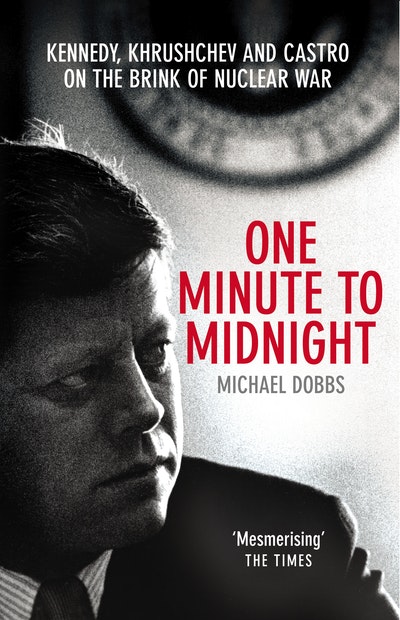 Published:

1 June 2009

ISBN:

9780099492450

Imprint:

Arrow

Format:

Paperback

Pages:

448

RRP:

$22.99
One Minute To Midnight
Kennedy, Khrushchev and Castro on the Brink of Nuclear War
---
---
---
Michael Dobbs recreates the 'most dangerous moment in human history' and brings the Cuban missile crisis to a new generation.
October 27, 1962, a day dubbed Black Saturday in the Kennedy White House. The Cuban missile crisis is at its height, and the world is drawing ever closer to nuclear apocalypse.
As the opposing Cold War leaders, John F. Kennedy and Nikita Khrushchev, mobilize their forces to fight a nuclear war on land, sea and air, the world watches in terror. In Bobby Kennedy's words, 'There was a feeling that the noose was tightening on all of us, on Americans, on mankind, and that the bridges to escape were crumbling.'
In One Minute to Midnight Michael Dobbs brings a fresh perspective to this crucial moment in twentieth-century history. Using a wealth of untapped archival material, he tells both the human and the political story of Black Saturday, taking the reader into the White House, the Kremlin and along the entire Cold War battlefront.
Dobbs's thrilling narrative features a cast of characters - including Soviet veterans never before interviewed by a western writer - with unique stories to tell, witnesses to one of the greatest mobilizations of men and equipment since the Second World War.
Published:

1 June 2009

ISBN:

9780099492450

Imprint:

Arrow

Format:

Paperback

Pages:

448

RRP:

$22.99
Praise for One Minute To Midnight
[Dobbs] has made extensive use of untapped archive material to reveal the secrets of the cloak-and-dagger operations behind the nuclear stand-off in the Caribbean... Excellent

John Crossland, Daily Mail
A book with sobering new information . . . as well as contemporary relevance . . . filled with insights that will change the views of experts

Richard Holbrooke, former US ambassador to the UN, New York Times Book Review
Dobb's hour-by-hour overview is a worthy study of this much mythologised fortnight... Dobb's chronological approach not only provides a natural sense of pace, but also allows him to illustrate the near-fatal time lag in communication between the two sides.

Time Out
In this compelling - and thrilling - new study by Michael Dobbs, there is much new material that forces us to revise our assumptions about the crisis... This is the first book about the crisis to tell the story of the tactical cruise missiles and the first to contain interviews with Soviet veterans. Dobbs adopts a cinematic style, cross-cutting between locations and time zones, and perfectly judges the acceleration of pace in the second half of the book which concentrates on Black Sunday. Unlike previous writers, Dobbs gives due prominence to the subplots, any one of which might have sparked mass destruction.

Christopher Silvester, Daily Express
Dobbs writes it up like a thriller

Billy Heller, New York Post
A relentless and determined researcher, Dobbs visited half a dozen countries including Russia and Cuba, over a two year period in his search for the full truth about the October missile crisis... This author seeks to humanise the story and bring it down to the level of the individual pilot or soldier

Irish Times
Dobbs is a master at telling stories as they unfold and from a variety of perspectives... In a densely packed, fast-paced narrative, Dobbs presents the crisis from its early stages through the decision to blockade Cuba and Kennedy's ordering of DEFCON 2, the last step before an attack, to the final resolution

Publishers Weekly (starred review)
Mesmerising stuff ... a riveting hour-by-hour account of one day that could have changed the history of humanity

Joanna Bourke, The Times