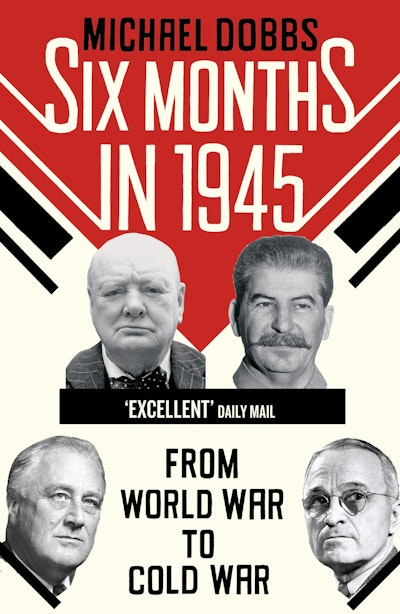 Published:

4 October 2012

ISBN:

9781448135479

Imprint:

Cornerstone Digital

Format:

EBook

Pages:

464
Six Months in 1945
FDR, Stalin, Churchill, and Truman - from World War to Cold War
---
---
---
FDR, Stalin, Churchill, Truman and the making of the modern world.
From the bestselling author of One Minute to Midnight, this is the riveting story of the last six months of World War II, when the hopeful Allied situation inspired by the Yalta Conference descended into the open conflict that would lead to the Cold War.
When FDR, Winston Churchill and Josef Stalin gathered outside the Crimean city of Yalta in February 1945, they had Hitler's armies on the run, and victory was just a matter of time. Their mission was to forge the decisions that would shape the postwar world, and above all to divide up Europe between Soviet and Western influence. These men had been fighting side by side for nearly four years but the cracks in their alliance were emerging; even before the Second World War ended, another conflict was beginning.
Six Months captures this turning point of the twentieth century, re-creating the steady breakdown in relations between powers. While the Berlin airlift and the Iron Curtain would not arrive for three years, by August 1945 the West and the Soviet Union were firmly on the path to a Cold War. Michael Dobbs brilliantly renders the personalities and geopolitics that drove this descent, illuminating the aims and frustrations of the key leaders. This is a vivid story of power, personalities, and national interests competing at a crucial moment in history.
Published:

4 October 2012

ISBN:

9781448135479

Imprint:

Cornerstone Digital

Format:

EBook

Pages:

464
Praise for Six Months in 1945
[Dobbs] has made extensive use of untapped archive material to reveal the secrets of the cloak-and-dagger operations behind the nuclear stand-off in the Caribbean . . . Excellent

John Crossland, Daily Mail
Dobbs' hour-by-hour overview is a worthy study of this much mythologised fortnight . . . Dobbs' chronological approach not only provides a natural sense of pace, but also allows him to illustrate the near-fatal time lag in communication between the two sides

Time Out
Although Dobbs, like other historians, chooses to tell this story through the personalities of the four leaders, he nonetheless accepts that history sometimes follows an internal logic that is bewildering to those caught up in its contradictory currents but makes complete sense from a distance. (5 star review)

Daily Express